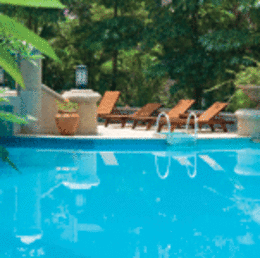 Building a Backyard Oasis
The hottest home-improvement projects of the season bring resort living close to home.
The hottest home-improvement projects of the season bring resort living close to home.
Summer is just around the corner, and although it seems the economy might be slowly bouncing back to allow more people to go away for vacation, staycations are still on the rise. One of the most popular trends right now is creating the backyard oasis—a project that can be as simple as adding a fire pit or a few plants to your existing patio, or as intricate as adding a top-of-the-line outdoor kitchen to the space. If you're looking for ways to enhance the beauty of your backyard, read on to find out which projects reflect some of the hottest trends of the season.
Getting in the Swim
According to Mike McCool, general manager for Swim-Mor Pools and Spas in Mount Ephraim, a major trend in in-ground swimming pools right now is the freeform pool design surrounded by pavers or a concrete patio. Add a group of chaise longues or an umbrella patio set, and you've set the scene for relaxation. When it comes to pool construction, people are embracing "more of the freeform oasis kind of look versus the old style, which is the rectangle or L-shaped pool," says McCool.
In-ground pools can be built to accommodate basically any size yard, with the only constraints being the building laws and requirements of the township that you live in. Shallow pools, three to six feet deep, are favored over deep pools with diving boards, because they offer more useable space for playing water sports and require less insurance.
Other pool trends include connected spa and hot-tub areas; ideally yours will have a remote control so you can adjust air blowers, water jets and temperature without ever having to leave the comfort of your chaise longue and piña colada.
Saltwater purification systems are also growing increasingly popular, creating chlorine in the pool by breaking down salt into chlorine and sodium and eliminating the need to purchase chlorine tabs. Saline systems also make the pool water softer on the skin, says McCool, and make red eye, green "chlorinated" hair and faded bathing suits a thing of the past.
Hot Topics
Once you've made the decision to create resort living at home, a key component is being able to enjoy the space long past daylight hours. Fire pits are a great way to extend your backyard enjoyment from day to night. As fire pits have evolved over the years, they've also become quite a bit more durable.
"All manufacturers are [now] making stainless-steel [pits] so that nothing rusts out," says Tim Toomey, sales associate at The Fireplace People in West Berlin. Many fire pits have attractive surrounds of tile and stucco that can add a decorative element. So can a chiminea, a clay fire pit with a round base and tall top that is ideal for smaller yards and decks.
Although it's a larger investment, perhaps the most coveted renovation is the outdoor kitchen. For avid cooks and foodies, having an outdoor grill fitted into an island countertop complete with sinks, refrigerator cabinets and an outdoor eating area is the very definition of paradise. Toomey says that, no matter how big or small the outdoor kitchen is, "people are looking into building an environment where they can enjoy their family."
Eco-Trends
With so many homeowners interested in doing good things for the earth, sustainable landscaping for the backyard oasis is definitely at the forefront of homeowners' minds. While going green has a reputation for being pricey, there are actually quite a few environmentally friendly things you can incorporate into your space that can also save you money.
Ellen Foose, landscape designer at Young's Landscape Management in Moorestown, directs her clients to use plants that are native to their location. Native plants don't have to be watered as often and, "it benefits the environment and your wallet by providing natural beauty that is low- maintenance and friendly to the surrounding eco-system," she says. Other eco-trends include vegetable gardens that are hydrated by collected rainwater, as well as the use of pavers and concrete, which, because of their permeability, reduce toxic runoff.
Be an Original
When looking for oasis-building inspiration, Michael Pasquarallo, a degreed landscape architect at Elite Landscaping in Berlin, believes today's homeowners are looking to create an environment beyond the typical patio, where after a long day at work they can go out back and relax in a setting much like "a resort, upscale restaurant or an outdoor café."
That said, the approach of most skilled landscape designers is to extend the home's indoor style to the outside so that it's a seamless flow from indoors to out. Chuck Rupertus, owner of Nature Scape Co. in Barrington, sees an increased use of natural materials like bluestone, brick and fieldstone as homeowners revert to more classic, timeless styles. Plants, hedges, evergreens and larger trees are also being used to create a sense of privacy—a fundamental attribute of the backyard oasis.
Foose of Young's Landscape Management says that clients should be aware of creating a space that's built to scale. "For small yards, more lawn and less patio [make the space] look smaller," she says. "We recommend that clients create a larger size patio and maybe incorporate some mulched areas and some padded areas [to] make it look like a courtyard."
Foose is also seeing her clients create separate zones that each have a specific use. These include playground areas; the aforementioned outdoor kitchens with full islands, stools and chairs; fire pits—which have a bonfire quality that older children enjoy—and sporting areas, from bocce courts to putting greens.
When it comes to finishes, stamped concrete is a unique patio option that offers the look of pavers without the heavy-duty demolition that often accompanies their installation. The process involves laying down new concrete or even taking existing concrete and stamping it with intricate designs in beautiful colors. After the fact, stamped-concrete projects require very little maintenance and last a long time.
From walkways to patios to retaining walls, "our customers are looking to create their own unique escapes in their own backyards that are a great place to hang out and entertain family and friends," says Mike Gallagher of Straight Edge Concrete in South Jersey, whose company specializes in stamped-concrete applications. "Creating this atmosphere makes your home that much more enjoyable."
Published (and copyrighted) in Suburban Family, April 2010.
For more info on Suburban Family, click here.
For information about advertising in Suburban Family, click here.
To find out where to pick up your copy of Suburban Family, click here.