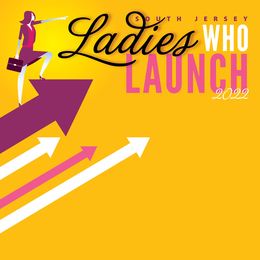 Ladies Who Launch
Female business leaders share their tales of inspiration.
Finding success in the business world can be challenging for anyone, but female business leaders are faced with an even bigger uphill climb as they look to break through the glass ceiling. Here in South Jersey, we are fortunate to have many successful women in business who have made their presence felt while also empowering and motivating a future generation of young ladies poised to follow in their footsteps. This section of "Ladies Who Launch" profiles showcases some of these remarkable women to watch and how they've risen to prominence. In order to get to know them better we asked each of these leading ladies about what inspired them early in their life and the things they love most about their job and here's what they had to tell us.
"I pursued family law because I enjoy helping people and it is an area of law in which you see an immediate impact of your attorney/client relationship."
Stephanie J. Zane, partner, Archer Law
"Having witnessed myr own parents' divorce as a young child, I saw the need for empathetic attorneys who could appreciate the stress it creates on the entire family, including children."
Jennie A. Owens, partner, Archer Law
"I am in this field because of my grandmother. She was suffering from a terminal illness and I became part of her caregiver team. During this process I knew that my purpose was taking care of the senior population."
Lavanda Clinkscales, executive director, Brightview Senior Living Mount Laurel
"I knew from a young age that I loved helping people—older people in particular—and when it was time to look for college, my mom found gerontology as a major so I pursued my passion."
Jennifer Steen, executive director, Brightview Senior Living Marlton
"After 25 years as a speech pathologist working with seniors, I naturally progressed into a career that allowed me to work in a home-like setting where I see residents living wonderfully active and engaged lives."
Tracy Gill, executive director, Brightview Senior Living Woodbury
"My father is a business owner, my grandparents are business owners, all my uncles and cousins are business owners. I definitely come from a family of entrepreneurs. My husband, Joe, has also been my motivation and my biggest supporter. He's always been behind me cheering me on, even when other people thought I was crazy."
Liz Rocco, AM Realty Advisors
"We have extensive corporate experience but have also gone through divorces ourselves. We know the benefits of mediation and want to use our expertise and business to make a difference in families' lives—first and foremost, it's about protecting children, and doing what would benefit families and individuals the most."
Roseann Vanella and Carmela DeNicola, Advanced Mediation Solutions
Dr. Pooja Mailk is a trainer and has trained other providers all over the country. "To help other providers in this way brings me a great sense of pride and joy. As for my patients, seeing them love my work and appreciate all the time and effort I put into saying on top of all the latest advancements and trends is so rewarding."
Dr. Pooja Malik, Malik Medical Aesthetics & Wellness Center
Tina Hawk has been by Dr. Malik's side for over six years and says the benefits of continuing education are numerous. "The field is always evolving. With so many new treatments flooding the industry, being able to see clinical studies always allows us to bring in treatments that actually produce results is crucial. We live and breathe aesthetics."
Tina Hawk, Malik Medical Aesthetics & Wellness Center
"My father inspired me to become a dentist. He always raised us to depend on ourselves and growing up there's been a huge change from men being leaders to now equality between men and women. He was really big on making it on your own and not depending on anyone else."
Dr. Nermeen Rifai, All Smiles Family Dental
"My very first client, my Aunt Sis, inspired me from the very beginning of my massage career. She was a weekly client from the time I was still in school and she got the student and family discount for over ten years. She was always a strong supporter of all of her nieces and nephews."
Julia Gandy, Embodying Wellness
"I'm not sure if there is a set path on how people enter the distilling industry just yet, but after finding this job after culinary school, I was hooked my first week. What inspires me is the fact that there is always something more to know about distilling; I have made a lot of different alcohol, but the possibilities are endless and that keeps me inspired and driven."
Veronica Townsend, Blue Rascal Distillery
"I love solving problems. Perhaps it's the math brain in me, but practicing family law is about listening to the issues that are presented by a client, and finding the best ways to advocate for them and resolve their disputes. This is what inspired me to pursue a practice in family law."
Kathleen P. Stockton, Stockton Family Law
Published (and copyrighted) in Suburban Family Magazine, Volume 13, Issue 1.
For more info on Suburban Family Magazine, click here.
For information about advertising in Suburban Family Magazine, click here.
To find out where to pick up your copy of Suburban Family Magazine, click here.