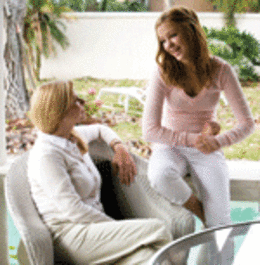 Teens and Dating: Tips for Parents
Are your kids ready to date? More importantly, are you ready to let them? Here's how to tell.
Are your kids ready to date? More importantly, are you ready to let them? Here's how to tell.
"When your kids are small, you have small problems; when they're big, you have big problems." That's what my grandmother always said about raising children. While not exactly helpful, like much folk wisdom it's also true. And one of the biggest problems parents face as their children age is dating—more specifically, when to allow it, and under what circumstances.
Every Teen is Different
There's no consensus on what age is appropriate for dating to begin. Each parent must consider factors such as: How responsible and mature is your teen? How well do you know the person your child will be dating? Will the date be supervised? Every teen is different, so you as a parent must make the determination after you've had an open, honest talk about dating, relationships and, yes, sex. Although it may be uncomfortable to broach these topics with your child, remember that, if you don't, someone else will.
"Since children develop at different rates, and there is no set age for dating, parents are responsible for appropriately guiding them through this major milestone," says family counselor Kim Comerford, a therapist at Genesis Counseling Center in Mount Laurel. "It will vary widely from child to child. Parents need to take a step back and objectively look at their children's maturity level.
Comerfield urges parents to consider the following questions: Have their children shown responsible behavior with their schoolwork, chores and household rules? Are their children respectful towards others? Have they proven themselves trustworthy? Can their children talk about sex? Do they have a clear understanding of their right to say "no" to anything they are not comfortable with? Do they understand unequivocally that "no" means "no"?
One Dating Conversation Isn't Enough
She also stresses the importance of communication between parents and their kids. "When children go to their parents about wanting to date, this is a prime time to keep an open mind and to stay calm," she says. "Listen to your children, really listen. Don't interrupt, don't give advice and don't talk about your experience. Just listen until they are done talking."
And just one conversation isn't enough, says Dr. Marla Deibler, a psychologist and director of the Center for Emotional Health of Greater Philadelphia, in Cherry Hill. "It may feel awkward and embarrassing at first, but you must talk not once, but often. You should keep communication flowing early on when your child is receptive to your guidance."
Perhaps the best course of action, Deibler advises, is to take things slowly at first. Encourage your child to go out in group settings initially and consider hosting a movie night at your home for your child and his or her friends. Give them space, but in a safe environment. Also, make an effort to get to know your child's friends.
It's important for you to help your children understand that your motivation is a desire to protect them, to help guide them safely through this unfamiliar territory, Deibler adds.
"The thing to note is that kids are very vulnerable and may not have the skill set to navigate through the social process of dating," Deibler says. "Their peers have a great influence on them and adolescents have not yet fully developed the ability to accurately interpret the feelings and intentions of others." Deibler advises parents to troubleshoot and go over "what if" scenarios with their children. For instance, "What if your date wants you to get in the car after he or she had a drink?"
Dr. Kevin Leman, author of Have a New Kid by Friday: How to Change Your Child's Attitude, Behavior and Character in 5 Days, says age 16 is a good target for dating. He stresses that parents should have fewer rules and more expectations of good behavior. "Rules without a relationship lead to rebellion," he says. His suggestions include making your home the centerpiece of activities for your kids and their friends. He also urges parents to slip their kids "commercial announcements" that you believe in them and you're on their team. For instance, let them know that you'd never give them the keys to the car if you didn't trust them.
It's Okay to Go on Their Facebook
When it comes to social networking and texting, Dr. Leman says that you can monitor without being intrusive. "It's not rocket science," he says. "It's okay to go on their Facebook." Check to see that the general tone is modest and on track with your values. The bottom line, he says, is give your kids what they need, not what they want.
After speaking with the experts, I took an informal survey of my friends with kids ranging from toddlers to college graduates. Regina said after age 17. Mary said eighth grade or later is fine, but she would be concerned about her teen being involved in a serious relationship. Emily said that "until my daughter was days away from turning 15, I thought that was the perfect age to allow her to date. Now I'm not so sure." Ginny says that until they are juniors in high school, kids aren't emotionally ready to handle break-ups and time away from friends and school work. Pat said that her son started about age 16, and the toughest part of it was realizing that he had made someone else his priority.
It's pretty obvious from all the diverse opinions that what age your child dates is very dependent on your child. Remember Deibler's advice to be an "askable" parent, and to let your child know that there's nothing you can't discuss. Times have changed since Grandma raised her kids. Keep the communication open and your problems don't necessarily have to grow with your child.
Published (and copyrighted) in Suburban Family, Volume 1, Issue 3 (May, 2010).
For more info on Suburban Family, click here.
For information about advertising in Suburban Family, click here.
To find out where to pick up your copy of Suburban Family, click here.