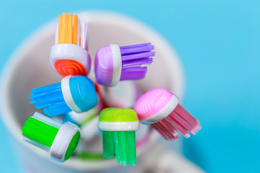 Top Dentists and Orthodontists 2022
The doctors who are making our teeth healthier and our smiles brighter.
Smiles are a universal language and one of the best ways to put someone at ease. That makes our mouths very valuable and we want them cared for by skilled professionals who can keep them looking and feeling their best. From dentists who can address pain and provide routine cleanings to orthodontists who put teeth in the right place no matter what your age, these doctors use the latest innovations in their field to ensure patients are comfortable. The following are Suburban Family's Top Dentists and Orthodontists for 2022.
Dr. Frank Batastini
BATASTINI ORTHODONTICS
Batastini obtained his bachelor's degree from Temple University and a master's degree from Loyola University. After working for a national bank, he obtained his DMD from Temple University and his orthodontic certificate from the University of Pennsylvania, where he still continues to teach on a voluntary basis. He lectures to several dental programs and public venues and is past president of several dental societies and a member of numerous organizations.
Could you tell us about one new innovation/treatment in the field of orthodontics and why you're excited about it?
Tele-dentistry is the newest craze in modern orthodontics. Using your mobile device we can access your progress and keep you on the fast track with virtual appointments and less patient contact. Once we receive your online photos, we can create a treatment plan ahead of time. Our in-house lab can even fabricate clear aligners "clearly not braces" (CNB) right in our office the same day.
Dr. Allison Clark
CLARK ORTHODONTICS
As the daughter of South Jersey orthodontist Dr. Roland Clark, Dr. Allison Clark—better known as "Dr. Ally"—was drawn to her father's field but wanted to make sure she explored dentistry on her own terms. She got involved with the Pre-Dental Society during her undergrad years at Dartmouth, but it was volunteering at a San Diego dental clinic that assured the future Dr. Ally she was on the right path. After studying at both the University of Maryland School of Dentistry and the Temple University Department of Orthodontics, Dr. Ally was thrilled to join her father and the rest of team at Clark Orthodontics.
Could you tell us about one new innovation/treatment in the field of orthodontics and why you're excited about it?
e're using intraoral scanning more and more, where a camera takes pictures at a rate of 6,000 frames per second to create a digital impression of the mouth and teeth in lieu of an alginate impression—the "gooey" molds that people don't usually like. I see us completely getting rid of the alginate impressions and only doing digital impressions in the future.
Dr. Tom Kadar
KADAR ORTHODONTICS
Kadar is a board-certified orthodontist who has practiced orthodontics in South Jersey since 1993. After earning his undergraduate degree in biology from Emory University, Kadar then found his passion at the Georgetown University School of Dentistry. He completed a year of residency at the VA hospital in his hometown of Pittsburgh, Pennsylvania, then he received his advanced orthodontic degree at Temple University. His kind, personal approach and technical expertise have earned him the reputation of being one of the top orthodontists in the area.
Could you tell us about one new innovation/treatment in the field of orthodontics and why you're excited about it?
Patients love our "Same Day Start" Program that enables them to begin orthodontic treatment at the first in-office visit. They send us pictures from their smartphone and our board-certified orthodontists create a treatment during this virtual visit. Our clinical team can then deliver their braces, appliances and/or removable aligners on day one rather than four to six weeks later.
Dr. Erin Kazmierski-Furno
KAZMIERSKI ORTHODONTICS
Kazmierski-Furno (referred to as Dr. Erin by patients) obtained her certificate in orthodontics and a master of dental science from the University of Connecticut. This spring she will be sworn in as the president of UConn's Orthodontic Alumni Association. Dr. Erin joined her father's practice almost 17 years ago and is now the proud owner. She considers him to be her inspiration, mentor and role model. Kazmierski Orthodontics always supports youth in education, sports and the arts, and Dr. Erin is often seen at local school and sports fundraisers, fall festivals and community events. She hopes to serve as a role model to local girls and boys wanting to pursue careers in the dental field.
Could you tell us about one new innovation/treatment in the field of orthodontics and why you're excited about it?
Invisalign First is an orthodontic treatment device specially designed for young children and can be used to correct issues with arch development and expansion, tooth crowding and spacing, tooth protrusions, and the overall appearance of a child's smile. I'm excited about it because Invisalign First clear aligners give these younger patients the same premium orthodontic experience that teens and adults currently receive with Invisalign clear aligner therapy.
Dr. Nermeen Rifai
ALL SMILES FAMILY DENTAL
Rifai has been working in dentistry for over 20 years. She takes several continuing education courses in the vast specialties of dentistry, including but not limited to surgical implant placement, surgical extractions, full-mouth reconstruction, laser therapy, Botox and dermal fillers. She is a member of the American Academy of Facial Esthetics and a skilled artisan who pursues continuing education courses under dental experts from around the world. Recognizing that there are a lot of people who fear going to the dentist, it is Rifai's goal to make sure that patients are completely at ease when coming to see her.
Could you tell us about one new innovation/treatment in the field of dentistry and why you're excited about it?
Dentistry is always evolving and continuous education is a necessity. Some of the newer treatments in the field that we provide include laser treatment for periodontal disease, implants to prevent bone loss and tooth migration and Botox to eliminate migraines. Dentistry is continuously growing as are we to keep up with all the latest advancements.
Dr. Sonny Sekhon
GROWING SMILES
Sekhon is a graduate of Howard University and completed an oral surgery fellowship at King's County Hospital, followed by residencies at Maimonides Medical Center in Brooklyn. While in residency, Sekhon realized his true calling was treating children. His background in cosmetic dentistry and natural connection with kids proved to create better outcomes and earned him the recognition as the top resident in his program. He became the director of pediatrics for a large group of dental practices before coming to South Jersey and opening Growing Smiles where he is known for creating a relaxing atmosphere and using minimal anesthesia. Sekhon participates in the annual National Give Kids a Smile Day and donates to local and international causes.
Could you tell us about one new innovation/treatment in the field of dentistry and why you're excited about it?
Perhaps due to public concerns regarding amalgam fillings, the dental industry has come up with a number of innovative alternatives, including bioceramics, glass ionomers and resin substitutes. Many of these materials look identical to natural tooth structure and can last a very long time. We proudly use all of these materials at Growing Smiles, and have the ability to educate our patients and offer them an alternative that suits them best.
Published (and copyrighted) in Suburban Family Magazine, Volume 12, Issue 10.
For more info on Suburban Family Magazine, click here.
For information about advertising in Suburban Family Magazine, click here.
To find out where to pick up your copy of Suburban Family Magazine, click here.