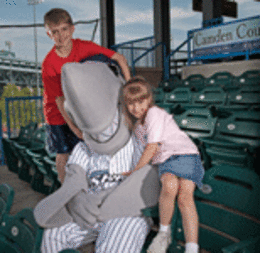 Back at Home Base
Former Phillies outfielder Von Hayes is now manager of the Camden Riversharks baseball team, and he's already made a huge hit in the South Jersey area.
Former Phillies outfielder Von Hayes is now manager of the Camden Riversharks baseball team, and he's already made a huge hit in the South Jersey area.
It was shortly after the Camden Riversharks had named former Phillies outfielder Von Hayes as their manager that general manager Adam Lorber saw first-hand what doors the hiring would open.
Hayes was hired in late October and one of his first functions with the club was to attend a World Series party at Campbell's Field that the Riversharks were throwing to meet fans, advertisers and potential fans and advertisers.
Immediate Impact
Lorber was immediately taken back by the size of the crowd, several hundred, he estimated. "If Von wasn't here we'd have about 50 people," Lorber said. "I saw the immediate impact from that event."
As the Riversharks begin their 10th season playing at Campbell's Field, there is a new shift in the marketing of this Atlantic League independent team.
For much of the franchise's first nine years, the big attractions were the promotions, the Friday fireworks, the Saturdays when the youngsters can run the bases, the Sunday family fun days and on and on.
And of course there is Campbell's Field, known for its great sight lines and the breathtaking view of the Ben Franklin Bridge high atop the outfield. In 2003 Campbell's Field was named Ball Park of the Year by digitalballparks.com and in 2005 it was named the No. 5 minor league park by MLNsports.com.
Now, in addition to all the team promotions, the giveaways, the expansive food court section, a key marketing tool will be the manager. "Most of our fans come here due to promotions, the event itself and not what happens on the field," Lorber said. "Von gets to do both; he gets to have an impact on the game itself; in addition he adds to the event."
Riversharks partial season ticket holder Steve Schmidt of Maple Shade echoed Lorber's comments. Schmidt was one of the people who attended the aforementioned World Series party with his 12-year-old son Tim.
"We were so excited to meet Von and he was phenomenal, signing every autograph, answering every question," Schmidt said.
The 51-year-old Hayes is the person the Riversharks are banking on to broaden their appeal. The team, which turned a small profit last year according to Lorber, has always had a strong following among South Jersey residents, but is now looking to go beyond.
According to Lorber, 82 percent of the Riversharks fans are from South Jersey. He is hoping that the attraction of a former Phillie might induce people from Southeastern Pennsylvania to cross the bridge and sample a Sharks game for $5-$15 for a ticket.
"South Jersey fans have taken ownership in the Riversharks," Lorber said. "Von gives us an opportunity to branch out."
Brian Schwartz of Norristown is exactly the type of fan the Sharks are trying to reach. Schwartz attended the Riversharks home opener, an 11-4 win over the Newark Bears on April 30.
He literally wore his emotions on his sleeve when it came to Von Hayes. Schwartz had a 1983 replica Phillies Jersey, with Hayes' No. 9 on his back. "I'm a big fan and came here to see Von," Schwartz said. "I plan to come back to more games."
As a former Phillie, Hayes brings a certain aura. No, his time in Philadelphia wasn't always smooth, but the fans came to appreciate his talent and his insatiable will to win. Was he booed?
Of course.
Few in Philadelphia totally escape the boo-birds, but Hayes was persistent and while he never met the oversized expectations that came with his arrival after being traded from Cleveland for five players, he carved himself a solid career.
Hayes spent nine of his 12 Major League seasons in Philadelphia and earned one trip to the all-star game in 1989.
"The fans were tremendous to me when I was a player," said Hayes, who lived in Newtown Square, Pennsylvania during his time with the Phillies and is now residing in Mount Laurel during the season. "When I would go out in the community and visited with people, I had good experiences and never had a problem."
And Hayes felt the same type of vibe when he was introduced before the Riversharks' home opener. "It is very special for me to know there are not only a lot of people who care about my career but care enough about the Camden Riversharks to watch us play," Hayes said the morning after the home opener.
Hayes says his role goes well beyond running the game.
"It is very important to connect with the fans," he said. "Even when I played it was part of my game to take extra time and sign autographs and I look forward to meeting the fans here."
Following his time in Philadelphia, Hayes played one final year in California with the Angels before retiring after the 1992 season. Hayes got out of baseball altogether for nearly eight years. Since returning to minor league baseball, Hayes has served various stints as either a hitting coach and/or manager.
Hayes is not in the game solely for the money or fame because he's had plenty of both. Baseball-Reference.com estimated that his salaries just from 1985 through his final year in 1992 totaled $11.4 million with a high of $2.2 million in both 1991 and 1992.
When asked if he has to now work, Hayes responded, "Put it this way, it makes things a little more comfortable." His family—wife Stephanie, daughter Taylor, 17, and son Conner, 14—lives in St. Petersburg, Florida.
Part of Von's Job is Pursuing Players
Hayes will certainly be multi-tasking with the Riversharks. Besides being the manager he will serve as hitting coach and during games he coaches third base. There will also be personal appearances as a way to attach himself and the team to the community.
Besides having a name that might open doors to potential fans and advertisers, Hayes was hired because of his extensive baseball resume, first as a player and recently as a manager.
"Von is aggressive and intense and very interested in what is going on and he really cares about the players and the game," said Jeff Scott, a Mount Laurel resident, who serves as both pitching coach and director of baseball operations.
Part of Hayes' job is also to recruit players for the team. Since the Riversharks are an independent team, meaning they aren't affiliated with a Major League club, they have to attract players who aren't signed by minor league affiliates of Major League clubs. Of course a successful independent team will lose quite a few players. Lorber said that over the past two years, 10 Riversharks have signed minor league contracts with Major League teams.
Face of the Franchise
So it will be Hayes the recruiter, the hitting coach, the manager, and yes the celebrity. "The main thing is the proximity to Philadelphia and with my name value in the area, it seems like a good fit," Hayes said. "Our goal is to create awareness throughout the area and to improve our fan base."
Few can bring more awareness to the Riversharks than somebody with Hayes' resume.
"I think it adds so much to the team to have a popular former player like Von Hayes," said Kathy Gannon of Magnolia, who attended the home opener with her husband, Jerry. "When you see somebody like Von Hayes, it makes you want to follow the team even more."
Hayes says that he enjoys the flexibility that managing in the Atlantic League brings. The Riversharks began preseason workouts on April 12 and the regular season ends on Sept. 19 with the playoffs that week. For Hayes it means being away from home a little more than five months, although he says his family could be visiting him this summer.
While here, he is thinking about the Riversharks 24/7, finding ways to attract players to his team and fans to his ballpark. He's eager to take on his new roll as the true face of the Riversharks' franchise.
During the Game, Visit the South Jersey Hall of Fame
Campbell's Field houses the South Jersey Baseball Hall of Fame, a place recommended to any fan interested in seeing the rich heritage South Jersey has enjoyed.
Want to see the Phillies uniform jersey of former big leaguer Rawley Eastwick, the pride of Haddonfield Memorial? Or the 1989 Babe Ruth World Series ring that Bo Gray won as a member of Cherry Hill's title team? Did you know that Gray went 30-0 as a high school pitcher for some of South Jersey's best teams ever at Cherry Hill West?
Or how about catching a glimpse of a bat from the 2005 World Series from former Pennsville product Chris Widger, who played on the Chicago White Sox championship team that season. Plus much more about all levels of baseball. And there is no admission.
Published (and copyrighted) in Suburban Family, Volume 1, Issue 3 (May, 2010).
For more info on Suburban Family, click here.
For information about advertising in Suburban Family, click here.
To find out where to pick up your copy of Suburban Family, click here.