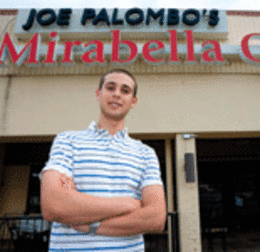 A Recipe for Friendship
Take one Make-A-Wish boy, his brother, and a special chef. Mix together love and understanding. Makes for a lifetime bond.
Take one Make-A-Wish boy, his brother, and a special chef. Mix together love and understanding. Makes for a lifetime bond.
It all began eight years ago with a simple cooking lesson and a wish.
Jason Warren loved to cook. The Cherry Hill boy, 9 at the time, suffered from arteriovenous malformations, causing abnormal connection between his veins and arteries. The condition led to chronic headaches and strokes. Debilitating radiation treatments followed. Unable to play any sports, Jason turned to cooking, which was his only creative outlet.
Local chef Joe Palombo wanted to help. Palombo, owner of Mirabella Café in Cherry Hill, learned about Jason in 2006 through the Make-A-Wish Foundation. The charity grants wishes to children with life-threatening medical conditions.
A Special Ingredient
"Jason had already had his wish granted," Palombo said. (His wish was for a video arcade machine called Arctic Thunder.) "But he had always been into cooking." And so the story goes, Palombo invited Jason and his younger brother, Josh, into the Mirabella kitchen to cook for one day.
"I just remember going in and all the employees being very friendly and welcoming, teaching us how the restaurant works," said Jason, a junior at Cherry Hill East High School. "We folded napkins, set some tables. Then we cooked with Joe, and he invited the whole family to eat what we made."
But right away, Palombo noticed something special about both boys.
"They were a couple of naturals—Jason and his brother," Palombo recalled. "They made crepes from scratch. Flipping the crepes like they had been doing it their whole lives." Palombo invited the boys back for more cooking lessons. It wasn't long before a friendship formed.
"After the first time we met him, there was definitely a bond between us," said Josh, now a freshman at Cherry Hill East. "He really cared, and wanted to get to know us better. After the first time cooking, he said, 'Let's set up more times.' So we cooked, made different things."
"They're just great kids…and everybody just clicked," Palombo said.
Together, the "three J's"—Joe, Jason and Josh—created a chicken dish they named the Triple J Chicken: Chicken with portabella mushrooms, roasted peppers, asparagus and herbs and a savory brown sauce.
Both boys eventually became bus boys at the restaurant—Jason working there for one year, Josh still working there to this day. Through it all, Jason continued to battle his disease, going through treatment after treatment. The radiation, Palombo recalled, would take everything out of Jason.
The kitchen, Jason said, became a place to get away.
"It's just a feeling of being wanted," Jason said. "At that time, you don't know what to do … you've had everything taken from you. So to have someone reach out and take you under your wing—it means the world."
Food for a Cause
Joe Palombo remembers the phone call like it was yesterday.
It was a weekday around 11 a.m. three years ago. Jason—the boy he had mentored for years—had gone in for another round of grueling radiation treatment, and weeks had gone by. Palombo was anxious to hear how it went—when the phone rang. But when Palombo answered the phone, there was silence. It was Scott, Jason's dad calling.
"For like 20 seconds…nothing," Palombo recalled. "I really began to fear the worst." But then, after the silence, Scott's words followed. "My son is cured," he said, barely able to get the words out.
Jason had received two treatments of Gamma Knife Radiation, and the results were excellent. "The beams of radiation irritate the bad blood vessels to close and not allow the blood to go through them anymore," said Scott.
"That was a good phone call," Palombo said. "That was a really good phone call."
Today, Jason is medically cleared. He can play sports and otherwise lead a normal, healthy life. The high school junior has big plans for college—he plans to take classes in finance and psychology this summer for college credit at Boston University, and is interested in pursuing marketing or business as a major.
And of course, Jason plans to continue to hone his cooking skills. "I have to impress everyone at college," he joked.
Back in 2005, Jason, then 12, organized a Make-A-Wish "bowling bash" at the Playdrome Woodcrest Bowling Center in Cherry Hill to help grant other children's wishes. With over 400 people in attendance, the bowling bash raised over $58,000! In 2006, The Philadelphia 76ers honored Jason as a "hometown hero" for the event. The following year, Josh organized a second bowling bash at the Playdrome, raising an additional $62,000. The two events granted a total of 13 wishes for sick children.
The boys come back every year to cook, along with Palombo, at the Dishes for Wishes event, which benefits the Make-A-Wish Foundation. For this year's dinner, which took place in May, the boys prepared and served banana and chocolate chip bread pudding. Jason and Josh's parents, Scott and Michele, were there. "The evening is a wonderful event that brings good food and the community together to support kids with life-threatening diseases," Scott said. "I like to give the children hope, strength and joy when other things around them are lousy."
In 2007, the Triple J Chicken officially went on the menu, with one dollar from every dish sold going to the Make-A-Wish Foundation. The dish remains a big seller on the Mirabella menu, thanks in part to Josh, who always recommends it to customers who ask for his opinion.
To date, the dish has raised at least $4,500 for the Make-A-Wish foundation. And all because of a cooking lesson that resulted in unexpected friendships.
"Joe taught me to be a better person overall," Josh said. "He's so charitable. Even when tied up with business, he is never too busy to say hello to us. He really cares about all of his employees."
"I'm really proud of both of them," Palombo said of the boys. "What can I say? They're like family."
Jason, Josh and Joe's Triple J Chicken
Ingredients
4 (6 to 8-ounce) boneless, skinless chicken breasts, cut in halves and pounded slightly
1/2 cup all-purpose flour
2 tablespoons olive oil
2 shallots, peeled & chopped
3 tablespoons butter
2 cups brandy
2 cups chicken stock
2 cups demi-glace
2 teaspoons each of fresh rosemary, sage & thyme
Salt and freshly ground black pepper
Directions Quickly dredge the chicken breast halves in the seasoned flour mixture, shaking to remove any excess flour. Heat the oil in a large skillet over medium-high heat until very hot but not smoking. Add 2 tablespoons of the butter and cook the chicken breasts until golden brown on both sides, about 3 minutes per side. Add the shallots. Add the remaining butter to the pan. Add the Brandy, carefully letting it flame up, scraping to remove any browned bits from the bottom of the pan. When the brandy has reduced by half, add the chicken stock and demi-glace and cook for 3 minutes, or until the sauce has thickened slightly. Lower the heat to medium and continue to cook until the chicken is cooked through and the sauce has thickened, about 5 to 6 minutes. Chop and add the fresh herbs. Add salt and pepper, to taste.
Published (and copyrighted) in Suburban Family, Volume 1, Issue 4 (June, 2010).
For more info on Suburban Family, click here.
For information about advertising in Suburban Family, click here.
To find out where to pick up your copy of Suburban Family, click here.