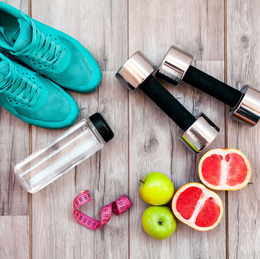 Putting Yourself First
Health & Wellness Tips
Don't spend another moment in pain or not feeling your best. Instead, commit to a new outlook and put your own well-being at the top of your to-do list. Suburban Family asked some local health and wellness providers for tips that anyone can incorporate into their lifestyle.
Dr. Rita Crangi-Kramer
Premier Orthopaedics Associates
"You can help reduce inflammation by eating a balanced diet with foods rich in antioxidants and omega-3 fatty acids. Exercise also has the ability to reduce inflammation while also improving strength and mobility. Developing a regular exercise routine helps your body produce natural opioids which reduce the sensation of pain. Yoga and mindfulness can further help manage chronic pain and overall well-being."
Dr. Michael Mirmanesh
The Garden Medical Spa
"When it comes to self-care, aesthetics plays a significant role because looking your best makes you feel good. When you are ready for medical spa treatments begin first by looking for trust, safety and who is running the establishment. A med spa owned and operated by a plastic surgeon should provide you with peace of mind where expertise and safety are at the forefront of the experience."
Julia Gandy Torres
Embodying Wellness
"During stressful times, remember that you have a choice: You can choose to be adaptable and meet those times with grace or be rigid in your idea of how things should be, living in fear and anger. It's a choice that you can make over and over again, so don't judge yourself too harshly."
Angela Lombardo-Kates
Bella Vita Salon
"I have been in the beauty industry for over 40 years now. One of the most valuable things I've learned is self care. Outside beauty is wonderful; inside beauty is essential. If it's getting a facial, buying a bouquet of flowers or having coffee with a friend—not a text—face to face. Happiness is a choice!"
Dr. Michael Kresloff
Kresloff Eye Associates
"A recent study of elderly individuals showed that those who opted to treat their cataracts surgically were 30% less likely to develop dementia. Cataract surgery is an opportunity to give a patient their sight back and tremendously improve their quality of life."
Dr. John Mirmanesh
The Garden Medical Spa
"When you are ready to begin aesthetics treatments, one of the best pieces of advice I can give is to be sure your doctor gives you a comprehensive evaluation of your skin type, understands your concerns and that he or she is willing to create a customized game plan that fits your goals and budget."
Dr. Paul Vidal
Specialized Physical Therapy
"Lower back pain is very common. Most low back pain is not serious and will resolve with short rest and a gradual return to normal activity. When pain persists, recent research advocates for active exercise, manual physical therapy and patient education. Talk with your health care provider to start feeling better today."
Hope Doms
Wair Hair Salon
"We believe hair color is a healthy choice. Our color is clean from ammonia; PPD, a chemical known to cause dermatitis reddening and swelling of the scalp and face; and resorcinol, a popular coloring agent which is toxic to wildlife and the human immune system. These are three ingredients that are excluded from the color line we carry."
Published (and copyrighted) in Suburban Family Magazine, Volume 12, Issue 9.
For more info on Suburban Family Magazine, click here.
For information about advertising in Suburban Family Magazine, click here.
To find out where to pick up your copy of Suburban Family Magazine, click here.