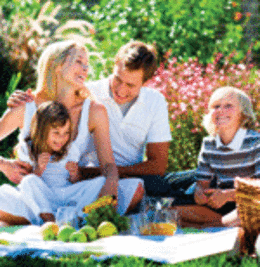 Stop the Summer Slide
How to Keep Your Kids Busy During Summer Break
How to Keep Your Kids Busy During Summer Break
How can you make sure that your kids get the most out of their summer break without falling behind on their math and reading skills? Educators call it the "summer slide," and it usually takes the first two months of the next school year for teachers to bring children back up to speed. But if you create a summer that balances rest, relaxation and fun with learning, your kids will avoid brain drain and be ahead of the learning game.
"I am an old fashioned mom," says Sue Burrough, a professional photographer, and mom of two elementary school aged kids, from Haddon Heights. "We do silly things like have pajama days." One cool summer craft she likes is making footprints in the sand and filling them with Plaster of Paris. "Very cheap and a great memory for the kids to treasure," she adds.
Summer Plan in Place
There are plenty of awesome activities in South Jersey that will keep kids' minds working, and provide them with fun as well. Before your kids can even breathe "I'm bored," have a plan in place. Start brainstorming now with your little ones, tweens, or teens, and let them help you develop a list of things that they want to see or do over the summer months. Have them write ideas on index cards and drop them into a folder or box. Encourage your kids to include lots of "old school" ideas such as pitching a tent in the backyard, planting a garden, or inviting friends to a potluck picnic.
Summer Reading
A great resource for free kids' activities is your local library. Jennifer Druce, Head of Youth Services for the Camden County Library System, reminds us to "take advantage of the great resources that are out there for your children at your local library."
There are 50 different summer reading events at six different Camden County Libary branches. Based on the themes of "Make a Splash @ Your Library" for children and "Make Waves @ Your Library" for teens and 'tweens, the library has events from June 22 through August 7. Kids can earn points by logging their time spent reading to earn chances for prizes they can win. View all the offerings and sign up at camdencountylibrary.org/events or call (856) 772-1636.
The Burlington County Library System, with seven branches, has classes and activities from tots to adults. Sign your child up for a July class in the Evesham Library to go green and decorate a plain canvas tote. August is the perfect time for kids at the Cinnaminson Library to register for Sharks: Tooth or Consequences. For these and many more events and classes, visit their website at bcls.lib.nj.us.
The Gloucester County Library System, with its six branches, has plenty of activities as well. Maybe your middle schooler wants to brush up on his chess in Mullica Hill or your teen wants to unleash her inner rock star with the Wii Teen Club in Logan Township. Visit gcls.org to see the latest boredom busters in your area.
Most programs at the area libraries are free and open to the public.
In Your Own Backyard
Check your town's website for sports, festivals, concerts, camps, or other summertime activities for the kids. Most towns have calendar listings where you can learn about upcoming fairs, fireworks, farmers markets and free children's activities. For example, the Moorestown town calendar (moorestown.com) lists their scouting activities and the Cherry Hill calendar (cherryhill-nj.com) includes information about its morning fun camps.
The county websites are chock full of information about the parks, lakes, and architecture scattered throughout the area. Burlington County, for example, has free children's summer activities, including a Jr. Ranger Program for kids (ages 4-12) and a Young Naturalist Program for teens (ages 13-17). Visit co.burlington.nj.us. Also check out camdencounty.com for magic shows and summer fireworks, and co.gloucester.nj.us to find Family Fun Shows or Movies in the Park.
For a $120 investment, a family of four can enjoy a yearlong membership to the Garden State Discovery Museum in Cherry Hill. Filled with interesting and interactive exhibits, the Museum features kid-powered action that teaches and entertains. Visit discoverymuseum.com for more information. A special Open Arms: Family Evening will take place on Sunday, August 8, for families with autistic children; register for this free event at onthego@discoverymuseum.com so you can meet other families, siblings, and caregivers.
Mount Laurel owns and operates PAWS Farm Nature Center, where you can take your child to learn some hands-on lessons about the 80 birds and animals that live there. Cost is $4/children and $6/adults. At The Butterfly Bonanza on August 11, kids (ages 3-7) can explore the amazing journey from caterpillar to butterfly. Cost is $5/child plus admission. Check their website at pawsfarm.com.
At the Katz Jewish Community Center in Cherry Hill, there is a Summer Family Music Festival on August 2. Admission is only $5, free to kids under 5. "It's an event that is multi-generational," says Sabrina Spector, Katz Cultural Director. "Kids, parents and grandparents can all have a great time."
Local YMCAs offer day camps during the summer that cost in the $200 range for the week. "Kids love the specialty camps, which include soccer, cheering, and martial arts," says Phil McAdams, Youth Director of the Gloucester County YMCA. Call to register at (856) 845-0720 or visit ymcagloco.org.
Burlington County YMCA day camps run $210 for five days, $193 for four days and $162 for three days and include a sports camp for K-3, Camp Discovery for K-6, and Camp Adventure for K-6. Visit ymca-bc.org for more details.
The days of summer may be lazy, but your kids don't have to be. Karen Rowley in Cherry Hill remembers summers past when her two girls, ages 8 and 11, participated in a neighborhood yard sale. "They went through their things, decided what they could part with, and wrote out price tags," she says. "They also set up a lemonade stand." Her oldest daughter also started a book club with her friends. She sends out invitations to girls who liked to read and they met several times over the summer months.
Published (and copyrighted) in Suburban Family, Volume 1, Issue 4 (June, 2010).
For more info on Suburban Family, click here.
For information about advertising in Suburban Family, click here.
To find out where to pick up your copy of Suburban Family, click here.