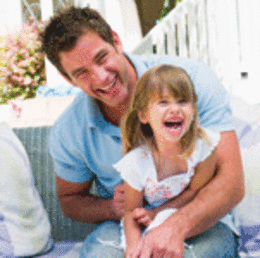 Go Daddy!
It's Father's Day every day, as so many dads are playing a new role—and finding more time to play.
It's Father's Day every day, as so many dads are playing a new role—and finding more time to play.
In the spring of 2005, I was an involuntary stay-at-home dad living in South Jersey, after being laid off from my job with a sports magazine publishing company in Manhattan. One evening as my wife and I talked about our days, I mentioned something "one of the other moms" had said at the park.
It was a funny slip of the tongue, but it underscored just how different modern dads are to the ones who came before them. Unlike most of our fathers and grandfathers, today's fathers change diapers, give our kids baths, cook, clean, and take our kids to activities—even ones that don't involve a sporting event.
"Certainly when talking to my father-in-law or my father, it seems I'm much more involved in the day-to-day activities with the kids as far as diaper changing, bathing, getting dinner set up," says Mike Francisco, a senior vice president with a wealth management group, who lives in Mount Laurel. "I'm pretty heavily involved in that stuff."
Francisco is quick to note that he doesn't do as much diaper changing as his wife, but much more than his father did. And it's a change the men in his family admire.
"They appreciate the generation that we're in, where both parents kind of have to have a helping hand and make sure the husband and wife are doing everything they can to make sure the kids are OK," says Francisco, who has two sons: Michael, 2, and Nicholas 5 months. "So they don't look down on it at all, but they always do bring up the stories. When family members say, 'Mike changes a lot of diapers,' my father says, 'I was never trusted to do any of that.'"
Fathers are also taking on some of the responsibilities traditionally associated by mothers. Katherine Perez-Rivera, Ph.D, says she is seeing more families like that in her practice, the Pitman-based South Jersey Center for Psychological Services.
A few years ago, dads were choosing to stay at home, these days it's happening more often because of layoffs. Losing a job is rarely a good thing, but Perez-Rivera says it's "extremely healthy" for young children to have a parent being their primary caretaker. And being home with dad helps children develop strong bonds with both parents because mothers traditionally make themselves available to their kids, even after a long day at work.
Full-time Father
Mike Lausi, who lives in Cherry Hill, became a full-time father after being laid off in 2005 when the Los Angeles-based company he worked for closed its New York office. It was upsetting, to be sure, but it offered him a change of life, and the chance to be with his kids more. His job in marketing involved a two-hour commute, 12-hour workdays, and little sympathy for parenting. One supervisor had told him to put a shirt he had worn in his first child's crib "as a way to bond."
Being a full-time dad for two years led to Lausi buying Jellybean Jungle in Marlton, a play facility for children. He and his kids were regular visitors, and he bought it three years ago when the prior owner moved to North Carolina.
So now Lausi runs his own business but is still his kids' primary caretaker, he says, "I think when we first said we were going to own a business, it seemed like, 'We'll have a staff of people, the place will run itself and I'll just come in and do a few things and leave.' But it's not that at all. It's a lot more involved, and it's a balancing act."
These days, Lausi wakes up at 6 a.m., and he hits the ground running. He and his wife, Laurie, a music teacher at Cherry Hill East High School, start getting their three kids fed and dressed before she is off for work by 7:15 a.m.
At around 8 a.m., Mike helps his oldest son, 7-year-old Justin, pack his book bag and get on the school bus. He then takes his daughter Sarah, 5, to pre-school before taking his 2-year-old son Connor to the music program he attends. Then it's off to work.
Busier days might involve a soccer game for Justin, or Laurie working late because the students in her singing class have a concert. "Some days are just nuts for us," Lausi says. If a switch is being made from the mother to the father as the primary caretaker—whether by choice or layoff—Perez-Rivera says there are some things to consider.
"If the mom was indeed the one who—even when both were working—was doing more of the parenting, what the child is possibly exposed to is a different parenting style from the father," she says. "That can be very confusing to the child, and also the dynamics can be very different."
Steve Janik, who lives in Marlton, has been a full-time dad from the start to his three daughters (his wife is a family physician in Maple Shade). "When it came time to have kids," says Janik, "we had to make a decision on what to do about their care. I think we were on the same page that daycare wasn't the option for us, so I ended up leaving my job and taking on full-time care of the kids." Now he works part-time as an athletic trainer at Stockton College in Pomona.
"I was never Mr. Mom," says Janik. "My kids have a mother and she does a great job. Our values are that mother has a role and that father has a role. While I was the caretaker and I was doing the, I guess, dirty work, with the kids, I never stopped being a father. I always hated that term Mr. Mom because people throw it around so much. But it was hard, I had never changed a diaper until my first daughter was born, so it was a lot of learning to do."
Father Does Know Best
Being busy at work doesn't mean you have to take a back seat as a parent. Dr. Jeff Millstein of Moorestown found a common interest he could share with Ian, his 10-year-old son. Millstein is a general internist who works in a busy practice in Woodbury during the week, and is on call for a hospital every other weekend. He and Ian spend quality and productive time together via the Philadelphia Boys Choir. Ian sings in the choir, and Jeff sings in the choir's men's chorale.
"It's been a real great time, and now, both Ian and I are in the choir together, so we're able to share that passion for music, and also spend time together," he says. "And it's fun because it involves rehearsing a couple of times a week."
Millstein compares his involvement with choir to fathers who coach their kids' sports team. It offers opportunity to travel for concerts — they'll go to China for 10 days this summer.
Still, Millstein had to give it some thought because of his schedule. "I hedged about it probably for a year," he says. "It was something I thought about doing but I was a little nervous because I do have a busy schedule, and I wasn't sure I could pull it off. With my wife's encouragement, and just really thinking carefully about how I can work this around my schedule, I just decided to bite the bullet and go for it."
As tricky as scheduling can be, Millstein is happy he did it. "It's definitely worth it because we have bonding time together, even just in the car on the way to and from rehearsals," he says. "And we get to share this passion for music and we work on the music together, it's really been fun."
Figuring out how to make the time to be with your kids is a challenge.
Mike Francisco will leave the office, come home for dinner and help get the kids to bed, before returning to finish up a day's work. Sometimes he'll go in late so he can have breakfast with Michael and Nicholas.
He says he wouldn't change a thing, and rather than wondering where his free time has gone, Francisco sees himself as being more productive. "It was a big change for me," he says, "and you have to put yourself aside a lot of the time in order to do what you have to do at home, and with the kids."
Joe Gramlich of Bordentown, has a 10-year-old daughter Noelle, and a 7-year-old son AJ. Gramlich works for the state as a data process analyst, and makes time to volunteer on the PTA at his son's elementary school, and on the PTO for his daughter's middle school. He also coaches AJ's baseball team, Noelle's softball and travel softball teams, and both kids' soccer teams.
"I do it for the kids," he says, "not just my kids but all those kids in the community I'm able to help. It's a good feeling to help everybody. The kids are young once. They'll get older, and when they do, hopefully they'll remember to help their kids with things that they need."
Published (and copyrighted) in Suburban Family, Volume 1, Issue 4 (June, 2010).
For more info on Suburban Family, click here.
For information about advertising in Suburban Family, click here.
To find out where to pick up your copy of Suburban Family, click here.