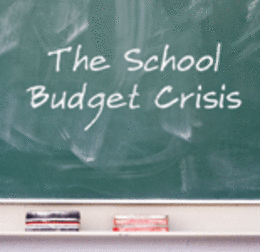 The School Budget Crisis
Many athletic, music and foreign language programs got slashed—how will the cuts affect your child?
Many athletic, music and foreign language programs got slashed—how will the cuts affect your child?
When Governor Chris Christie's budget cuts were announced in March, school districts throughout South Jersey started to scramble. The only way to make up for the loss in state aid would be to turn around and ask the taxpayers for it. But knowing that many homeowners in New Jersey wouldn't be able to withstand increases in the hundreds of dollars, school districts were forced to start prioritizing what was important to education.
Gloucester County
When Matthew Pisauro finished singing his solo for the choir this year at Thomas Jefferson Elementary School in Washington Township, his parents and his teachers in the audience broke down in tears.
This wasn't just any performance.
The 11-year-old has a form of autism known as Asperger Syndrome and to get up on stage in front of a crowd took an overwhelming amount of courage from the young boy. His mother, Trish Pisauro, credits the school district's music program for helping Matthew come out of his shell.
"This was a child that couldn't stand in front of a group of people and speak or give a presentation," Pisauro said. "As a result of playing in a band and singing chorus he was able to do a solo. Now he's able to speak publicly in class."
The same program that has been such a confidence booster for Matthew is about to see a drastic change come this fall when he and his sisters, Cori, 13, and Ava, 8, return to school.
This year, Gov. Christie announced his plans to cut state aid to New Jersey's schools by about $819 million, forcing the school boards to lay off teachers and staff and eliminate programs like music, sports and foreign languages.
Throughout South Jersey, especially in towns where the school budgets were rejected by voters in April, the cuts were vast and deep.
Playing a Sad Song
Deb Baldasarre is one of 28 music teachers in Washington Township Public Schools. Come this fall, seven of those teachers won't return.
The effect this decision will have on the children will be dramatic, Baldasarre said. "The music program in Washington Township is very important and it's very highly regarded," Baldasarre said.
The cuts equal 25 percent of the music program's staff, with elementary and middle school being hit the hardest. It's one of many areas the Washington Township Board of Education voted to scale back on after being told they would lose $6.4 million in state aid.
Luckily, the school district's budget passed by a slim margin after nearly 8,500 residents—a record turnout—came out to vote in April. Next year, the average homeowner will see their taxes increase about $180 to support the schools. But still - programs were lost.
The loss of those seven music teachers will mean that the students at the elementary schools won't start learning how to play an instrument until fifth grade now, rather than fourth.
Before, each of the district's six elementary schools had one teacher designated to teach the string instruments, and another for band. Now, only one teacher for each subject area will be responsible for all the elementary schools.
"That's a lot for one person," Baldasarre said.
And because one of the three middle schools lost its vocal teacher, teachers at the other two schools will have to pick up the slack, leaving no time for them to offer weekly lessons for the students.
It's a cut that's coming at a critical time in the children's lives, Baldasarre said.
"They're starting to grow," she said. "Their hands are getting bigger, they can handle the instrument better. I remember what it was like when I was in middle school. I learned more in seventh and eighth grade than any other time and I think the sixth-grade lessons are so important."
Baldasarre and her colleagues are hoping there's still time to make changes before school starts this fall.
After parents continued to come out in support of the award-winning music program, the school board has taken notice and is trying to find alternative funding to maintain the programs that were cut.
Pisauro is one of the many parents who have been involved. "A few months ago, everyone was talking about our win at the Cotton Bowl (during which the Washington Township High School marching unit picked up a number of awards). I understand the financial realities," Pisauro said. "I just think to decimate a program that makes people want to stay in Washington Township is insane."
Serving one of the fastest growing communities in all of New Jersey, Kingsway Regional School District in Gloucester County was also forced to scale back on its programs and services for the upcoming school year.
The regional district, which services Swedesboro, and the townships of South Harrison, East Greenwich, Logan and Woolwich, was faced with nearly an 18 percent cut in state aid. On top of that, $2.2 million of its surplus was used to support the 2009-2010 budget as part of a mandate from the governor's office that schools use their unspent funds rather than get their second state aid payment.
Some of the programs eliminated in the 2010-11 budget include money to purchase new textbooks, new technology and replacement computers. Ten certified staff members were also fired, as well as custodial and secretarial positions, the middle school's homework clinic, after-school tutoring at the middle school and clubs at the high school.
Still, homeowners will see their tax bills go up anywhere from $54 on average in South Harrison to $136 in Woolwich Township.
Camden County
On any given weekend during the year, the LaMaina family of Haddonfield is being pulled in a number of directions. Tori, 19, often has intramural sports at the University of Pennsylvania. Joe, 17, might have a varsity tennis game to play or a camping trip to go on. Jack or Ali, both 14, may be away with the travel soccer teams, on a sailing trip, or at a field hockey game.
Rosemary LaMaina won't lie. Her family's busy and all their activities often soak up her and her husband's time on the weekends.
But they wouldn't have it any other way. "I think it's really good to get children active," she said. "I don't care what sport you pick. They're all good. I just think the attitude of exercising your body and moving your body on a daily basis is a good trend to have for your life."
The sports programs at Haddonfield Public Schools are what got her children motivated. "I love the sports at the high school," LaMaina said. "It gives them confidence to try other things."
So when LaMaina heard that the district was on the verge of eliminating the freshman sports program, she — and many other parents and students — were worried.
A Different Game
Not long after the idea was put on the table, the coaches at Haddonfield Memorial High School, led by Athletic Director Lefteris Banos, started to get creative. Rather than running a 10-week program, sports will only be eight-weeks long. Coaches will get 80 percent of their pay. Only about half the freshman games will be played next year and there will be no away games, which will save on transportation costs. The head coaches also agreed to give up their extended season pay.
"That tells you the kind of commitment the Haddonfield coaches have, for them to feel freshmen are so important to give that up," Banos said.
That first year of sports in high school is a "critical link" for the incoming students, the athletic director said. For many students, their high school sports experience is a spring-board to college scholarships, and a future.
Without it, that link is broken. "Imagine Major League Baseball without the minor league," Banos explained. "It's a critical link to the development of the students. It's a critical year. They step into a new environment, new challenges, the world of high school. It is extremely important to make connection, and feel part of their school from the beginning."
Stephen Noll, 15, is completing his freshman year at Haddonfield Memorial High School. During his freshman year he played freshman football, freshman basketball, and was moved up from freshman baseball to junior varsity. "Freshman football gave him the opportunity to try a new sport at an appropriate competitive level," says Jackie Noll, his mom.
Alex Marshall remembers how important freshman year was. The 17-year-old plays both basketball and field hockey at Haddonfield Memorial High School. Her sports career started as a freshman.
"It was really important to me," Alex said. As a teen, she found it easier to transition into high school with a team surrounding her. "I was able to look up to the varsity team and say that's what I want to be," Alex said.
When the school district proposed the cuts to the sports program, Alex said she and her friends "were really worried." "It's easy to start something new when you're young, but it's a lot harder as you get older," she said. "We were afraid they'd be deterred (from joining a sports team in their later years of high school) and we'd lose a lot of interest."
Understanding the Language
The foreign languages program at Cherry Hill Public Schools in Camden County will be one of many areas that will suffer next year after $13 million in spending was cut from the budget when the district lost its state aid. Those cuts went even deeper after the budget failed at the polls.
Four of the eight Spanish teachers will be fired from the elementary schools, according to Cherry Hill Education Association President Martin Sharofsky.
Now, instead of the students receiving Spanish lessons every five days, it will be every 10 days. The Talented and Gifted program was also affected. Rather than having a pull-out program where kids have special class time, it will be done in the classroom, he said. Middle school and high school class sizes will also increase, and support for the teachers, including a math coach who helped shape curriculum, was also cut back.
"Parents don't always know about the cuts because teachers do what they have to, to make sure the instruction goes on and to make sure the kids get what they need and get what they deserve," Sharofsky said.
Burlington County
The Lenape Regional School District in Burlington County was faced with nearly a 21 percent reduction in state aid for the 2010-11 school year — a loss of about $6.5 million. The budget sent to voters in April called for at least 100 staff reductions, including 40 teachers, four district administrators, two assistant principals, 44 support staffers, and all food service positions.
There were also cuts to programs and services, and the implementation of a new athletic and activites fee for the students.
All of those cuts are on top of a tax increase for the eight towns served by the district ranging from about $30 more for the average assessed home in Tabernacle Township to $173 more for the average assessed home in Mount Laurel Township.
"This is by far the most challenging and disheartening budget the board and administration have prepared in recent memory," Superintendent of Schools Emily Capella said in a statement on the district's website. "The cuts and sacrifices are deep and widespread, touching everyone in the district from administrators and support staff to teachers, students, families and taxpayers."
Recognizing Talent
"We had to look at what did it cost to have [a certain program] and can we afford to have it any longer," said Don Mishler, president of the Moorestown Township Board of Education. "In some cases, no, we couldn't."
In a letter that Superintendent John W. Bach sent home to parents in late March, he informed the public that more than $6 million had been cut from the district's budget and that 59 full time positions would be eliminated. But after the public came out to voice their concerns, some programs were able to be saved. Others were modified and may never be the same.
If the cuts to state aid continue, "we'll see an erosion of what I call the 'ideal model,'" Bach said. "There's only so much you can do before you start to drill into the bone structure of the district."
The Gifted and Talented program, which was on the chopping block at first, was able to be saved, but it may be a modified version when it returns this fall.
A petition was also circulated this spring in support of maintaining the Pre-First program, which has been offered to kindergarten students in the district for more than 25 years. It worked.
Mishler said the community's discussions with the board during the difficult budget process was able to help them make crucial decisions.
In the end, twice the number of voters came to the polls than last year and the budget passed. Last year, it did not.
"There was a real lack of voter participation (last year) and you can't, if you're a voter, expect to get what you want if you don't vote," Mishler said.
He encouraged parents to get involved with the schools and with the budget process. "It opened our eyes to the issues we had in the community and we addressed them," Mishler said.
"The budget cuts affected me personally," says Alex Grossman, 16, a cheerleader at Moorestown High School, "because our team was up for new uniforms this season. We wouldn't have gotten them had it not been for some donations from team parents." Alex had also planned on taking a Chemistry class in summer school, but the session got cut by the high school.
Kris Yankall, president of the Home and School Association for Moorestown, said it's important for parents to be active in the schools - not just during a difficult financial time. Despite the economy, Yankall said the association was able to meet its $100,000 budget target - money that is used to offset some of the expenses that the district can't afford, like field trips, guest speakers at assemblies, or playground equipment.
"It's my firm belief that all our programs have value," Yankall said. "Our children are our future and if we shortchange them, we're not only doing a disservice to them but to our society as a whole."
The Deepest Cuts
Here are some of the townships in Camden, Burlington and Gloucester counties that received the most drastic state aid cuts.
BURLINGTON COUNTY
Evesham Township
2009-2010: $ 15.1 million
2010-2011: $ 11.5 million
Loss: $ 3.6 million or 23 percent
Medford Township
2009-2010: $ 5.6 million
2010-2011: $ 3.4 million
Loss: $ 2.2 million or 39 percent
Moorestown Township
2009-2010: $ 4.5 million
2010-2011: $ 1.5 million
Loss: $ 3.0 million or 67 percent
CAMDEN COUNTY
Cherry Hill Township
2009-2010: $ 16.5 million
2010-2011: $ 8.0 million
Loss: $ 8.5 million or 52 percent
Haddonfield
2009-2010: $ 1.5 million
2010-2011: $ 0.0 million
Loss: $ 1.5 million or 100 percent
Voorhees Township
2009-2010: $ 6.4 million
2010-2011: $ 4.1 million
Loss: $ 2.3 million or 36 percent
GLOUCESTER COUNTY
Kingsway Regional
2009-2010: $ 8. million
2010-2011: $ 6.6 million
Loss: $ 1.4 million or 18 percent
Washington Township
2009-2010: $ 53.7 million
2010-2011: $ 47.2 million
Loss: $ 6.5 million or 12 percent
West Deptford Township
2009-2010: $ 12.5 million
2010-2011: $ 10.4 million
Loss: $ 2.1 million or 16.5 percent

For more info on Suburban Family, click here.
For information about advertising in Suburban Family, click here.
To find out where to pick up your copy of Suburban Family, click here.