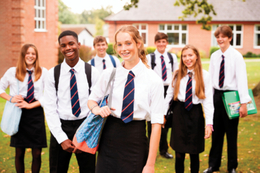 Advantages and Benefits of Private School
A look at how these institutions set students up for success.
Parents may think they know how a private school education can benefit their children, but there is much more to it than what's on the surface. From instilling faith-based values and providing access to resources to building tight-knit communities and supporting athletic programs, private schools provide experiences that some students will never have. Suburban Family asked private schools in the area to share what they believe to be the most essential ways this type of education can change a student's life.
Archmere Academy
Gina Dzielak, director of marketing and communications
"One of the most significant differences with attending a private school is that the smaller class sizes lead to more focused attention from teachers in a wide range of courses. Archmere Academy offers 24 AP courses, with the vast majority of students scoring 3+ because of that
individualized attention. The focus on academics coupled with college counseling resources available leads to a high college matriculation rate. In most given years, 100% of seniors elect to attend a four-year college."
Kellman Brown Academy
Rachel Zivic, head of school
"There have always been many benefits and advantages of private schools—it's just that last year, so many new families got to experience it. The most telling evidence of families' new understanding of the value of private education at Kellman Brown Academy, is that the families who enrolled last year due to COVID-19 stayed at Kellman Brown Academy for this school year and plan to stay for the future. What these families learned at KBA is that their children are noticed, that they matter, and that they're valued for their individuality. At a school like KBA, small class sizes and excellent teaching allow each student to reach their potential. The sky's the limit."
Holy Cross Prep
David Moffa, assistant principal & director of admissions
"At a private school like Holy Cross, the smaller school size opens the door to a wide range of possibilities for students. Rather than being just another number in the hall, students get to have real, personal relationships with their peers, teachers and coaches. As members of clubs and athletic teams, every student has a chance to be a contributing member, and there isn't the same fear of being so far down the list of names that nobody even pays attention to you."
Merion Mercy Academy
Eileen Killeen, director of admissions
"Since 1884, Merion Mercy Academy, an all-girls Catholic college preparatory high school sponsored by the Sisters of Mercy, has been educating girls from across the region, including South Jersey. The school provides a vigorous college prep curriculum as well as holistic and personalized learning. Merion customizes schedules for each student, offers a unique rotating cycle and allows girls to participate in activities during some school days in a 'co-curricular period.' Our students love the variation in their daily schedules. And with over 70 activities, there is something for everyone to enjoy at Merion."
Moorestown Friends School
Mike Schlotterbeck, director of marketing and communications
"At MFS, we weave academic rigor with Quaker values to serve a dual purpose: offering uncommon intellectual challenges while also instilling vital emotional and ethical attributes that empower our students.
"Our focus on relationships creates conditions for great intellectual daring, remarkably productive collaboration and courageous perseverance. And our Quaker values impart universal principles of equality, compassion, reflection and responsibility—which serve students from all backgrounds and belief systems and remain relevant in rapidly changing times. Our graduates' minds are primed to be successful by every traditional measure, while their hearts and souls are poised to define success on their own terms—in choices about college, career and life itself."
Our Lady of Mercy Academy
Nicole Donovan, director of admissions
"Real learning happens when students are engaged. And whether that learning takes place in the chem lab or on a mini-mester to New Orleans, experiential learning is stressed. When passionate and dedicated teachers are encouraged to think 'outside the box,' learning takes on a new dynamic.
"OLMA's students are empowered to be empathetic leaders, who will use their voices to help lead a world of change. The faith-based, all-girls environment allows faculty and staff to tailor every aspect of the curriculum and co-curricular activities to OLMA's students. Attending an independent school that recognizes the whole student—academically, emotionally and spiritually—is an advantage for our students."
Paul VI High School
Kathleen W. Stewart, admissions director
"Choosing private school, like Paul VI, is an act of will, of intent, and from that very conscious choice springs a dedication to a shared mission that is hard to duplicate elsewhere. Parents are making sacrifices for their education, and I find that our students have a remarkable capacity to carry that awareness of that into everything they do—whether the classroom, the field, the court, the stage. When the mission of the school is also based in faith, the community shares an additional common bond. The result is a family of exceptional strength."
St. Augustine Preparatory School
Manny DiJamco, director of marketing and communications
"The benefits of private school education are as prominent as they have ever been: faith-based character development, flexibility in a rapidly changing learning environment and a curriculum that aligns with family values. These elements and more continue to set the private school experience apart from many other learning options. St. Augustine Prep has helped its students cultivate real-world skills through an innovative educational environment unique to a rural private school setting. The focused approach of a rigorous academic program combined with social service, co-curricular activities and faith-formation has continued the school's tradition of developing well-rounded, talented young men of character."
St. Joseph's Preparatory School
Howie Brown, director of admissions
"The benefits of private education—specifically through a Jesuit Catholic lens—are endless. At the Prep, I think the No. 1 benefit is the focus on caring for the individual student … caring for the entire individual. This might sound trite, but it's a core tenet of Jesuit education and is the main reason we are a school. We care for the hearts, minds and souls of every young man in front of us each day. From a practical perspective, the Prep's network of alums and parents opens up countless opportunities through internships, service opportunities and access to unique experiences unmatched in public education."
Westfield Friends School
Lily Taylor, director of communications, development coordinator
"Westfield Friends School is an independent, co-educational day school for students in preschool through grade eight. Shaped by centuries of progressive Quaker practice, Westfield provides the kind of education—the kind of childhood—that allows children to develop into confident, capable and whole adults.
"An inspiring academic setting, an empowering community and a Quaker moral compass—these are the inseparable elements of the Westfield Friends experience. Working in unison, they produce deeply satisfying results. We believe that a diverse community leads to a confident, empowered child. We're proud to say that our graduates help create the world we seek."

Published (and copyrighted) in Suburban Family Magazine, Volume 12, Issue 6 (September 2021).
For more info on Suburban Family Magazine, click
here
.
For information about advertising in Suburban Family Magazine, click
here
.
To find out where to pick up your copy of Suburban Family Magazine, click
here
.