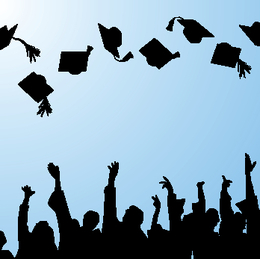 The Power of Alumni
After graduation, alumni are still a valuable component of their alma mater's network.
It's hard to beat the feeling of being a new freshman on a college campus. From the minute you arrive, you're welcomed with open arms to a community that will soon feel like home. As your college career continues, you feel like a VIP, with access to countless resources. But what happens after graduation? Will the school become a distant memory or will it continue to be a part of your life?
As an alumnus, you have the power to make your relationship with your alma mater as personal as you want. And colleges are more than willing to ensure their alumni are valued.
Natalie Pollard, director of alumni relations at Rider University, says the school engages its alumni through a variety of efforts, including social media outreach, written and electronic communication, benefits and services, targeted events on and off campus and engagement opportunities with students such as job shadowing, internships and as guest speakers.
"As alumni, you may have left campus, but you're still part of the Rider family. To maintain those close ties, Rider distributes its alumni magazine twice a year. This is complemented by a monthly electronic newsletter that provides campus updates, student and faculty profiles, class notes and feature articles," she says.
Kirsten Swanson, director of marketing communications and social media at Gwynedd Mercy University, says a multi-pronged communication approach keeps alumni engaged. "We produce e-newsletters, a president's report and a digital alumni magazine twice a year. We host alumni-specific events throughout the year both on campus and off, and both new and annual events. For example, we're holding a fun alumni event at a Philadelphia Flyers game next month that we look forward to every year. During the pandemic, we quickly put together a 'Griffins @Home series' featuring alumni on Zoom who spoke about topics related to their careers or hobbies. It was a wonderful way to stay engaged and connected during a difficult time. We also offer things like free lifetime career development assistance, discounts on insurance and branded license plates."
In fact, discounts and professional development are some of the biggest benefits afforded to alumni.
"By staying connected with Rider and our network of 60,000-plus alumni, students, faculty and staff, alumni gain access to a vast support network and many valuable services to enhance their personal and professional lives," says Pollard. "Rider's Office of Alumni Relations works closely with the Center for Career Development & Success to provide career-related support services to alumni. Alumni have the opportunity to meet with a career counselor and can use Rider's online tool, Handshake, to post and search for jobs." Rider's alumni also receive a 20% discount in the bookstore.
Alumni events bring together generations of graduates and can be some of the most well-attended. Rider's event list includes alumni days (reunions, games and an opportunity for alumni to watch the current teams) for all of its athletic teams, athletic golf outings or fundraising dinners, milestone reunions (10, 25, etc.), and Homecoming Weekend with more than 20 events including reunions, athletic competitions, dedications and all events involve alumni, students, parents, friends, faculty and staff.
Keeping up on the college's latest news and attending functions is important, but one of the most personally rewarding ways alumni can make a difference at their alma mater is in engaging with current students.
"Alumni have many opportunities to engage with our students and volunteer with career-related topics," says Pollard. "We have several advisory boards within the colleges to engage alumni in matters of the colleges and interact with our students. We have official programs for mentoring as well as job shadowing and internships. We try to use our faculty to also provide opportunities for our alumni to engage with our students and various programs around campus. One such program is offered through our Gail Bierenbaum Women's Leadership Council (GBWLC) where alumni are matched with current students each semester and there is a mentor/mentee relationship."
Some of these relationships could even blossom into professional opportunities. "As a smaller liberal arts university, the opportunity to network with alumni is much greater and more personal," Swanson says. "Many alumni stay in touch with their professors, the Career Development and Alumni Offices and are very interested in helping to mentor our students, whether it's through conversations, shadowing, career panels or internships. … Our nearly 24,000 alumni serve as a powerful means of networking in our area and around the country. Just recently we featured a story on our website about how one alumna hires nearly all GMercyU students as paid interns for her accounting firm."
Pollard says, "Engaging alumni with the university is important to the circle of life for the institution. … After students graduate, it is our hope that they view Rider University as a lifelong partner and want to volunteer and stay connected to the university and other alumni. We endeavor to educate current students about the benefits of maintaining a strong, ongoing relationship with their alma mater. By keeping an active connection with the university, current students and other alumni, Rider graduates are able to grow their personal networks and share their talents with others, creating a foundation for shared success."
Published (and copyrighted) in Suburban Family Magazine, Volume 12, Issue 6 (September 2021).
For more info on Suburban Family Magazine, click here.
For information about advertising in Suburban Family Magazine, click here.
To find out where to pick up your copy of Suburban Family Magazine, click here.