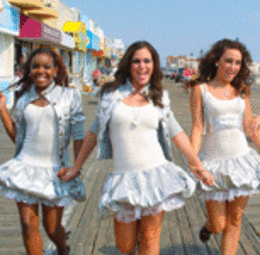 A Jersey Shore Thing
Life's a beach for these South Jersey teens (and more) who star in the new Standing Ovation movie musical.
Life's a beach for these South Jersey teens (and more) who star in the new Standing Ovation movie musical.
Move over, High School Musical. There's a new tween movie aiming to take your place – and this time, it's set right in here in South Jersey.
Standing Ovation, set in Atlantic City and shot in Cape May, Wildwood and Ocean City, tells the story of five junior high school friends who manage to beat the odds and take their musical group The 5 Ovations all the way to the biggest television music video competition of the year. Of course, getting there isn't easy, thanks to their top competition, The Wiggies, doing everything they can to stop the Ovations from going all the way.
Producer Diane Kirman—a Philadelphia native who later moved to the Jersey shore herself—chose this area, she said, because of the rich history of fun activities and experiences. The movie, which premiered July 16, includes 20 original songs and an almost all-South-Jersey-based cast.
Pilar Martin
Age: 13
Hometown: Moorestown
Pilar Martin may be young, but the Moorestown Friends School student has big plans. She has had a few stage and television appearances–the "Guinness World Record Special" on the Food Network as well as a spot on Comcast Interactive TV "On Demand"– before landing the role of Blaze in the Standing Ovations group. Through it all, Martin has remained a straight-A student.
Favorite movie memory: "There's a scene in the movie where we're singing in the water, and the other group decides to sabotage us. We used my jet ski from my shore house [in Brigantine] … and they used my mom to drive it! So I get to sing and get splashed by mom."
On the movie's message: "It was really touching to me: if you have a dream and truly work hard at it, it really can happen. I hope the movie reaches out to kids and tells them, if you want to be a doctor, or be in the Olympics, or be anything, don't give up."
Erika Corvette
Age: 18
Hometown: Sicklerville
From the time she was little, Erika Corvette (she plays Angel Wiggs) has wanted to be a star. "I always believed that if I want to do something, I needed to go for it and just try," the Timber Creek High School graduate and Mainstage Center for the Arts alum said. "I'm so honored and grateful to be a part of this – everything I want to do is in this movie. I am living the dream."
On singing: "When I was little, I was tone deaf and could not sing at all. But I wanted to sing. So I worked at it. I would just sit in my room and sing and sing and sing, and then move on to a harder song. When my mom finally realized I could sing and I wasn't giving it up, she got me into the church choir."
Funny movie moment: "On our first day of filming, I was a senior in high school and we were on the boardwalk. None of us were used to the cameras, and everybody was watching and staring and wondering what was going on–and I see my gym teacher jogging down the boardwalk. She looked at me like, 'What are you doing here?'"
Dexter Darden
Age: 19
Hometown: Sicklerville
Dexter Darden knows all about perseverance. Darden was diagnosed with Sickle Cell Anemia as a child, but even at the age of 8, his talent shined through at the Paul Newman's Hole in the Wall Gang Camp for children with blood diseases and cancer. Newman recognized his talents so Darden found himself performing at star-studded galas (with the likes of Julia Roberts, Matt Damon and Morgan Freeman) to raise money for the camp and the cause, and dancing, modeling and acting roles followed. Darden graduated from Victory Christian High School in Williamstown.
Favorite Jersey shore spot: "I love Ocean City because my family always went down there. I am a HUGEEEEE Polish water ice fan, so every time I go down there, I have to get some."
On the movie's message: "The whole movie, in general, kind of applies to my life. The Ovations don't let anything stop them. With having Sickle Cell Anemia, I always kept fighting and dreaming about making it."
Michael Pericoloso
Age: 25
Hometown: Lumberton
Before contributing five original songs to Standing Ovation, Michael Pericoloso – better known as Mikey P.– was already on his way to stardom. The Rancocas Valley High School graduate is a member of the hip-hop group, DaCav5, and he appeared on the 2008 MTV reality show From G's to Gents.
On how he got into music: "Music's always been my passion. I started working at (Philadelphia radio station) Q102…I was an intern there for six years. I did remixes for the Q102 DJs. Music is a way to have a conversation with somebody without saying a word."
Favorite Jersey shore spot: "I'm a Seaside (Heights) boy. I've had a house there for as long as I can remember
For more information, free song downloads or to purchase tickets, visit standingovationmovie.com.
Published (and copyrighted) in Suburban Family, Volume 1, Issue 5 (July, 2010).
For more info on Suburban Family, click here.
For information about advertising in Suburban Family, click here.
To find out where to pick up your copy of Suburban Family, click here.