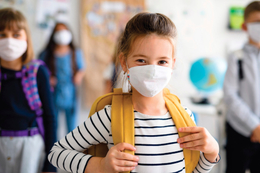 Back to School: Comfortable in the Classroom
Educators from kindergarten to college level are approaching this school year with a mix of excitement and precautions.
Holy Cross Prep
David Moffa, assistant principal and director of admissions
"Last year, students had the option to learn remotely or in-person. We offered five full school days of in-person instruction and there has been an overwhelmingly positive response from our students about returning to in-person instruction across the board this year. … We would be remiss if we did not acknowledge the unwavering support of our Lancer community over the past two years. We are very fortunate to have such a strong family that works together in times of adversity and we do not take that for granted."
Our Lady of Mercy Academy
Nicole Donovan, director of admissions
"We will continue to require masks per the Governor's executive order to do so. We will also continue with one-way hallway traffic and appropriate distancing in the classrooms. We are very fortunate to have ample outdoor space, so many of our teachers took advantage of the space to hold class outdoors when appropriate last year, and we anticipate that this will be the case this year as well. … We believe the girls will enjoy having the entire student body on-campus together rather than a staggered schedule. OLMA is all about community, and we know the girls thrive when the entire community is together to support each other and learn from each other."
Paul VI High School
Katy Stewart, admissions director
"As we were last year, we are excited to welcome back our students, faculty and staff. … Given the high percentage of our community who have been vaccinated, coupled with last year's near zero-incidence rate of COVID transmission that originated within the school, we feel certain that meeting the state requirements will allow our school family to continue to thrive. … Sports and performances are two areas where we think students will feel an improvement this year, both in terms of maintaining game and performance schedules, and in terms of having fans or an audience. During the school day, this year's dining hall safety requirements will allow our students to enjoy a full-period lunch break instead of the half-period they utilized last year."
Merion Mercy Academy
Christina Penezic, director of strategic marketing
"For the beginning of the school year we are mandating universal mask wearing for all who are in the school building with optional mask-wearing while outside. We are also enforcing three feet of distancing in desks and are contact tracing with seating. We will be doing surveillance testing. … At this time we are implementing in-person classes, sports, activities and community gatherings, including school liturgies. We will follow CDC guidelines, as well as state and county recommendations on COVID safety procedures, along with our school's panel of health advisors."
Moorestown Friends School
Julia de la Torre, Head of School
"Faculty and staff are feeling hopeful and energized, and we are eager to welcome back our students. … We are continuing many of our mitigation strategies, including masking indoors, physical distancing, proper ventilation and encouraging good hand hygiene. We will continue to conduct regular surveillance testing for those who are not yet eligible for the vaccine, but we are encouraged by the high rates of vaccination among our students aged 12 and up. As of September 1, 93% of our employees were fully vaccinated. … We are excited to resume a full lunch program and to re-open our Dining Hall Commons with distancing measures in place. Having everyone back on campus also means that our community traditions and extracurricular activities will feel more full and inclusive of all community members."
St. Mary of the Lakes
Maria Sobel, principal
"We are looking forward to welcoming the students back and have been welcoming new families to our school community all summer. We can't wait to hear the 'noises' associated with a school. … All academics and related arts will be totally normal. We are hopeful that we will be able to run more sports, clubs and activities this year since we were very limited last year. Similar to last year we hope to have all of our school liturgical events and we hope a limited number of parents will be able to attend. … Although we are embarking on another school year that will be full of challenges, we are confident we can handle them especially since God is on our side."
Archmere Academy
Gina Dzielak, director of marketing and communications
"We are optimistic about this school year. Our new day schedule combines the traditional school schedule with how we adapted the class structure last year to make in-person learning possible. We have carved out additional time in our day schedule for things such as liturgies, guest speakers, as well as protected time for teacher meetings, and extracurricular offerings within the parameters of the school day. … Our community is very excited to engage in more parent events, spectators at sporting events and engaging in social events."
Padua Academy
Jennifer Bell, communication coordinator
"It is no exaggeration that our faculty and staff are ecstatic to welcome back our entire student body. It's been 17 months since our school has been together as one community for in-person classes. … There's a tangible sense of relief you can tell the students have to just be back in our building and in the presence of their classmates. … Not only did we manage to have a 0% transmission rate of COVID-19 on our campus, we continued to compete in both academic and athletic events, while wearing masks, and were still able to bring home numerous accolades including another Delaware State Title in CyberSecurity (placing first, second and third) and Delaware State Championship titles in cross country, indoor track and field, spring track and field and soccer."
Rider University
Pamela Abbazia, executive director, marketing and digital strategy
"We are extremely excited to welcome students back to campus this fall when we resume in-person teaching, residential housing and on-campus activities and events. … All students are required to submit verification of the COVID-19 vaccination for the 2021-22 academic year. Exceptions are students in fully online degree programs who do not visit campus for any reason and religious and medical exemptions. … Throughout the pandemic Rider has benefited from a strong sense of cohesion and adaptability amongst our community, which repeatedly and courageously embraced new situations and found ways to thrive in them."
Neumann University
Francesca Reed
"We learned a lot last year about just how resilient our community is. … Students can look forward to in-person events again as well as cheering on our Knights at sporting events this year. We have already held several activities since we started the fall semester, including food trucks, an involvement fair to check out clubs, activities and employment, as well as barbecues and other fun activities. … Neumann is excited for the upcoming semester. While we will still be vigilant in practicing safe measures, we look forward to more students on-campus, sporting events and even homecoming in October."
Elizabethtown College
Austin Crull, director of marketing
"We are encouraged by the way with which our campus community has taken on the responsibility of getting vaccinated as well as complying with our indoor mask mandate. We have strongly encouraged our community to get vaccinated but it is not mandated. Those in our community who do not show proof of vaccination are subject to weekly surveillance testing. … Etown students, faculty and staff worked together to remain on campus with a positivity rate of less than 1% at all times during the 2020-21 academic year. Through diligent efforts made by our campus community complying with our health and safety guidelines, increased surveillance testing and consistent communications, our campus community has realized great success."

Lycoming College
Mike Konopski, vice president for enrollment management
"In-person, hands-on learning is an integral part of our unique liberal arts education at Lycoming. After working hard to have a successful 2020-2021 school year, we're excited to be providing that full learning experience on campus again for our students this year."
Saint Elizabeth University
Gary B. Crosby, Ph.D., president
"Saint Elizabeth University began the academic year with all classes, except for our online graduate courses, on-campus and in person. We are not offering a remote instruction option this academic year. Students were very eager to get back on campus and in-person. Saint Elizabeth University is a small institution and we pride ourselves on our ability to support our students through one-on-one instruction. Our students very much missed those interactions, as well as their friends, sports and other activities on campus. We are excited to resume all previous activities, organizations, clubs and sports for normal for fully vaccinated students and return to our vibrant campus environment."

Published (and copyrighted) in Suburban Family Magazine, Volume 12, Issue 5 (August 2021).
For more info on Suburban Family Magazine, click
here
.
For information about advertising in Suburban Family Magazine, click
here
.
To find out where to pick up your copy of Suburban Family Magazine, click
here
.