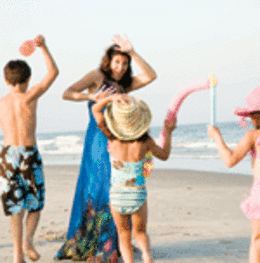 One Funny Mother
South Jersey mom, comedienne Dena Blizzard, stands up to the pitfalls of parenthood.
South Jersey mom, comedienne Dena Blizzard, stands up to the pitfalls of parenthood.
Dena Blizzard can recall with clarity the day she realized she had what it would take to survive stand-up. It was 2001 and while at the mall with her first child, then still a toddler, the South Jersey mom watched with dismay as the tot launched into an epic temper tantrum, complete with tears and screams. "I had no idea what to do," she recalls. "I tried bribes, I tried threats, and eventually I decided the best thing to do was hide." Red-faced, Blizzard ducked behind a display of dinner dishes and waited until her son exhausted himself into submission. "I was so embarrassed and I realized I would rather die on stage than [hide]."
Turns out Blizzard, now a mom of three, hasn't had to face that kind of humiliation since. What began as an indulgence has become a thriving comedy career that combines her sense of humor with the things that she loves the most: her family and community. When Blizzard was growing up in Waterford, Winslow Township, it wasn't apparent that she would one day grace the stage. "I never really talked," she remembers. "I was really shy."
Nearing college graduation at Rowan University, Blizzard started playing with the idea of entering the pageant circuit as a way to earn cash for graduate school. "My mom worked with someone who knew the people that ran the pageant," says Dena. "At the first pageant I had no idea what I was doing. I wore my junior prom gown and worn my hair up with a barrette. I had on mascara and lip gloss and thought I was really dressed up. I probably looked silly but I won a talent award at that pageant [playing piano] and I was hooked."
It took six competitions before the Miss New Jersey crown was hers. "It was amazing to see all these smart, strong, outgoing women," she says. "I definitely think the one thing the pageant does is teach women to use their voice."
Skill of Making People Laugh
Blizzard discovered that her voice was commonly followed by laughter. "I learned I had a skill of talking and making people laugh," she says. The pageant also helped her find love: A pageant friend set her up on a blind date with her now-husband Jim, a sales administration manager at T-Fal.
It was about this time that the thought of trying stand-up began to enter Blizzard's mind, but even with the gleaming crown upon her head, she "didn't have the guts to do it."
It wasn't until seven years later that Blizzard took the first step. Realizing she had achieved a number of personal goals, she told her husband the only thing she still wanted to try was stand-up. In response, he gifted her with a series of comedy classes for her birthday. At that first class, the fear was palpable, but Blizzard felt the need to persevere. "I thought, 'This is awful. But I love it.'"
Comedy quickly became an addiction for the mom, a way to shed her inhibitions and find a bit more of herself. "To be able to get a whole room of guys to laugh with just a stay-at-home mom's version of life was awesome. I like being able to get my thoughts out. I say curse words. There are so many points in my life where I can't curse. [On stage] I can just be Dena. Not a mom, not a wife, just me."
Blizzard started by taking the stage weekly at the now-closed Comedy Cabaret in Runnemede and her career launched from there. Now she can be found lighting up the airways and joking about current events, politics, and, of course, her kids on the NJ 101.5 FM "Dennis and Dena" radio show (10 a.m. to 2 p.m.). She's also been hopping the river to do humorous guest spots on Philadelphia NBC10's "The 10! Show."
It's a heavy workload, but Blizzard takes it in stride. "I remember when I was young and the kids were babies and I was up all night. And I thought 'This is hard, I can't wait until they sleep.' Now they are 10, 8 and 6 and they sleep, but it's a different type of hard. I might have to go to a basketball game or ballet before I go to a gig."
Crazy Mom-on-the-Go Life
And without that crazy mom-on-the-go life, Blizzard wouldn't have the fodder for her act. Quipping on life in the trenches, her jokes on sick kids, potty training and the other highlights of raising children strike a cord with anyone who has ever graced the aisles of Babies R Us.
"It's kind of wonderful to be talking about the everyday things and making it funny," says Blizzard, who as a life-long resident of the area appreciates what South Jersey has to offer. "It's just a very real place. I love the realness of it," she says. "I love the schools and the location. I love the fresh produce places on the side of the road. And I love the people that are here. There are no pretenses."
Blizzard has become very involved with her children's school, St. Teresa Regional in Runnemede. She started a live news show for the 8th graders where she teaches them how to cover school events and present them to their fellow classmates. She runs an adopt-a-grandparent program for the 4th graders where the older generation visits the kids once a month for interviews and the school year ends with a completed biography written by the students on their adoptees.
Lisa Colangelo, Director of Advancement at St. Teresa's, says these programs have made a big difference in the lives of the students. "Dena brings excitement to our school," says Colangelo. "She helps us all step a little outside the box."
Need a laugh? You can listen to Dena Blizzard weekdays, 10 a.m. to 2 p.m., on NJ 101.5 FM radio, see her live at The Comedy Stop at the Tropicana Casino in Atlantic City, August 30-September 5, or visit her website, onefunnymother.com.
Published (and copyrighted) in Suburban Family, Volume 1, Issue 5 (July, 2010).
For more info on Suburban Family, click here.
For information about advertising in Suburban Family, click here.
To find out where to pick up your copy of Suburban Family, click here.