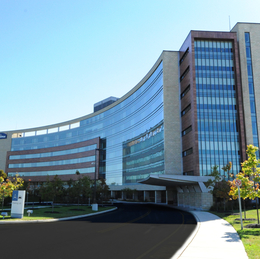 Five-Star Hospitals in South Jersey
How local health care systems exceed expectations in specialties, technology and innovation, patient outcomes and experience, and physician expertise.
Virtua Health
Virtua Health continues to embrace innovation and prioritize patient experience to meet—and exceed—the evolving needs and preferences of the people it serves.

As an example, in response to the pandemic, people are now far more comfortable with technology that allows them to receive meaningful care from home. Virtua launched a remote patient-monitoring program that provides participants with equipment they can use at home; meanwhile, clinicians chart their progress remotely and check-in regularly. Telehealth has also become increasingly in-demand, particularly for urgent care consultations.

Virtua Health is investing in its hospitals as destinations for advanced, thoughtful, and compassionate care. Specifically, Virtua Our Lady of Lourdes Hospital will receive a significant multi-year renovation and emerge as a center of excellence for complex cardiovascular, neuroscience, and transplant services. This includes incorporating the latest technology and enhancing the patient experience through private rooms, ample parking, and a welcoming atmosphere.

Virtua will continue to expand its Virtua Medical Group—which today includes 250-plus practices. As one of the largest health system joint-venture providers of ambulatory surgery, Virtua will reach new regions by forging additional partnerships and prioritizing access.

In all things, Virtua strives to be here for the people of New Jersey and Here for Good.
Inspira Health
As a leading regional community health system, Inspira Health is sharply focused on the unique needs of its communities. By leveraging technology to elevate care, launching initiatives to enhance the patient experience or bringing in new specialists to expand services and expertise, Inspira fosters healthier families throughout South Jersey.

Inspira's three maternity locations bring advanced care, including the Deborah F. Sager NICU, and high-end amenities to the region. New retail pharmacies, in its Mullica Hill and Vineland hospitals, provide expert service and unmatched convenience. The meds to beds program will deliver medications directly to a patient's room prior to discharge.

Inspira's focus on clinical excellence and patient safety is nationally recognized. Inspira Medical Centers Vineland and Elmer earned an "A" on the Spring 2021 Hospital Safety Grade from Leapfrog (Inspira Mullica Hill, which opened in December of 2019, is not yet eligible for a grade); Inspira's comprehensive cancer centers in Mullica Hill and Vineland are nationally accredited by the American College of Surgeons—Commission on Cancer; DNV GL Healthcare, a national leader in clinical excellence, has certified Inspira's three hospitals as Primary Stroke Centers.

In 2021, Inspira has acquired new technology for:
-early detection of lymphedema (a common side effect of breast cancer treatment);
-rapid determination of stroke treatment options using artificial intelligence (AI);
-treatment for BPH (enlarged prostate); and
-treatment of late-stage COPD.
Cooper University Health Care
As a leading academic health system, Cooper University Health Care has one of the most trusted names in health care. In its 134-year history, Cooper has grown to provide primary, specialty, cancer care and urgent care services and its nationally and internationally recognized physicians now attract patients from all 50 states and 35 countries. Hospitals throughout the region send their most complex and critically ill and injured patients to Cooper for treatment by their highly skilled experts.

Cooper provides expert care close to home, with more than 100 outpatient offices across South Jersey and large multi-specialty centers in Camden, Cherry Hill, Voorhees and Sewell. Cooper also carries the distinction of being South Jersey's only Level 1 trauma center and the only pediatric trauma center.

Cooper's specialty institutes offer advanced care and services through MD Anderson Cancer Center at Cooper, the Cooper Neurological Institute, the Women's and Children's Institute, The Children's Regional Hospital at Cooper and Cardiac Partners, a joint venture with Inspira Health for comprehensive heart care. As a leading academic health system, Cooper's physicians are committed to educating and preparing the next generation of medical professionals as the teaching staff of Cooper Medical School of Rowan University.

Annually, there are more than 1.6 million patient visits a year to Cooper. The health system continues to expand and grow and has recently acquired the former Sears in the Moorestown Mall to develop a new multispecialty center to meet the growing demand for their expert specialists.

Jefferson Health – New Jersey
Jefferson Health – New Jersey—whose three acute care hospitals have consistently been awarded "A" grades in the prestigious Leapfrog Safety Report—is a leading health care system in the region. With a comprehensive array of both inpatient and outpatient services, Jefferson is home to the Sidney Kimmel Cancer Center – Washington Township, as well as outpatient services that include diagnostic sleep centers, wound care centers and numerous primary and specialty medical practices, including a new LGBTQ+ affirming practice.

The Sidney Kimmel Cancer Center in Washington Township offers radiation oncology, infusion therapy and a patient-focused breast care program. Many supportive services are offered to patients and their family members at its Center for Hope & Healing.

Jefferson Health - New Jersey is also home to a state-designated Comprehensive Stroke Center, and the Vickie and Jack Farber Neurosciences Center, both on its Washington Township campus. Its three hospitals have each earned Magnet™ designation, the nationally recognized gold standard for nursing care.

In addition, both the Jefferson Cherry Hill and Washington Township hospitals have recently undergone multi-million dollar expansions aimed at enhancing the patient experience and improving outcomes through the most advanced technology and care available. With more than 900 physicians on staff, patients can be seen at conveniently located offices throughout the region or take advantage of Jefferson's user-friendly telehealth services.