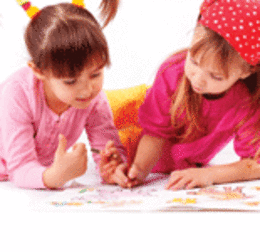 The Politics of Playdates
Handling sticky situations can be child's play when you have the right communication skills.
Handling sticky situations can be child's play when you have the right communication skills.
"Watch out for escapees!"
It's a warning from one of three moms guarding their pint-sized "prisoners" peeking over the baby-gate at the bottom of a carpeted stairwell. On the other side of the barred entryway is a bright, cheerfully cluttered playroom in the basement of a South jersey home--the scene of a regular Friday playdate for the children of three stay-at-home moms.
The cozy kids' den is a hub of activity, peppered with an abundance of toys, blankets and diaper bags. Mother-of-three Amanda Crouse sits cross-legged on the floor, cradling her 10-week-old baby girl, Elliot, in one arm while deftly untwisting a sundress-strap that's bothering her 2-year-old daughter, Piper, with the other. The three friends-in-parenting were united several years ago when they began meeting up for regular playdates as the MOMS Club of Blackwood. This is a local chapter of the international MOMS Club, which supports parents with young children through monthly activities and coordinated weekly playdates. There are MOMS Clubs covering Cherry Hill, Voorhees, Haddonfield, Winslow and Medford, with more forming in nearby communities every year.
Like other organizations bringing kids together through play in South Jersey, such as MOPS (Mothers of Pre-Schoolers), Mothers Helping Mothers and the Small Fries Playgroup, MOMS Clubs serve as an invaluable connective resource for local parenting communities–and they are the latest evolutionary step in the social construct of "playdates." An innovation (or necessity, some would say) of late-20th-century child-rearing, playdates are a reflection of the times. No longer is it thinkable for a kid living in the era of Megan's Law and Amber Alerts to holler, "Hey, mom! I'm going to Johnny's house!" while racing out the door, returning at dusk or when called home for dinner. Adult planning and supervision of playtime is the current standard, and with these new norms come often-uncharted social complexities–politics, if you will. The "dates" are often arranged when parents identify others with similarly aged children and reach out to make an appointment for their respective offspring to, well, play. In turn, parents can use that time to form their own friendships and collaborative maternal alliances.
The Playdating Game
Social aspects aside, the hectic, multi-tasking makeup of post-millennial family agendas often dictates that efficient, pro-active parenting be duly organized and Blackberried down to the hour. Thus, there's really no way to dodge the "playdating circuit" if parents of young children want them to take part in meaningful peer-to-peer relations these days.
There are, however, ways to avoid the intrinsic politics therein. For instance, many parents new to the game struggle with issues like whether to stay for their child's playdate if not expressly invited to by the hosting parent. According to Art Psychotherapist Michele Rattigan, who specializes in child play-therapy in South Jersey, the simple answer is: Ask. "It's important for parents to pose questions and establish boundaries before a playdate," the mother of three notes. In an attempt to clarify the should-I-stay-or-should-I-go ambiguity, she advises parents of children 6 and under to stay for a playtime rendezvous due to the level of overseeing needed to supervise the infant-through-preschool set. But regardless of a child's age or a host's preference, Ratigan emphasizes that stressful situations can be easily evaded by determining the rules of engagement in advance.
"Don't be afraid to ask another parent what they expect of their own child, behavior-wise, as well as what is expected from his or her playmates (i.e., your child). It's also important to know what their approach to discipline is," she says, noting that working as a team and being consistent on The Rules are key strategies to avoiding conflict and confusion during a playdate. "Some people may feel uncomfortable following up on a social invitation by inquiring about parenting style and personal standards," she adds. "But in reality, children are our most precious gifts–you have to know what you're getting into when deciding to merge playtimes or placing your kid into another parent's care for a few hours. You wouldn't accept a new job without knowing what it entails, right?"
Suzanne Haftman and her husband, who live in Medford, were late bloomers in the playdating landscape. As supervisor of community education for the Mount Laurel School District, Suzanne–a working mother of two–managed to get through her first child's preschool years with just a handful of scheduled playtime meet-ups. But, with son Ryan preparing to enter second-grade, regularly scheduled playdates have now been accepted as part of the family's weekly social calendar. Suzanne primarily arranges them through e-mail or the occasional text message, coordinating the agreed-upon pick-up and drop-off times with Ryan's sitter and alerting school officials as to the change in his transportation plans at least a day in advance. "Through e-mail, I'm able to give the (inviting) mother or father all of our phone numbers needed in case of emergencies, and I can quickly address any last-minute scheduling difficulties," she explains.
The couple's one handicap in the sport of playdating, Suzanne notes, is reciprocity. "As working parents with another small child, we can only offer to host playdates if we have a day off or on the weekends. So, I always make it known to the other parents that we would love to have their child come to our home on the weekends, but during the week is really tough for us. Usually, being up front about the expected turnaround has worked," she muses. "Some parents understand, some don't—but as busy, working parents, you learn quickly to weed out the ones who don't understand."
Bullying and Teasing
When the Haftmans are able to invite one of Ryan's playdate pals over, Suzanne keeps an ear on the tone of their interaction, which allows for rapid intervention if one of the children begins teasing or antagonizing the other. This tactic seems to mitigate the need to discipline, she says–it's as simple as making herself present in their activities. "If they are in the playroom, I'll go in there. If they are outside, I'll sit outside with them. If bullying or teasing situations happen too often with the same child, I am aware of it—and a bit more hesitant to schedule future playdates with that family. I really try to impress on Ryan that it's not worth being friends with someone who makes you feel bad," she adds. And, according to Suzanne, the messaging has paid off. "Socially and emotionally, Ryan has come to realize that life will not end if he doesn't play with a certain child, and he now realizes that having a variety of friends is fun."
When at a playmate's home, it's important for the presiding parent to remember that the visiting child is at a disadvantage. Ryan, his mother admits with a laugh, "can sometimes be a humdinger. When this happens, I take him aside and explain that if he continues to act up, the playdate will end. I also try to convey that he is making the other child feel uncomfortable, and his friend may not want to come back for future get-togethers."
Switching hats from parent to educator, Suzanne advises that the fastest trap a parent can get into is trying to investigate who started a fight or whose actions triggered an escalating issue. "Taking sides is a no-no," she warns. "You really have to remain neutral–and hope that other parents treat your child the same when he or she is at their home." Playdate rookies no longer, the Haftmans are now able to gauge if their son comes home happy from a playdate or if he's miserable from the experience. "We've gradually been able to limit the amount of playdates with certain kids when this happens," Suzanne says, noting, "It's actually worked out well, because Ryan is learning that not everyone is compatible with each other"–a lesson she has learned as well, in regard to her own peer set.
"Obviously, as a mom you want to be friends with your child's friend's parents. Let's face it: If your children get along and you get along with the parents, playdates become a social experience for you, too," she says. Alas, as every parent knows, this doesn't always happen. Not being one for gossip, Suzanne tries to steer clear of conversations in which other parents get put down. But, when stuck with someone bent on bad-mouthing others' child-rearing practices—perhaps while watching kids romp from the same park-bench—playground politics can be hard to avoid.
"I may voice my opinion, but I will never talk about another parent in a malicious way–I have learned that it will only bite you in the butt," she firmly states. "And, if I hear another parent engaging in it, I am more cautious of having my child around them. Kids are not dumb; they will eventually pick up on who is being talked about. Politics aside, adults need to model politeness toward people they don't agree with, because that's something children must learn in life."
Ratigan says that even when playing with friends, young people glean social cues from their maternal supervisors, and internalize the behavior. "It's very beneficial for children to see moms and dads modeling positive relations–it helps them understand what it means to be friends with someone, or simply how to get along with others."
Published (and copyrighted) in Suburban Family, Volume 1, Issue 6 (August, 2010).
For more info on Suburban Family, click here.
For information about advertising in Suburban Family, click here.
To find out where to pick up your copy of Suburban Family, click here.