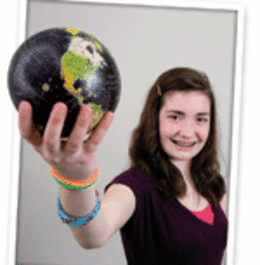 Star Students: April, 2010
Valerie Wilson
Carusi Middle School
A dozen students from Carusi Middle School in Cherry Hill qualified to compete in the school-wide National Geographic spelling bee. Eighth-grader Valerie Wilson (pictured) found herself atop the winner's podium for the second year in a row, and her win allows her to make her third trip to the state-level bee. Brian Cieslewicz took second place and Tyler Dunphy came in third; other entrants included Hannah Abrams, Alex Bruno, Ari Dinero, Madison Panelli, Elizabeth Potts, Chasen Shao, Rebecca Trotman, Ian Williams and Kevin Wong. Sarah Cheatham
Eastern Regional High School
She's only a sophomore at Eastern Regional High School in Voorhees, but Sarah Cheatham's already a vet of the South Jersey theater scene. The young thesp, who won the Rachel Kellogg Drama Award as a middle schooler and recently starred as the murderous Roxie Hart in EHS's production of Chicago, has appeared in 13 other local musicals. Along with trodding the boards, Sarah's also a visual artist; her work has appeared on the 2008 Voorhees town calendar and is on permanent display at Signal Hill Elementary School. Bells' Paw Pride Program
Bells Elementary School
At Bells Elementary School in Turnersville, first-, second- and third-graders who show excellent character are recognized monthly for their good deeds, receiving a pizza lunch with the principal and a special pencil provided by the school's parent-teacher association. The March winners of Bells' Paw Pride Program— Francesca Barcelone, Charlie Chiango, Gabriella DiNoto, Simba El, Amanda Generao, Ava Henson, Rachel Lee, Justin Millman, Lauren Murray, Justin Pavlovich, Jacob Sekel, Sydney Talorico, Cooper Touhill, Kyle Wagner, Rylee Weiss, Logan Wilson and Chloe Zavada—all demonstrated honesty, setting a staunch example for their peers. Chelsea Freedman
Rowan University
A trio of up-and-coming entrepreneurs, Rowan University students all, presented their best business or invention proposals to great effect in the fourth-annual Rohrer College of Business competition last month. Chelsea Freedman of Deptford Township took first prize for her creation, called "Sweet Alternatives," a healthier form of frozen yogurt. Alex Silveri of Milltown won second place, for conceiving a new graphic-novel production company, "Legacy Comics." Third place went to Maple Shade's Lauren D'Alessandro for "The Perfect Fit," a lingerie line catering to women of all sizes. Chris Fox
Washington Township High School
Fox seems to be a name for news: Chris Fox, a senior at Washington Township High School, has just won the individual award for Best TV Sports Package from the Scholastic Press Forum, the Northeast's most prestigious high school journalism contest. The segment for which Fox was cited aired earlier this year on WT-TV. It's called "Manuary" and covers an annual fundraiser at WTHS during which male students eschew shaving, don lumberjack attire and perform "manly tasks" to raise money for school charity drives. Jungwon Byun
A diplomat in the making? Jungwon Byun, a senior at Cherry Hill High School East, was recently recognized as Outstanding Delegate at the Model UN Conference that took place in Philadelphia. Jungwon represented Belgium in the United Nations Development Programme at the conference, which was sponsored by the Institute for Domestic and International Affairs. Shari Bodofsky
Riversharks and reading go hand in hand for Shari Bodofsky, an eighth-grader at Rosa International Middle School in Cherry Hill, who recently won the minor-league team's baseball bookmark contest, cosponsored with PSE&G. Shari's design—featuring Finley, the Sharks's mascot—bested thousands of other entries and will grace bookmarks that will be distributed to about 40,000 New Jersey students. She also received a blown-up replica of her bookmark and a school-wide assembly attended by Riversharks reps. Adele Taylor
For the past two years, Williamstown High School freshman Adele Taylor, now 15, has headed up her own nonprofit literacy program. Through Adele's Literacy Program, the young book crusader donates books to and leads group readings at libraries, schools and churches. Since 2008, she has provided more than 1,800 books and 6,500 bookmarks to institutions in New Jersey, New York, Pennsylvania and Maryland. Keep up with her impressive efforts at Blog.AdelesLiteracy Library.org. Top Chefs
Three young kitchen commandos are cooking with gas, besting 80 other contenders to land on the podium of the recent Burlington County Top Chef middle-school healthy-cooking contest. First place went to Tabernacle's Emma Moore, a sixth grader at Olsen Middle School, for her Greek Hummus Boats. Emma's sister, eighth-grader Abby Moore, won second place for her Black-Bean Tortilla Pizza. And Lumberton's Molly Holmes, who's in seventh grade at Lumberton Middle School, took third place for her Fruit Pizza. Caroline Provine
Here are the numbers that added up to Glassboro Intermediate School taking first place for the second year running at the recent MATHCOUNTS South Jersey Regional Competition: The school's team beat 20 other schools and 150 sixth- to eighth-grade contenders during the five-hour competition. Team member Caroline Provine won the prize for top individual competitor, and she and classmate Lauren Yan will move on to the statewide MATHCOUNTS contest. Published (and copyrighted) in Suburban Family, April 2010.
For more info on Suburban Family, click here.
For information about advertising in Suburban Family, click here.
To find out where to pick up your copy of Suburban Family, click here.