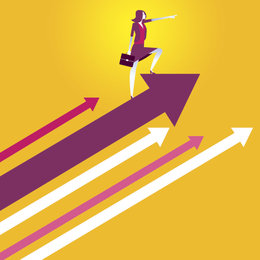 Ladies Who Launch
Local female entrepreneurs who overcame obstacles and hope to inspire future generations to follow their lead.
The road to entrepreneurship is bumpy and offers no guarantee for success, however it can be even more challenging for women who face an uphill battle of being taken seriously while balancing responsibilities in their own family. Fortunately, across South Jersey there are stories of encouragement, women who turned their passion into a career and are now running or managing a business and feeling fulfilled daily. This section of "Ladies Who Launch" profiles features incredible examples of local female entrepreneurs who overcame obstacles and hope to inspire future generations to follow their lead.
We asked each woman: What advice would you give to young females interested in your field or those wanting to start their own business or practice?
"Don't be afraid to take risks. No one ever got ahead by playing it safe and not taking chances."
Jacqueline M. Vigilante, Esq.
The Vigilante Law Firm
"Your success in the field of real estate is limitless. Continually study the market, understand the financial aspects and conquer the art of negotiation. Set high self standards and strive to be a trusted professional who exceeds expectations. Surround yourself with positive people who are willing to help you and share in your successes."
Theresa Schiazza
Sales Associate, Weichert Haddonfield
"Divorce is a very personal matter and it requires competency as well as creativity. Honing these skills through education and practice is essential. You must be very comfortable in dealing with conflict and guiding couples to resolution. We thought it was important to focus on a niche and excel in that niche because mediation isn't a one-size-fits-all service. It requires personalized service that requires intense attention to detail and knowledge."
Roseann Vanella & Carmela DiNicola
Advanced Mediation Solutions
"It's been challenging starting a second career later in life as a DPT, after five years of active duty military. Don't assume your goals and career will be second to anyone else's. Think big and go after it."
Dr. Antoinette Shields
Davis Physical Therapy & Sports Rehab
"Find a mentor you can trust. Take every experience, positive and negative, as an opportunity to reflect and grow. Figure out what you want and go get it."
Dr. Andrea Davis
Davis Physical Therapy & Sports Rehab
"Follow your gut and stay true to who you are and what you want your business to represent. It's great to have a variety of styles in every industry because not everyone has the same taste!"
Christine Campbell
Jazz Hands Dance Academy, LLC
"Be an honest worker, be true to yourself, to your employees and most importantly to those you serve. Also remember to never give up, never let others pull you down. Live in the present and move forward."
Joyce Kaveney, M.S., CCC-SLP
Speak to Me Kids
"Continue to take education, stay on top of the newest market trends, network as much as possible but most of all keep your values and create trusting relationships."
Holly Stewart
Penzone Realty
"I'd say to anyone wanting to run a business to go for it! Prepare and prepare some more! Every day is always different and exciting. Take a break when needed and then jump back in and enjoy the ride!"
Kim Mulford-Farmer
Mulford Dance Studio
"Always believe in yourself. You should be your biggest cheerleader. Remember that the obstacles along the way sometimes are there to build your strength."
Stephanee Kelly
Emmons Roofing and Siding
"Surround yourself with a team at work and at home that will support you in succeeding in both areas. It takes a village!"
Dr. Sally Halim
Village Eyecare

Published (and copyrighted) in Suburban Family Magazine, Volume 12, Issue 2 (May 2021).
For more info on Suburban Family Magazine, click here.
For information about advertising in Suburban Family Magazine, click here.
To find out where to pick up your copy of Suburban Family Magazine, click here.