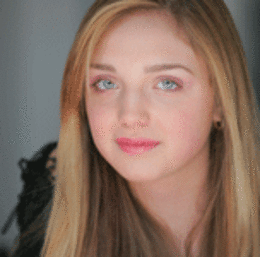 Star Students: May, 2010
Mackenzie Olson
Clearview Regional Middle School
Forget Miley Cyrus and Selena Gomez. Thirteen-year old Mackenzie Olson (pictured) of Mantua Township is a local superstar any kid could look up to. In addition to being a peer mediator at Clearview Regional Middle School and maintaining straight A's, this 7th grader was just crowned Miss New Jersey National Junior Teenager for 2010 and last year she was the recipient of the Russ Berrie Award for Making a Difference. Olson's started a charity, Crowns for a Cause, which encourages tweens and teens to take part in community service across the country. Olson one day hopes to have a chapter in every state.
Macy Pratt
Seneca High School
Macy Pratt, a fashion-forward teen, cleaned out her closet and encouraged friends and family to do the same in the name of community service for Aeropostale's Teens for Jeans campaign. The Vincentown resident, a member of Cherry Hill Mall's Style Squad, collected the jeans as part of a community service project with the Squad. Pratt, a junior at Seneca High School, collected a total of 65 pairs of jeans. Together, the mall's Style Squad compiled over 300 pairs of jeans, which will be donated to Camden's Center For Family Services for homeless youths in local shelters. Pratt says she was motivated to participate in the campaign because, as a teen herself, she could relate to other teens her age.
Joshua Kurtz
Gloucester County Institute of Technology
Joshua Kurtz, a senior drama student at Gloucester County Institute of Technology, just wrote and directed his own full-length musical, True Villains the Musical. A classic tale with a twist, the musical is told from the villain's point of view, which follows the adventures of Sebastian Jalek, a would-be hero who ends up working for the bad guys. Kurtz developed the idea from a weekly Web comic he has written since 2007. After getting the opportunity to produce the musical for his school, Kurtz will now premier True Villains at the prestigious Mainstage Center for the Arts at the Dennis Flyer Theatre at Camden County College on June 25 and 26.
Diana Lezenby, Cara Swetsky, Kim Scott and Chris Fox
Washington Township High School
Four enterprising young journalists were recognized at the 2010 National Student Awards for Excellence from the Mid-Atlantic Chapter of the National Academy of Television Arts and Sciences. Cara Swetsky gained notice in the writing category for her piece "Annihilate Anemia" and Chris Fox received Honorable Mentions for his story on the midterm/final exam policy change as well as his coverage of the 2009 Powderpuff game. Fox also collaborated with Diana Lezenby and Kim Scott for another Honorable Mention in the public service announcement category for their piece "Selling Safety."
Katelyn Eystad
Pitman Middle School
Inspired by her family's experience losing nearly everything in a house fire, Pitman Middle School student Katelyn Eystad, 13, founded the Angels of God Clothing Closet. "We only had the clothes on our back that day," she says. "So many people helped us." In the seven months Angels of God has been open, she's filled the small space in her hometown with clothing and accessories donated by the public and has served more than 300 people in need. "I wanted to be able to give back," said Katelyn. She is now in the process of making her organization a charitable, non-profit group.
Alexandra Eggie
Eastern High School
Eastern High School senior Alex Eggie, 17, of Voorhees was selected to perform the lead role in South Jersey Ballet Theatre's production of "Swan Lake" in May at the Voorhees Middle School Theatre. Eggie, who performed along with dozens of local young dancers and several professional guest artists, studies with Andrea Duffin, the director of South Jersey Ballet.
Jillian Pacheco
Cherry Hill High School West
Jillian Pacheco impressed the judges at fashion line Collection B with her style and energy, as she recently won the retailer's national modeling contest. Pacheco was swept away to New York City for a photo shoot. The result? An advertisement that features the Cherry Hill native ran in the March edition of Teen Vogue.
Jonathan Andrade
Clara Barton Elementary School
Fourth grader Jonathan Andrade, a Clara Barton Elementary student, has been a member of the TAG (talented and gifted) program for two years and was recently nominated by his teacher to participate in the National Young Scholars Program. He was also one of the chosen few selected by John's Hopkins University to take the SCAT exams.
Lauren Clemence
Harrington Middle School
Great art is more than just a pretty picture; it has a message that lasts. Mount Laurel's Lauren Clemence knows that better than anyone as the New Jersey state winner of the SHADE Foundation's Sunwise competition, which encouraged students across the nation to create posters raising awareness about skin cancer.
Caitlyn Kinilewski, Sara Todd, and Megan Knight
Good Intent School, Williamstown Middle School
On May 2, a group of Gloucester county students came together for the first-ever Caring Kids Backyard Benefit for Susan G. Komen for the Cure, Alex's Lemonade Stand and the Camden County Animal Shelter. Caitlyn Kinilewski, 11, Sara Todd, 11, and Megan Knight, 12, organized the event in a drive to want to make the world a better place.
Ian Meier
Christ the King School
When he isn't busy doing homework, budding entrepreneur Ian Meier is making greeting cards in his parent's basement, which he sells at Espressit Coffee House in Westmont. The fifth grader, who attends Haddonfield's Christ the King School, also branched out to the World Wide Web and sells his cards at ianscards.weebly.com. Published (and copyrighted) in
Suburban Family
, Volume 1, Issue 3 (May, 2010).
For more info on Suburban Family, click
here
.
For information about advertising in Suburban Family, click
here
.
To find out where to pick up your copy of Suburban Family, click
here
.