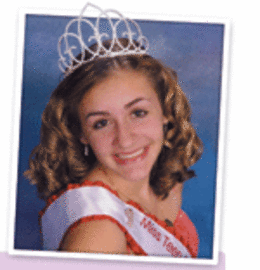 Star Students: June, 2010
Abbey Strano
(pictured)
West Deptford Middle School
Seventh grade honor student Abbey Strano is not only the most recent winner of Miss Teen Gloucester County, the 13-year-old girl is also a member of the 10-member West Deptford Middle School Wheelabrator Symposium Team that traveled to Florida and won Best Eco Friendly Educational Program. Her team built a butterfly garden, then created a brochure to help others do the same. This summer, Abbey will team up with Miss Pre-Teen Gloucester County to raise funds for the Ronald McDonald House Alex's Lemonade Stand.
Jacqueline Wahlquist
Lenape High School
The music program at Lenape High School has meant a great deal to "Jacki" Wahlquist. So has being a Girl Scout for 13 years. So she created "High School Music—A Music Inspiration Program" as the project for which she recently won a Girl Scout Gold Award, an honor only 5 percent of all Girl Scouts aged 14 to 18 receive each year.
Rebecca Herzberg
Jack M. Barrack Hebrew Academy
Rebecca Herzberg of Cherry Hill recently became second runner-up in the 2010 AFA Teens for Alzheimer's Awareness College Scholarship competition. Herzberg wrote about her grandfather. While a young man in Poland during the Holocaust, he was sent to a Labor camp in Siberia. He slowly lost his memory in a battle with Alzheimer's disease before his death in 2008.
Madeline Brewer
Pitman High School
Judges at Harrison Township's first-ever Harrison Idol event awarded straight 10s to Madeline Brewer, 18, a Pitman High School senior. Brewer led the competition both days, scoring perfectly with "The Greatest Love of All" and "Home." Madeline has starred in Pitman High musicals like this spring's Jekyll and Hyde. Come July, she'll compete in the Miss Pitman contest.
Alexander Burckhardt
Holy Cross High School
A junior at Holy Cross High School in Delran, Alexander Burckhardt deserves a salute. As a member of the 22nd NJ Wing of the Civil Air Patrol, the 16-year-old Beverly student will soon be promoted to Cadet Commander. This July he will attend New Jersey State Police Trooper Youth Week, for selected high schoolers, held at the State Police training facility in Sea Girt.
Sowmya Bulusu
South Valley Elementary School
Ten-year-old Sowmya Bulusu, a second grader at Moorestown's South Valley Elementary School, has won first place in the New Jersey Association for Gifted Children's Annual Writing Contest in the (K-2) range. In keeping with the competition's grows up to be a doctor and helps her patients quit smoking.
Dennis Wood
Haddonfield Memorial High School
The New Jersey League of Municipalities recently awarded Haddonfield student Dennis Wood with the Louis Bay Second Annual Future Municipal Leaders Scholarship. Wood wrote about Haddonfield's governing body and what it does best for the community. He was one of three students to receive the $1,000 scholarship.
Abbie Shain
Bordentown Regional High School
After attending the Rutgers Model United Nations conference last year, Abbie Shain, 18, created an organization called the Thread, to bring awareness of human, social, economic and environmental rights on a global scale among her peers at school, and it catapulted them to help the less fortunate. The motto of the Thread: 'Be the change. The future is ours.'
AJ Kawczynski, Noah Kamerling, Ryan Colflesh
Central School
Fifth graders AJ Kawczynski, Noah Kamerling, and third grader Ryan Colflesh won third place in the American Math Challenge. The Haddonfield "mathletes" competed against over 4,500 students from other schools in the week-long online challenge, while under the direction of Haddonfield teacher Matt Maguire.
Morgan Griffith
Lenape High School
Singer Morgan Griffith, 16, earned top prize in the Mirabella Teen Idol Talent Search. The competition took place at Joe Palombo's Mirabella Café in Cherry Hill. Sixteen area teenagers competed over a five-week period. Morgan won $130, a performance at the café, and a professional recording session with Michael Tarsia, a Grammy-winning engineer.
Robyn Sauer and Wa'Feesa Tucke
r
Glassboro High School
Robyn Sauer and Wa'Feesa Tucker, both 18, have kick-started a local initiative to inspire adults to sign Oprah Winfrey's "No Phone Zone Pledge," a national campaign to stop driving and cell phone use. Students from four area schools presented the campaign to Glassboro Mayor Leo J. McCabe, who initiated a resolution supporting the pledge drive.
Ronald Berna
Our Lady of Good Counsel School
Ronald, who is an 8th grade honor student at Our Lady of Good Counsel School in Moorestown, was awarded academic scholarships to three high schools and will attend Bishop Eustace in the fall. His short story won first place in the school's Short Story and Poetry Contest.
For more info on Suburban Family, click
here
.
For information about advertising in Suburban Family, click
here
.
To find out where to pick up your copy of Suburban Family, click
here
.