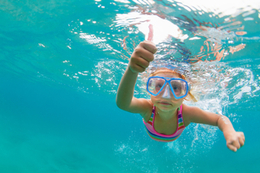 Why Kids Need Camp Now More Than Ever
It's never too early to start thinking about summer.
It's never too early to start thinking about summer, and after 2020, we have every right to be excited. Kids have had it rough. They've spent a year looking at screens and not seeing friends, but summer camp is the perfect opportunity to break free from the monotony. We asked local camp directors to tell us why kids need to have this quintessential summer experience now more than ever.
John Grater
president, Robotech Educational Services, NJRES.org
"Children need the chance to get out and meet others who have been isolated from normal learning and social activities. Robotech's programs follow the guidance from the N.J. governor's office, CDC, NJ Department of Heal and the American Camp Association. Our N.J.-certified teachers have been teaching STEM before it was called STEM with over 40 years' combined experience in the technology fields."
Carla Bellucci
director, Dance Craze, DanceCrazeOnline.com
"Our children need to feel grounded and connected back to basics. Most current learning has been virtual, and our children need the benefits of in-person social, emotional and cognitive skills. A summer program that creates a positive, fun and safe environment for them to explore and make friends is priceless. At Dance Craze we strive to ensure that all students grow in technique, confidence and self esteem."
Chris Penezic
director of strategic marketing, Merion Mercy Academy, Merion-Mercy.com
"Summer camps are more important than ever because students need to find ways to safely connect with each other, especially in person, after many months of social distancing. Our mission is to provide activities in the summer that motivate students to grow intellectually, spiritually and physically, while following local health guidelines."
Kim Farmer
owner, Mulford Dance, MulfordDance.com
Our camps will enable students to relax by unplugging from technology! There's plenty of time for creative play, which helps children with social and emotional development. Camp promotes independence. They will have fun dancing and participating in team exercises while building confidence and working on their physical fitness."
Michelle Kearns
owner, Michelle's Healthy Cooking, HealthyInstructor.com
Kids are missing personal interaction with their friends and others their age so much right now. As we enter the second summer of the pandemic, camps are a great way for kids to interact in a fun, safe way. My cooking camps provide healthy, good food, fun and friendship!"
Sara Sideman
director, JCC Camps at Medford, JCCCampsAtMedford.org
"Children need camp for their mental, social and emotional health! Camp provides a unique opportunity for children to grow, explore new activities and make new friends like no place else."
Mike Kernan
founder/director, Great Times Day Camp, GreatTimesDayCamp.com
"This year, more than ever, summer camp is crucial for children of all ages. Camp provides a safe environment for your child to develop social skills, experience new activities and have fun! Come create friendships and memories that last a lifetime at Great Times!"
Amy Speiser
owner, Lightbridge Academy of Mount Laurel, LightbridgeAcademy.com
"This year, summer camp is the best way to let your child be 'just a kid.' At Lightbridge Academy our friends have fun watching eggs hatch, playing sports, reinforcing academic skills and more. There is ample outdoor time and our Microcon advanced three-in-one air purification and filtration system adds a layer of protection when inside."
Barbara Crankshaw
director, Shining Lights Preschool, ShiningLightsOnline.org
"More than ever childhood needs to be celebrated! Children need to de-stress; they need to be with peers; they need to be able get out and be active. Children need to experience joy and celebrate life! Camp Rising Stars at Shining Lights will provide your child with all those opportunities."
Jennifer Tenner
assistant director, Future Scholars Early Learning Center, FutureScholarsLearning.com
"This past year has been extremely difficult for everyone. Our children have experienced quarantine, school closings, cancellation of events and youth sports, and an overall lack of socialization. They need summer camp more than ever! Summer camp is an opportunity for children to make new friends and enjoy hands-on activities and field trips."
Summer Camp Directory
Check out these local camps to find out why their programs can give your kids some much-needed normalcy (and look for more information throughout this edition).
Dance Craze
Marlton
DanceCrazeOnline.com
Future Scholars Learning Center
Hainesport
FutureScholarsLearning.com
Great Times Day Camp
Waterford Works
GreatTimesDayCamp.com
Hammer & Stain Haddon
Haddon Township
HammerAndStainNJ.com
JCC Camps at Medford
Medford
JCCCampsAtMedford.org
Lightbridge Academy
Mount Laurel
LightbridgeAcacademy.com
Merion Mercy Academy
Merion Station, Pa.
Merion-Mercy.com
Michelle's Healthy Cooking
HealthyInstructor.com/michelle-kearns
Mulford Dance Studio
Mount Ephram
MulfordDance.com
Robotech Educational Services
Mount Laurel
NJRES.org
Shining Lights Preschool
Cherry Hill
ShiningLightsOnline.org
Published (and copyrighted) in Suburban Family Magazine, Volume 11, Issue 11 (February 2021).
For more info on Suburban Family Magazine, click here.
For information about advertising in Suburban Family Magazine, click here.
To find out where to pick up your copy of Suburban Family Magazine, click here.