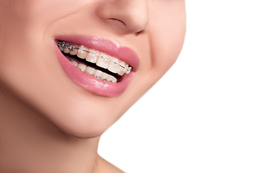 Suburban Family's 2021 Top Orthodontists
The people making smiles straighter across South Jersey.
There are few professions where the most rewarding aspect is seeing someone smile. Orthodontics is one of them. These professionals use their training and skills, with the help of innovative technology, to craft confident smiles for patients of all ages. This year, Suburban Family asked our Top Orthodontists 2021 why they got into this field, and their answers reveal how passionate they remain.
Dr. Frank Batastini
BATASTINI Orthodontics
Batastini obtained his bachelor's degree from Temple University and a master's degree from Loyola University. After working for a national bank, he obtained his DMD from Temple University and his orthodontic certificate from the University of Pennsylvania, where he still continues to teach on a voluntary basis. He lectures to several dental programs and public venues and is past president of several dental societies and a member of numerous organizations.
Why did you become an orthodontist?

Quite frankly orthodontics was a career change in my early 30s. I had attended Temple University both as a biology and business major. I worked for a bank in Louisiana while obtaining my master's in business from Loyola University and then moved back to New Jersey and worked as a finance and marketing consultant. It wasn't until after consulting with several dentists and some family influence, that I decided to apply to dental school again at Temple. I continued my orthodontic residency at the University of Pennsylvania. The rest is history and after 25 years of practice, I would do it all over again.
Dr. Tom Kadar
KADAR ORTHODONTICS
Kadar is a board-certified orthodontist who has practiced orthodontics in South Jersey since 1993. After earning his undergraduate degree in biology from Emory University, Kadar then found his passion at the Georgetown University School of Dentistry. He completed a year of residency at the VA hospital in his hometown of Pittsburgh, Pennsylvania, then he received his advanced orthodontic degree at Temple University. His kind, personal approach and technical expertise have earned him the reputation of being one of the top orthodontists in the area.
Why did you become an orthodontist?

I know first-hand how important a great smile is to your appearance and self-esteem. As a child, I wore braces to correct my crooked teeth. The improvement was so dramatic that I decided to study dentistry and help others achieve great smiles.
Dr. James TenBrook
TENBROOK ORTHODONTICS
TenBrook, a South Jersey native, is the founder of TenBrook Orthodontics, with 11 locations in South Jersey. Harvard trained and practicing for over 20 years, he invented the T1 and T-Clear TenBrook Self Ligating Braces System, which is not only comfortable, but cuts the wear time and cost often in half. TenBrook's philosophy is: "Straight teeth should be affordable for all, not a luxury for the few."
Why did you become an orthodontist?

Growing up, my mother got a second job just so my brother and I could get the braces we needed. She knew the importance of a good smile and how far that could take us in life. That experience stuck with me through my years of education and I became determined to make braces a better overall experience and affordable for all.
Dr. Jagdesh Dudani
TENBROOK ORTHODONTICS
Dudani is the leading doctor at the TenBrook Orthodontics' Cumberland County offices. Dudani received his doctor of dental medicine degree and completed his post-doctoral training in orthodontics and dentofacial orthopedics from Nova Southeastern University. Dudani prides himself on his attention to detail and the fact that he treats each and every patient as if they are a member of his own family. To him, nothing matters more than having outstanding outcomes and as a result, happy patients. He has performed thousands of orthodontic procedures, enhancing the lives and self-confidence of countless TenBrook Orthodontics patients.
Why did you become an orthodontist?

As an orthodontist, you get to work with patients to help correct their bite, improve their facial balance and provide them with a great smile. It allows you to get to know the patient over the long-term and to play a role in their journey to increased self-confidence.
Dr. Noor Tarazi
TENBROOK ORTHODONTICS
Tarazi is the lead orthodontist at TenBrook's Gloucester, Camden and Burlington county offices.
She earned her DMD from Temple University and further pursued a specialty in orthodontics, also receiving a master's in science in oral biology from Temple. She is trained in Invisalign/clear aligner therapy, self-ligating braces and 3D printing, among other applicable techniques. Tarazi is a member of the American Association of Orthodontists and the Greater Philadelphia Society of Orthodontists, among others. She is a detail-oriented person who loves working with kids and takes a personal interest in every patient and treats them like a family member.
Why did you become an orthodontist?

I wanted to work in a field where I could be a part of a patient's journey from beginning to end. Orthodontics allows me to do that by giving the life-changing gift of a new smile.
Published (and copyrighted) in

Suburban Family Magazine

, Volume 11, Issue 11 (February 2021).
For more info on Suburban Family Magazine, click
here
.
For information about advertising in Suburban Family Magazine, click
here
.
To find out where to pick up your copy of Suburban Family Magazine, click
here
.