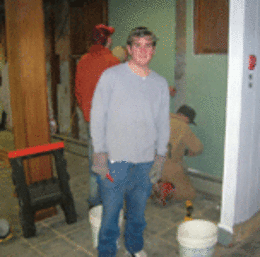 Star Citizens: March, 2010
All Boy Scouts are taught to be "Be Prepared." But
Nick Zampitella
(pictured), a 16-year-old member of Boy Scout Troop 9 in Palmyra, has proved that the famed motto can extend well beyond personal survival skills to benefit an entire community. To earn his Eagle Scout wings, Zampitella was instrumental in turning a Sunday School classroom into a full-fledged food pantry. The Bread of Life Food Pantry at Epworth Methodist Church in Palmyra, which opened this past fall, had been in the planning for a more than a year, a response to the increased number of area residents looking for food aid in these recessionary times. About 10 houses of worship through two local pastoral groups (the Tri-Boro Ministerium and the Tri-Boro Council of Churches) supported the idea, chipping in financially and offering up volunteers. But the plan found its physical footing last August, when Nick decided to renovate a bare classroom in the church into a space capable of storing foodstuffs for his Eagle Scout project, which all Boy Scouts eligible to move up to the organization's highest level must complete. Nick enlisted the help of his troop members and a few other volunteers and set to work. They tore out and replaced the flooring and ceiling tiles, installed new drywall and applied a room-brightening coat of fresh paint. Nick's hard work has since paid off in droves. Not only did he earn his Eagle Scout credentials, but the pantry to which he gave life has, in just a few months, given out upward of $25,000 of food to local residents. The Bread of Life Pantry distributes free food to the hungry and needy from Palmyra, Riverton and Cinnaminson on the third Saturday of every month from 10 a.m. to 1 p.m. Call (856) 829-1908 to find out how to donate nonperishable food or make a financial contribution. Four years ago, when
Bart Saidel
of Cherry Hill was diagnosed with cancer, he decided to fight the disease by rallying the troops. He and a core group of his local friends started the nonprofit Salt Shaker Foundation, which has since raised nearly $150,000 for the Lance Armstrong Foundation and the Cooper Cancer Institute, all the more impressive given the fact that Salt Shaker has no official corporate backing. Along with continuing to participate in LiveStrong bike challenges (Saidel's cancer, which he beat, was similar to that suffered by cyclist Armstrong), the group has this year teamed up with Tri-County Swimming, with the swim club pledging 10 percent of its 2010 fundraising. The Salt Shaker Foundation's fifth annual fundraiser will be held April 17 at P.J. Whelihan's in Cherry Hill. Learn more about the cause at SaltShakerFoundation.org. As part of Rowan University's larger endeavor to provide relief to Haitian earthquake victims,
Jay Chaskes
has launched Wheelchairs for Haiti, an effort to send rugged, all-terrain wheelchairs to those who suffered spinal cord injuries or underwent amputations in the wake of the catastrophe. The professor of sociology, a wheelchair user himself who teaches a course called "Disability as a Lived Experience," is aiming to raise enough money to purchase 250 wheelchairs, which cost $220 apiece and are made, in both adult and child sizes, to withstand the rough terrain like that found in post-quake Haiti. If you're interested in contributing, send checks made out to the Rowan University Foundation, with Wheelchairs for Haiti in the subject line, to 201 Mullica Hill Road, Glassboro, NJ 08028. "Dear American Red Cross, I heard Haiti had a earthquake. This doller [sic] is for them. It is from the Tooth Fairy." With that letter, 8-year-old
Alex Manganello
of Williamstown bequeathed the dollar he received from the Tooth Fairy after losing one of his top front teeth to Haitian relief efforts. For his warm-hearted largesse, unprompted by his parents, Alex and his family were invited to attend the recent building dedication ceremony of the Red Cross' Gloucester County Chapter's new Sewell headquarters, during which he received a certificate of appreciation as a "VIP donor" and a kiss of thanks from Gloucester County freeholder Jean DuBois. The gift haul after a child's birthday party can be overwhelming, a pile of plastic playthings that too often sends the message 'tis better to receive than to give. In order to redress this sense of entitlement in youngsters who already have more toys than they know what to do with, two Cherry Hill sisters —
Barb B. Royal
, a longtime elementary school teacher and mother of three, and
Joan C. Buehler
, who helms the CH-based family business Pad and Publication—have launched KidsCanGiveToo.com. This online endeavor encourages birthday boys and girls to ask their party guests to give them money instead of physical gifts, a set portion of which is directed to local charities kids can get behind, such as the Ronald McDonald House, Habitat for Humanity Gloucester County and Rosie's Broadway Kids. The remainder gets put on a Visa Gift Card and goes to the year-older-and-wiser celebrant, who can spend the cash on anything he or she wishes. Info on party packages can be found at KidsCanGiveToo.com. Published (and copyrighted) in
Suburban Family
, March 2010.
For more info on Suburban Family, click
here
.
For information about advertising in Suburban Family, click
here
.
To find out where to pick up your copy of Suburban Family, click
here
.