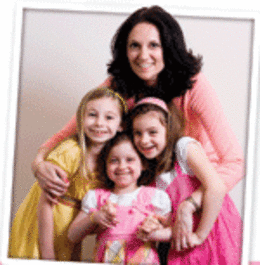 Star Citizens: April, 2010
Debby Formica DeFeo
Marlton
Marlton resident Debby Formica DeFeo (pictured) knows all too well the nightmare of watching a child battle cancer. Four years ago, the single mom's then-2-year-old daughter Kayla (pictured center with sisters Jessica and Shannon) was diagnosed with acute lymphoblastic leukemia. Happily, Kayla has since weathered her treatment and now thrives, but DeFeo found it difficult to shake the experience of countless anxious hours in the hospital, waiting out her daughter's treatment, putting the rest of the family's life on hold. That's why last year she founded Helpful Gifts from the Heart, which raises money to buy grocery, gas and shopping gift cards for families who find themselves away from home while their children are undergoing extended hospital stays. The charity recently held its Zins and Grins fundraiser to great success, but the cause to make families facing this battle more comfortable continues all year round. Go to HelpfulGiftsFromtheHeart.org to find out more.
Michelle Serio
Mount Laurel
Christmas is still a few seasons away, but Michelle Serio's already making up her gift list. Each yuletide, the Mount Laurel resident acts as personal Santa to a group of 50 to 100 homeless, abandoned, abused or at-risk kids served and empowered by the Crossroads Programs in Willingboro. Serio puts together a large group of elves—her friends and Lockheed Martin colleagues—to help her raise the funds needed to fulfill each child's wish list. Come December, Serio makes sure all the presents are packaged with care, pulling late nights to wrap everything just so. To find out more, go to CrossroadsPrograms.org.
Joe Palombo
Cherry Hill
Joe Palombo, the eponymous force behind Joe Palombo's Mirabella Café in Cherry Hill, recently took on a staff of extra-special sous-chefs—six blind and seven visually impaired local children—who worked with Palombo in the restaurant's kitchen creating appetizers, entrées and desserts. The chef-for-a-day program, called Cooking Without Looking, was set up by the Little Rock Foundation, an organization that enhances the lives of kids with vision issues (TLRF.org).
Sarah Moretti
Marlton
Going to a prom is a time-honored rite of passage for high schoolers. Sarah Moretti, a special-education teacher at Cherokee High School in Marlton, has made sure that all students get a chance to enjoy that experience. The Cherokee High School South Teacher of the Year has spearheaded the creation of the Special Needs Prom, attended by disabled students from all four high schools in the Lenape District.
Jeff Pollock
Turnersville
He might have shown up for school wearing a yellow fright wig, but Jeff Pollock, principal at Thomas Jefferson Elementary School in Turnersville, donned the faux locks to pay off a bet. If his students—by dropping spare change into coin jars located in every classroom—raised $1,000 for the Leukemia Lymphoma Society's Pennies for Patients program, he would wear a wig for a full school day. The kids came through, beating their goal by $6, and Pollock gave them quite a hair-raising show, changing his headpiece every hour on the hour.
Kevin Thunberg
The parents of 8-year-old Cherry Hill resident Kevin Thunberg wrote in to Family@SouthJersey.com to tell us about Kevin's selfless philanthropy. At his recent birthday party he asked his friends for cash instead of presents with the intention of donating the money to Red Cross Haiti Relief. The day of the party, the Thunbergs collected envelopes in a basket decorated with the Haitian flag and raised $425 for Haitian relief. And, according to his parents, "Kevin said this was one of the best birthday parties he has ever had."
Habitat for Humanity
Round up the welcome wagon for some new neighbors as Medford's first Habitat for Humanity home was dedicated on March 27. Along with local businesses, the following individuals lent a hammering, helping hand in renovations: Roger Abbott of Hainesport, Rodger Cram and Owen Moran of Mount Laurel and Richard Worthington of Marlton. Larry Robinson, owner of Ceriello Marketplace in Medford, sponsored the dedication ceremony/open house event, providing all the food served that day. Now a thankful family of five will have the opportunity to know what it's like to be home sweet home.
Lisa Forman
As participants lace up their sneakers in mid-April for the second annual Walk 4 Family and Friends With Cancer—a four-mile walkathon to raise money for breast, lung, skin and ovarian cancer—co-chair Lisa Forman has partnered with two local charities: Samost Jewish Children and Family Services in South Jersey as well as the Abramson Cancer Center at the University of Pennsylvania. Last year's walk raised $25,000 toward cancer research support; this year an anonymous donor promises to match the funds raised up to 150 percent. Go to Walk4Family-FriendsWithCancer.org for more info.
Michael DeSimone
Michael DeSimone, owner and CEO of the DeSimone Group creative-entertainment umbrella company in Cherry Hill, has long been involved with the issue of juvenile diabetes. This month the South Jersey chapter of the Juvenile Diabetes Research Foundation International is honoring him for his continuing efforts toward the cause at its Dream Gala, JDRF's annual fundraising bash, this one with a Woodstock theme. Published (and copyrighted) in
Suburban Family
, April 2010.
For more info on Suburban Family, click
here
.
For information about advertising in Suburban Family, click
here
.
To find out where to pick up your copy of Suburban Family, click
here
.