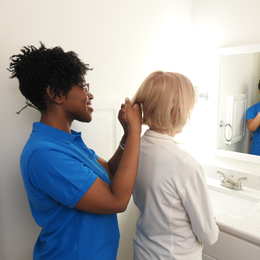 Providing Peace and Comfort
Journey Hospice offers a holistic approach to hospice and palliative care.
When a loved one is near the end of his or her life, making them feel comfortable is of utmost importance. You want someone who will provide compassionate care, respect and have your loved one's best interest in mind, as well as helping families during this difficult time. At Journey Hospice, they provide all of that and much more—specialized hospice care that incorporates both patients and their families.

"Our philosophy is that we're treating the whole patient and also treating the family members," says Executive Director Darlene Thurber. "We incorporate [patients] into the plan of care with significant family members."

Journey Hospice takes a holistic approach, which involves looking at all aspects of every patient.

"We really look at the mind, body and spirit of our patients, especially at this critical time," Thurber says. "It's the end of life, they have a terminal illness diagnosis most likely and are going through a lot of changes."

What's most important to Journey Hospice is getting every patient pain-free, which is a big part of the holistic approach.

"In addition to medications to make patients comfortable and pain-free, we add alternative measures—everything from sitting and speaking with the patient, offering music, therapeutic oils and massage therapists," Thurber says. "We meet the patient and significant family members at a point where they have some peace and support to be able to deal with these stressful times."

Journey Hospice also offers palliative care, a treatment plan that involves a team of experts to help patients living with a serious or life-threatening illness manage their symptoms. The main goal, similar to hospice care, is to keep them as comfortable as possible as they go through medical treatment.

"A patient just diagnosed with cancer, for example, they want to fight this and do everything they can in order to live with it and cure it, but they need help," Thurber explains. "They can still seek aggressive therapy like chemotherapy and radiation, but we're able to provide a qualified nurse practitioner who is coming to their home doing an assessment, answering any questions the patient has with care and helping them so they are not in pain."

Incorporated with this approach is a spiritual component, as Journey Hospice is a part of Lutheran Social Ministries of New Jersey, an organization serving residents statewide that helps people of all backgrounds and faiths.

"Our chaplain has a very strong role in that spiritual component," Thurber says. "She often will preside at funerals and keeps in touch with families for a year to provide comfort."

Journey Hospice also has a strong volunteer program, where volunteers are at patients' bedside offering support, reading a book or the Bible, and even running errands.

By showing empathy toward every patient and their family members, Journey Hospice puts its patients in a comforting place.

"We understand hearing the word hospice is scary," Thurber says. "We do our best to alleviate those fears and concerns."

Journey Hospice
6712 Washington Ave.
Suite 302
Egg Harbor Township
(609) 380-4302
JourneyHospiceNJ.org