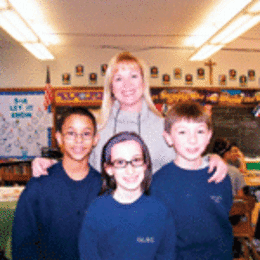 Star Citizens: May, 2010
Marcie Steel
Lumberton
Four years ago, Marcie Steel (pictured) was moved by a radio news story about an 11-year-old girl who held a bake sale and raised $40—enough to buy the freedom of a modern-day slave in Africa. The fifth-grade teacher at Our Lady of Good Counsel Parish School in Moorestown recounted the story to her students. "We were talking about how you hear these stories, you think they're interesting and then you let go of them. We decided that we shouldn't only talk about doing things; we should just do it." So was born the Just Do It club, a student-run organization that has so far raised around $8,000 for charities including Alex's Lemonade Stand, Make a Wish and several autistic children's schools. The National Liberty Museum in Philadelphia presented Steel with its Teacher as Hero Award for her efforts. Marcie and her husband and three children live in Lumberton.
Brian Smith
Woodbury
Brian Smith is a true soldier. The Woodbury resident first became an Army man after enlisting in 1995 and served until 1998. Smith enlisted again with the New Jersey National Guard. After completing a second tour of duty in Iraq, Smith returned home in June 2009. But by November, he was diagnosed with a burst double aneurysm. Today he is out of the hospital and undergoing extensive rehab. Smith recently discovered he was not eligible for disability benefits. With medical bills mounting, those near and dear to Smith have been hosting events in his honor to help offset the overwhelming cost. For more on Brian's story or to help donate to his cause, visit BenefitingBrian.Webs.Com.
Dr. Richard and Beth Stefanacci
Merchantville
As soon as their then 13-year-old son Richard was diagnosed with bone cancer in 2006, the Stefanacci couple knew they had to do something to not only help their own child, but also to ease the suffering of other children with this disease. The Stefanaccis started the Go 4 the Goal Foundation to help kids with cancer. Sadly, their son Richard passed away a year after being diagnosed, but in his spirit, the foundation continues to make a difference locally, raising more than $500,000 in just a few short years. Grammy winner Celine Dion helped the foundation raise more than $20,000. For more information, visit Go4TheGoal.org.
James DeMasi
Deptford
In 2007, James DeMasi moved home from Chicago to Deptford to care for his father, who had been diagnosed with non-Hodgkin's lymphoma. A year later, DeMasi himself was diagnosed with the same disease. Sadly, DeMasi's father died in 2008. But DeMasi not only went into remission in December 2009—he came out fighting. "People have more strength than they believe they do," he says. To prove it, DeMasi started working on his MBA in finance and on May 28, he is holding a benefit concert, Rock Out 4 LLS at the TD Bank Arts Center in Washington Township, to further his cause for the Leukemia and Lymphoma Society. D
onald Hunt
Pitman
On April 14, Pvt. Donald R. Hunt, 46, became one of South Jersey's most decorated veterans for his exemplary service in the army during Desert Storm. The Pitman resident became the recipient of the National Defense Service Medal, which represents honorable active service during a national emergency, and the Drill Sergeant Identification Badge—representing one of the most prestigious positions in the army. Hunt, a native of Franklinville who went to Delaware State on a football scholarship, has been retired from the army for 11 years and now owns New Beginnings Janitorial Service & Construction Company. "The army was a great experience. I was proud to serve my country," he says. Patricia Pearlman
Cherry Hill
Two years ago, Patricia Pearlman, registered nurse at Cooper University Hospital's neonatal intensive care unit, started a charity that provides cribs and other baby supplies to the families of NICU patients. Clare's Cupboard has helped more than 100 families and raised $50,000. The Cherry Hill resident was recognized with Cooper's 2010 Nurse of the Year Award. Katherine Bosworth
Woodbury
It's been almost five years since floodwaters devastated New Orleans. Woodbury's Katherine Bosworth is currently participating in a 10-month service program with National Civilian Community Corps. She and 200 other young adults helped return a sense of community to the area of St. Bernard's Parish through rebuilding projects this spring. Kathleen A. Davis
West Deptford
Kathleen Davis will receive the Gloucester County Distinguished Citizen Award from the Southern New Jersey Council Boys Scouts of America. Davis is now the executive vice president and chief operating officer of the Chamber of Commerce of Southern New Jersey lives in West Deptford with her husband and son. John Vogeding
Paulsboro
Paulsboro resident John Vogeding has officiated or announced virtually every major track and field meet in South Jersey over the past 45 years. He blew the whistle to start the very first Woodbury Relays Carnival 38 years ago, and hasn't missed one since. This year, "Voge" will be recognized for his impact on the area's track community. Dan Trainer
Collingswood
Dan Trainer's 50-year involvement with Collingswood Little League Baseball will continue to impact the community for years to come. Trainer, now 70, will retire from coaching after this season along with his wife, Joy, a longtime volunteer in the refreshment stand. Trainer's young players have gone on to be league coaches, as well as community leaders. Margo Pellegrino
Medford Lakes
Medford Lakes resident Margo Pellegrino is an ocean activist. She has ventured from Long Beach Island to Washington, D.C. in 2008, Miami to New Orleans in 2009. This year, she plans her most ambitious mission yet—from Seattle to San Diego to promote an environmental education campaign in coastal communities. Aldo Magazzeni
Lumberton
Grassroots activist Aldo Magazzeni, who is the co-owner of a Lumberton manufacturing firm, started a non-profit organization, Traveling Mercies, which has helped 75,000 people in remote areas of Afghanistan to be connected to water systems. He also provided over $15,000 in new computers to Hurricane Katrina victims with the help for Burlington County.
Published (and copyrighted) in Suburban Family, Volume 1, Issue 3 (May, 2010).
For more info on Suburban Family, click here.
For information about advertising in Suburban Family, click here.
To find out where to pick up your copy of Suburban Family, click here.