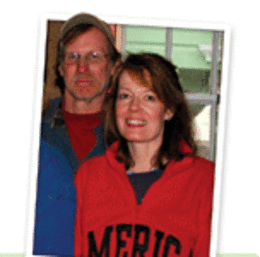 Star Citizens: June, 2010
Neil and Merle Brown
(pictured)
Tabernacle
After learning about the Fuller Center for Housing on a mission trip for Lord of Life Lutheran Church in Tabernacle, the Browns have brought to South Jersey the mission of this national association, which has a Habitat for Humanity-style mandate to provide affordable housing. (In fact, the Fuller Center was created by Millard and Linda Fuller, the same couple who started Habitat.) Within months of instituting the Fuller Center's New Jersey Pines chapter(FullerCenter.org), this husband-and-wife team (Merle is the group's president; Neil is its building site manager) have spearheaded renovation projects in Westhampton. They will be assisting a Millville church's efforts to build a multipurpose center.
Karen Quigley
Washington Township
Karen Quigley credits her unusual-looking mutt, Elwood, with changing her life. Twice named World's Ugliest Dog. Elwood has inspired his Washington Township owner to go back to school. Quigley, a 2010 graduate of Gloucester County College's Teachers program, spoke at her class' commencement ceremony.
Leslie Drummond
Marlton
After her Army Specialist son, Michael, shipped off with his unit to Iraq in 2005, Marlton resident Leslie Drummond founded the Yellow Ribbon Club(YellowRibbonClub.org), an organization that sends care packages from home to troops stationed in Iraq and Afghanistan. Though Michael returned safely in 2006, Yellow Ribbon's been going strong ever since, shipping more than 5,000 care packages overseas.
Mary Ann Bacon
Medford
The H1N1 scare made the academic year a challenging one. Rancocas Valley Regional High School nurse Mary Ann Bacon, recently voted 2010 Burlington County School Nurse of the Year, eased the way, serving as county H1N1 Vaccinator Training facilitator. She is currently coordinating a nationally recognized diabetic workshop for school nurses, to be implemented this fall.
Steve Liberati
Pennsauken
Steve Liberati coaches at-risk kids in Camden and other communities to live a healthy lifestyle through his Pennsauken-based national nonprofit Steve's Club (StevesClub.typepad.com/). Liberati's CrossFit-affiliated youth program promotes fitness, nutrition and self-respect among youth athletes who lack access to the quality training and coaching their suburban peers enjoy.
Jonathan E. Maddison
Voorhees
As if graduating summa cum laude from Rutgers-Camden College of Arts and Sciences weren't enough, Voorhees resident Jonathan E. Maddison recently had the honor of being the first Rutgers-Camden student ever to address his or her graduating class. He was chosen for his academic achievements and his service as president of the Camden campus' Student Governing Association.
Kevin Hensel
Cherry Hill
In a matter of 90 seconds, Fit-4-Life owner Kevin Hensel and a select crew of fellow personal trainers and clients cranked out enough push-ups to raise $2,000 for the Wounded Warrior Project, a national charity that helps soldiers injured in the line of duty get reacclimated once they've returned home.
James Finnegan
Glassboro
When James Finnegan returned home from his tour of duty in the Vietnam War, the Glassboro resident threw out his uniform because he was spat on by strangers at a train station. Decades later, that offense has been redressed, and in May Finnegan proudly accepted the New Jersey Distinguished Service Medal for his service to his country.
Cody Miller and Frank Hayden
Washington Township
In the wake of the devastating Haitian earthquake earlier this year, friends and Gloucester County College classmates Cody Miller and Frank Hayden have initiated several fundraisers—including a campus Dollar Dog Day—to help pay for Doctors Without Borders medical missions to the ravaged island nation.
Kevin Kutcher
Moorestown
The United Way of Burlington County recently announced that Kevin Kutcher, president and CEO of Liberty Bell Bank, will serve as the organization's new president. Prior to being named to the top spot, Kutcher has been an ardent volunteer for the United Way, raising nearly $10 million over the past decade.
Doris Wilson
Mount Laurel
When a natural disaster hits somewhere in the country, Red Cross volunteer Doris Wilson already has a bag packed and is ready to leave her Mount Laurel home for up to three weeks at a time to go help the victims. Most recently, she traveled to Missouri to assist those who lost their homes in a violent tornado; she's also made herself available in the aftermaths of 9/11 and Hurricane Katrina.
Jack Leonard
Haddonfield
Haddonfield's town clock, situated in front of Susquehanna Bank on Kings Highway, recently underwent a transformational restoration, courtesy of its owner, Jack Leonard. For his efforts, Leonard was honored in turn, recently winning Haddonfield's 2010 Joan L. Aiken Award for preserving the town's architectural heritage. Published (and copyrighted) in
Suburban Family
, Volume 1, Issue 4 (June, 2010).
For more info on Suburban Family, click
here
.
For information about advertising in Suburban Family, click
here
.
To find out where to pick up your copy of Suburban Family, click
here
.