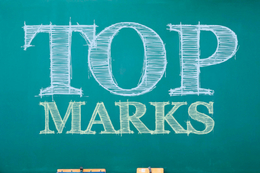 Top Marks
A look at how area private schools are upholding educational standards and exceeding expectations in the age of coronavirus.
All across South Jersey and the country, people are searching for a return to normalcy. For students and their families, going back to school this fall has been a big part of that feeling. Private institutions are among the organizations that have focused their energy on creating a safe environment where learning can continue. Suburban Family spoke with some of the private schools in our area about what this school year will look like and how they are maintaining their high standards under the shadow of the pandemic.
Paul VI High School
Katy Stewart, director of admissions
Students at Paul VI (PVI) are returning to in-person, full-day sessions, Monday through Friday. Students did have the option to choose remote learning with the ability to stream classes live via Zoom. New microphones and new video cameras were installed in each classroom, ensuring the student s at home receive the full experience. To make in-person learning possible, Stewart says the baseline protocols for masks, distancing and screening are being followed, and further equipment has been added, including walk-through, zero-contact body temperature detection stations at the student entrances. As a Catholic school, the opening of school is always celebrated with Mass in the auditorium, says Stewart. However, this year was different. "This year, Mass was set up on the football field, and said on each class level's orientation day—fewer people, farther apart, with plenty of air circulating!" she says.
Not only has the vision of the school's leadership been an advantage in making this year possible, but so has the entire community. "I also think it's fair to say that since families actively choose our school, their mindset is that of partnership, which is very helpful," Stewart says. "The cooperation and appreciation levels within the school community have been tremendous. … And most importantly, the students seem incredibly happy to be back—you can still tell they're smiling, even with the masks. We've all learned to cherish the little things, and that's a practice we'll keep long after the masks are gone!"
St. Joseph's Preparatory School
Bill Avington, director of communications
St. Joseph's Prep is operating under a hybrid schedule with students alternating between two days a week in person and three remote (Wednesdays are virtual for all students and teachers to allow for a thorough cleaning of the campus). Families were also given the option for full remote learning. Avington says classrooms are at half capacity with desks set 6 feet apart. Hallways and stairwells are one-way, and in the dining hall, students sit at individual desks rather than large tables. Avington says there is no doubt that students are being pushed to their full potential even under these circumstances. "Our faculty continue to challenge our students in the classroom, a fact that we heard clearly from our parents and students from last spring. It was clear that our students were challenged but also cared for by our faculty. … We have also continued to offer our spiritual retreats and service opportunities, which have been modified to ensure proper protocols are followed," he says.
The Jesuit school's Mass of the Holy Spirit is a tradition that dates back to the 1540s. Avington says each grade held its own Mass to ensure the proper capacity limit inside the church, and seniors whose class ring ceremony was postponed in the spring, received them at the beginning of this year. "We have received positive feedback from parents who are grateful that the school has gone to tremendous lengths to provide an in-person learning experience while also doing our best to ensure their safety while on campus," Avington says.
Our Lady of Good Counsel School
Denise Costic, administrative assistant and advancement coordinator
When the pandemic first hit in March, OLGC was one of the few schools able to continue live learning in a remote environment immediately. Costic says this instills confidence in parents who can trust their children will receive the same quality of education if a sudden change happens again. Currently, students may attend five days a week in person, hybrid or all remote. The limited class size eliminated any need for physical barriers between students in the classrooms, while maintaining the 6-feet distance. Costic reports that the beginning of the school year has been going well and everyone is settling into a routine, including the twice daily temperature screenings, mask wearing and distancing in hallways.
Familiar activities like student council election, morning announcements, the student ambassador program and the fun walk for technology have all continued. "I credit all of this to the extensive back-to-school plan that was prepared by administration and the training that the staff received prior to the start of school," says Costic. "As always, when presented with a challenge, our school community rises to that challenge, prevails and exceeds expectations."
Center For Education
Heather Greenberg, director
The Center for Education has been back for in-person instruction since its summer session in July. "In April we began to strategize to return to an environment that was as safe as possible," says Greenberg. "We immediately spoke to experts in their fields about best practices and put a plan into effect that included the purchasing of the central air filtration (installed in June) and plexiglass. Our instruction is always one-to-one. Therefore, class size is more easily controlled. As a private school, we can make decisions immediately and expedite purchases."
Desks and computers are wiped down between classes and the school is cleaned at the end of each day. Temperatures are checked for all students and staff upon arrival and hands washed before class, and masks are mandatory. "Our instructional methods have not changed. However, the summer gave the students and the parents an opportunity to see the practices and the modifications made to make for a safer environment. The students, themselves, were not fazed by the changes," Greenberg continues. "The silver lining [is] … the students have a better appreciation of school. They were very happy to come back, but not as happy as the staff was to have them back.
Moorestown Friends School
Julia de la Torre, head of school
All families at MFS could choose between the at-home or at-school model. Students in preschool through grade six who are in school attend full days, five days a week, while grades seven through 12 are in a hybrid mode. To ensure a collective sense of health and safety, de la Torre highlights touchless hand sanitizer dispensers in every classroom and key entry points, handwashing stations and clear plexiglass shields on student desks as just some of the enhancements.
Being a small school is an advantage in this situation. "As a small school, we are able to adapt as needed to meet the changing situation and to minimize disruption for students," she says. "Clear and regular communication with our community is critical for maintaining trust and ensuring the smoothest experience for all involved. We have provided a wide range of feedback outlets to students, faculty, staff, parents and guardians, including periodic surveys, community forums, virtual listening sessions, virtual office hours and more." Faculty and staff are re-energized by being in the community with one another again, and students are thrilled to be back and reconnecting. "Every day feels like a win and another opportunity for students and teachers to solidify relationships and build a strong foundation for the school year," de la Torre says.
Holy Cross Preparatory Academy
Alice Penza, principal
Holy Cross' large facility allows room for social distancing with the student population, enabling it to offer the full-day, full-week in-person option, along with livestreaming, to families. To ensure a continuity of education, students at home are attending class in real time, and all curriculum remains intact, says Penza. Additionally, the school increased its guidance department to better help students in this unprecedented time.
Following proper protocols, many sports, clubs and other activities are able to continue as well, she says. "Prom and graduation were held in person in August following state guidelines. Orientation, Frosh Social and yearbook pictures are taking place as usual. Masses will resume at the end of the month, splitting the classes to allow for social distancing and to follow indoor gathering rules," says Penza. "Students and staff have done an excellent job acclimating to all the new protocols. Even through all the technology issues and adapting to COVID protocol, we have worked together and have been supportive of one another academically and emotionally more than ever before."
Kellman Brown Academy
Rachel Zivic, head of school
Kellman Brown Academy has students returning for full in-person or full-remote education. Zivic says two things helped make this possible. "We are blessed to have an excellent student-to-teacher ratio, so we were able to maintain small classes and keep cohorts together. Additionally, our school was highly successful with our remote learning program last spring, so we were able to use that experience and our robust technology to prepare for all types of scenarios this year," she says.
The school took extra steps to make families feel comfortable about sending their children back, including updating the HVAC system with additional LED in-duct air purifiers. Families and faculty all signed a Community Responsibility & Commitment agreement to uphold guidelines, and students are screened daily upon entry. Although this year looks different, Zivic says, "We are able to maintain our culture of joy, warmth and appreciation because of the tremendously dedicated faculty and staff we have. We are also finding new and innovative ways to create new traditions in our school—we have our students to thank for giving us great suggestions and ideas!"
Diocese of Camden/South Jersey Catholic Schools
Dr. William Watson, superintendent
A majority of students have returned for fulltime, on-site learning, says Watson, who adds that families who were not ready or had health concerns had an option for remote. Students have their temperatures taken upon arrival, and inside classrooms, desks are spaced and many are outfitted with plexiglass barriers on three sides. With a wide range of schools under its umbrella, the diocese has invested in technology and professional development for all teachers.
Keeping in touch with the community and with faith has largely moved to virtual platforms, and allows for certain traditions such as fundraising walks and Masses to continue. "Each year students participate in the annual Blue Mass honoring members of law enforcement and emergency services in the Diocese of Camden, which has become a treasured tradition in our school communities," he says. "This year, the Blue Mass will be livestreamed. With the virtual format, more students will be able to participate." Most of all, the schools are happy to have families back. "Our silver lining will always be the relationship we have with our families. This year we have many new families. We hope they find a rewarding academic experience and the loving, community environment that is unique to a Catholic school."
Archmere Academy
Katie Thiel, principal
According to Thiel, only 4 percent of the student body elected the remote option for this school year, but that didn't diminish the school's efforts in making their virtual experience successful. "In order to offer the best virtual experience possible, Archmere made a sizable investment in classroom cameras, which allows for more streamlined, organic content delivery and social connection," she says. For on-site students, teachers have split their rosters, resulting in more individualized attention. "Ninety-five percent of classes have less than 10 students, making it feel much like a college seminar," Thiel adds.
This unique experience has given the Archmere community a renewed sense of appreciation. "Students love being here, and seeing them rekindle their social connections has been a true blessing. … In terms of the student, faculty and staff response, resilient and community-oriented are two terms that come to mind. Our faculty have made major shifts in content delivery, developing asynchronous work, scheduling, etc., and they should be commended for their flexibility and commitment to the needs of their students," she says.
Gloucester Catholic High School
Ed Beckett, principal
"The return to school has been a positive, engaged and energizing reality," notes Beckett. "Students, faculty and families are united in their desire for a successful school year." Key elements of the return-to-school opening include smaller class sizes due to a new schedule, daily temperature checks and one-way traffic flow throughout the school. Students, staff and faculty use masks, face shields and trifold sneeze guards in classrooms. He says high-quality, Catholic education continues in person and remote via livestreaming with no lapse in value thanks to use of fast-paced technology.
Faculty and students have also maintained long-standing Rams traditions, and created new ones. "For instance, Ram athletics programs experienced success in their summer programs following the NJSIAA return-to-play guidelines and are looking forward to kicking off the fall sports season. All of this was made possible by strong parental support and enthusiasm for in-person instruction, including shared values and community ethos of care for each other," he says.
Published (and copyrighted) in Suburban Family Magazine, Volume 11, Issue 7 (September 2020).
For more info on Suburban Family Magazine, click here.
For information about advertising in Suburban Family Magazine, click here.
To find out where to pick up your copy of Suburban Family Magazine, click here.