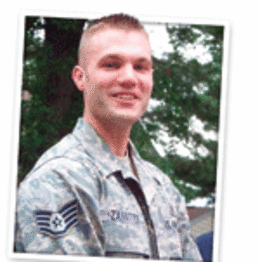 Star Citizens: July, 2010
Ssgt. Jaired Zavatter
Marlton
In July, friends and loved ones welcomed Ssgt. Jaired Zavatter (pictured) home from his third tour of service in Afghanistan. Now 27, he served his first tour in 2006 and his second in 2008. The Yellow Ribbon Club, Warrior Watch Riders and other supporters from the Marlton community all arranged to participate in a community welcoming for Jaired, shared by a special member of the Yellow Ribbon Club—Jaired's wife, Christy.
Lori Braunstein
Cherry Hill
Concerned with how the environment was being affected on a local level, Lori Braunstein, a small business owner, founded Sustainable Cherry Hill, a non-profit organization. The mission of the organization is "Bringing people together to build a sustainable South Jersey." As Executive Director, she is heading up the effort to "think globally, act locally."
Barbara Clauser & Stephanie Pappas
Cinnaminson
When Barbara Clauser sewed a cap for a friend with cancer who had lost her hair from chemo, the Cozee Cap was created. Barbara's granddaughter, Stephanie Pappas, got interested in the project, so the two decided to knit Cozee Caps and donate them to Virtua Memorial Hospital to be distributed for cancer patients. As of now, they have donated over 2,000 Cozee Caps to cancer centers to five different hospitals; for more information, email bebopbarb1@msn.com.
Peter Liciaga
Mount Laurel
Dinoto Karate Center instructor Peter Liciaga recently brought the karate skills that he shares with others to the big screen with a performance in M. Night Shyamalan's new film, "The Last Airbender." Liciaga specializes in instructing Verbal Self-Defense, an anti-bullying and anti-verbal abuse program, which he is bringing to area schools.
Frank D'Amico
Washington Township
Frank D'Amico was chosen to be the 2010 Citizen of the Year award by the Gloucester County Chamber of Commerce at their annual Community Service Awards. Frank is the Volunteer Director for the Gloucester County Special Services Education Foundation. Frank's dedication to his position has helped to raise over $1 million for autism research and programs.
Cristina Chillem & Kelly Simpson
Cherry Hill
Instead of going to the beach for the summer, Cristina Chillem and Kelly Simpson are spending their summer building schools in Surkhet, Nepal. While there, they are staying at Kopila Valley Children's Home, a residence for volunteers of the Blinknow Foundation (founded by another motivated young woman in New Jersey—Simpson's cousin, Maggie Doyne).
Bryan McGair
Medford
As Assistant Superintendent for Finance and Support Services, Bryan McGair always examines the big picture when it comes to services and finances for Medford Township Public Schools. Bryan was recently honored by The New Jersey Association of School Business Officials with an Above and Beyond Award.
Stephany Colombo
Moorestown
Nineteen-year-old Stephany Colombo recently won the Congressional Art Competition. Her self-portrait, "Dot''s Me," will now be displayed in the corridor in between the U.S. Capitol and Cannon House Office Building among several hundred paintings. Stephany will be taking her art talent to Rowan University in the fall.
Steve and Lisa Hurley
Haddonfield
This couple was profoundly affected when their son, Michael, passed away five weeks after being born from heart disease and complications from a premature birth. Four years ago, Steve and Lisa Hurley created Kidzfest, an event an event designed to get the whole family involved in the fight against these diseases. Kidzfest will be held on September 11 in Cherry Hill. Visit kidzfest.org.
Carla Tisdale-Walker
Voorhees
Recently, Carla Tisdale-Walker was named as the Corporate/Foundation Relations Manager for The Deborah Hospital Foundation. The foundation strives to "provide substantial funding to support the highest quality of patient care by Deborah Heart and Lung Center and to provide for treatment of children with congenital heart disease."
Bill Jusko
Tabernacle
An extremely active United Way of Burlington County volunteer, Bill Jusko was honored earlier this year with the 2010 Lawrence D. Epstein Volunteer of the Year Award, for his dedication to improving Burlington County. Bill, who is the Regional Director of CVS Caremark, is also now the Chairman of the Board for United Way of Burlington County.
Karen Michalski
Marlton
In addition to her job duties at Samaritan Hospice, Karen Michalski volunteers for the agency. She recently received the quarterly Dove Award from Samaritan Hospice for her work with the agency for over five years. She has received special training to become a 'vigil volunteer' with patients in hospice. Published (and copyrighted) in
Suburban Family
, Volume 1, Issue 5 (July, 2010).
For more info on Suburban Family, click
here
.
For information about advertising in Suburban Family, click
here
.
To find out where to pick up your copy of Suburban Family, click
here
. —