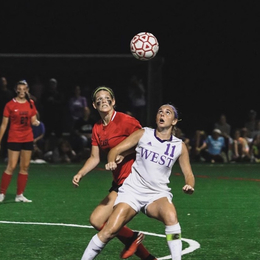 Girls Soccer
2020 High School Sports Preview
BISHOP EUSTACE CRUSADERS
PLAYERS TO WATCH: Bishop Eustace is paced by a strong defense led by junior back Maddie Dunk (three goals, four assists), who made the all-conference first team as a sophomore, and junior goalie Ava Racobaldo, an all-conference second-teamer. The Crusaders are also excited to welcome back senior forward Sophia Verrecchia, who led the team in scoring as a sophomore but missed last season with a knee injury. The midfield is bolstered by seniors Katie Kempter and Liz Innocenzo and juniors Carly Serlenga and Sophia Schoenborn. Juniors Abby Dlug and Megan Morris are other experienced defenders and sophomore Madi Marbach is expected to contribute after seeing time as a freshman.
OUTLOOK: Last year was supposed to be a rebuilding one for the Crusaders, but they went 10-8-2, earned a share of their third straight division championship and reached the sectional quarterfinals. With many of the top players back in the fold, this is shaping up as another successful season.
CAMDEN CATHOLIC FIGHTING IRISH
PLAYERS TO WATCH: Almost the entire roster is back for Camden Catholic, led by star senior forward Taylor Gardner. She tied for third in the Olympic Conference last year with 20 goals to go with 10 assists and was named to the all-conference first team for the second straight season along with the all-South Jersey third team. Sophomore back Lily McBride also made the all-conference first team after a fantastic freshman season on defense. Seniors Brooke Foster (eight goals, six assists), an all-conference second-teamer, and Mattigan DiBease are play- makers in the midfield, and other offensive contributors are junior Lindsay Bednarek (eight goals, four assists) along with junior Devon Foster and sophomores Bella Miller and Dillon Sorino, who each scored five goals. Seniors Sophia Martino, Kylie Atkinson, Suzy Ndandji and Jenna Cooney all return on defense, and their veteran presence will be important as the Irish break in a new starting goalie. Junior Catie Paolini is a candidate for the job. Other experienced returners to keep an eye on are seniors Alaina Cornely, Jessica Rendfry and Alyssa Talario, juniors Nicole Douglas and Katie Driscoll and sophomore Carly O'Callaghan. Ebony Arvelo, Natalie Belz and Natalie Coyle are promising sophomores.
OUTLOOK: The Irish went 10-9-1 last fall—their best record in over a decade—and notched impressive wins over Paul VI and Clearview. With Gardner and a strong supporting cast in place, they have a good chance of making it two winning seasons in a row.
CHEROKEE CHIEFS
PLAYERS TO WATCH: Ten players from last year's team received their diplomas, but Cherokee still has a solid core to build around. That includes sophomore forward Olivia Marrone, a transfer from Bishop Eustace who had eight goals and eight assists as a freshman to earn all-South Jersey second-team accolades. Junior midfielder Katie Fricker, who had seven goals and four assists on her way to all-conference second-team honors, is another offensive weapon. Senior goalie Kat Caminske also made the all-conference second team and forms a terrific duo in net with junior Ryann Timmons. Senior forward Alexandra Fasano, sophomore forward Katie Ulmer and sophomore midfielder Juliet Morze are other offensive contributors. Junior Aly Mascolo is an experienced midfielder and the defense includes seniors Grace Gilmore and Megan Wisenauer, junior Nicki Napoli and sophomore Abby Kulinski. Other returners looking to make an impact are junior Chelsea Evans and sophomore Jessica Jacobsen.
OUTLOOK: The Chiefs went 7-11-1 with appearances in the Coaches Tournament and South Jersey Group IV playoffs. They have the talent in place to stay competitive in 2020.
CHERRY HILL EAST COUGARS
PLAYERS TO WATCH: Cherry Hill East graduated several top players, including center back Faith Rosenblatt, who moved on to a Division I career at Wisconsin. The good news is that the defense does return senior back Alyssa Bui, an all-conference second-teamer, and senior goalie Lily Cohen, who turned away 115 shots. Junior Kaylin Maher is a returning starter at outside back/midfielder and senior Jillian Drumm—an attacking-minded outside back—also returns after playing last year for the Development Academy. Seniors Lauren Ballay and Jade Pike and junior Caroline Perry are other veteran defenders along with senior goalie Kelly Anderson. Several promising attacking players are back in the mix, including junior forward Carly Drumm ( five goals, two assists), junior midfielder Katie Quarry (four goals) and sophomore midfielder Elizabeth Sommeling (three goals, five assists). Junior Olivia Reganata is another talented midfielder and other veterans to keep an eye on are seniors Kaitlyn Newcomb and Sophie Poslusny. There are also 17 other juniors and several talented sophomores battling for varsity spots.
OUTLOOK: The Cougars have been knocking on the door of a winning season the last few years—they posted a 9-10-1 record in 2019— and expect to make another run at it this fall under new coach Conor McVeigh.
CHERRY HILL WEST LIONS
PLAYERS TO WATCH: Michela Auguadro has established herself as one of the premier keepers in the area and is primed for a big senior season. She recorded 160 saves and eight shutouts as a junior and was named Goalie of the Year by the South Jersey Soccer Coaches Association. She also made the all-conference first team for the second year in a row. Senior back Abbie D'Ambra is another key piece of the defense who made the all-conference first team and all-South Jersey second team, and other experienced backs are seniors Sophia Graffeo and Jenna Casole and sophomore Maesie Baker. The offense is paced by sophomore Reilly McGlinn, who burst onto the scene as a rookie with 15 goals on her way to all-conference first-team recognition. Senior midfielder Kayla Thompson (five goals) is another talented playmaker and other contributors in the midfield are seniors Maddie Orefice and Mia Angelucci and sophomore Ava Hawk.
OUTLOOK: The Lions went 11-8-2 in 2019 and ended the season with a valiant effort against Ocean City in the sectional quarterfinals, losing 1-0 in the final seconds to a team that went on to win the state title. With Auguadro limiting opponents' scoring chances and McGlinn high- lighting the offense, hopes are high this fall.
CLEARVIEW PIONEERS
PLAYERS TO WATCH: Clearview fielded a young squad last year and many of those young players will form the nucleus of the team this fall. That includes junior midfielders Kaitlyn Pirrotta and Adriana Careless, who both made the all-conference team. Pirrotta, a first-teamer, had three goals and four assists, while Careless led the Pioneers with seven goals and made the second team. Other scoring threats are junior Marissa Ciemny and sophomore Payton Foster, and returners in the midfield are seniors Marissa McLaughlin and Emmy Sinnett. Senior Sydney Strauss, an all-conference second-teamer, anchors a defense that also includes senior Meghan Decker. Other veterans looking to contribute are senior Reese Burbank and juniors Paige Nguyen, Marissa Borrelli, Alyssa Curley and Lacy Kaufman. Clearview must find a replacement for all-conference goalie McKenna Dalfonso, who graduated.
OUTLOOK: During a rebuilding season last fall, the Pioneers still managed to contend in the Tri-County Royal and upset second-seeded Jackson Memorial in the first round of the playoffs before finishing with an 8-10-4 record. With a lot of key players back, this has the look of a winning season.
EASTERN VIKINGS
PLAYERS TO WATCH: Eastern suffered huge losses to graduation—notably all-time leading scorer Kelli McGroarty and center back Sara Brocious, who both moved on to Division I college programs—but is thrilled to welcome back its third all-state first-teamer from last year, senior forward Riley Tiernan. She scored 33 goals and had a school-record 34 assists, giving her 77 for her career, another school record. The Rutgers commit will surely miss McGroarty but should remain one of the elite attacking players in the state. Other talented offensive players include junior midfielders Cami Silvestro (13 goals, seven assists), Devyn Shapiro (seven goals, 15 assists) and Emily Eustace (eight goals), who made the all-conference second team. Two very good players join the team from the Development Academy, including sophomore Sydney Ritter, who is expected to play a huge role up front. Senior Stella Kahn and sophomore Faith Quinn are other key returners in the midfield and the back line features junior Klio Kokolis and sophomore Emily Stewart. Senior Madison Winfield is a candidate to become the starting goalie.
OUTLOOK: The Vikings completed another memorable season last fall, as they won their first 25 games—including Coaches Tournament and sectional championships—before dropping a 1-0 game in the state semifinals. There is no replacing McGroarty or Brocious, but the talent is still in place to contend in 2020.
GLOUCESTER CATHOLIC RAMS
PLAYERS TO WATCH: Senior forward Ella Van Dine has led Gloucester Catholic in scoring each of the last two years and is poised for a big final season. She erupted for 18 goals to go with five assists as a junior to make the all-conference first team. Other offensive sparks are senior midfielder Sophia Testa (four goals, six assists), senior forward Lauren Ridinger (four goals) and sophomore forward Carley Kemble (five goals). Senior Kara Bernetich and juniors Brooke Myers and Karley Emerly are also contributors up top and in the midfield. Senior Emileigh Cloak, an all-conference first-teamer, and junior Riley Cannon, a second-teamer, lead a defense that also includes juniors Fara Holland and Natalie Musick. Molly Clancy, a junior who served as the backup goalie last year, will look to become the starter. Other returners expected to have an impact are seniors Kayla Woodington and Olivia Versace and sophomores Samantha Salvatore and Avery Green.
OUTLOOK: The Rams' 12-7 record included a playoff win and a second-place finish in the Tri-County Classic. With Van Dine leading the way, they have the potential to contend in the division once again.
HADDONFIELD BULLDAWGS
PLAYERS TO WATCH: Haddonfield returns a potent scoring duo in senior midfielders Katie McCormick and Keegan Douglas, who both made the all-conference first team. McCormick led the Bull- dawgs with 22 goals to go with nine assists and was rewarded with all-South Jersey second-team accolades, and Douglas added 14 goals and 13 assists. Sophomore forward Allison Tighe is another scoring option who recorded six goals and six assists as a rookie. Sara Smith, a junior, is a talented midfielder and senior Katie Hatch will lead the defense after earning all-conference first-team honors. Senior Margo Greenbaum is another experienced back, while junior Juliet Walls and sophomores Allison Baxter and Libby DeMichele are other contributors. Haddonfield will be breaking in a new goalie following the graduation of four-year starter Maya Olimpio.
OUTLOOK: The 2019 season was a special one for the Bulldawgs, as they went 17-5-2—including a perfect 10-0 mark in the Colonial Liberty— and captured their second sectional championship in four years. They have some big spots to fill in the lineup but expect to be contenders again with McCormick and Douglas leading the way.
KINGSWAY DRAGONS
PLAYERS TO WATCH: A talented core returns for Kingsway, including five all-conference players. The offense is paced by first-teamers Lianna SanFelice, a junior forward, and McKenna Williams, a junior midfielder. SanFelice had four goals and six assists last year, while Williams netted five goals to go with four assists. Senior midfielder Cami O'Rourke (five goals, three assists) and junior forward Lauren SanFelice (four goals, two assists) are other key playmakers who made the second team. Senior Payton Ruwet is another all-conference first-teamer who anchors the back line. She is joined on defense by senior Madison Forte, juniors Molly Fitzpatrick and Samantha Lerario and sophomore Megan Lewin. Senior Alyssa Carman is another contributor at forward and the midfield is bolstered by seniors Sarah Cancila, Rachel Robichaud and Kylee Lewis and junior Victoria Natale. Senior Grace Vit is an experienced goalie who could become the starter. The Dragons are also excited to welcome back three strong veterans who played for the Development Academy last year: senior Lexi Murphy and juniors Madison Burlingame and Marissa Masano.
OUTLOOK: Kingsway's 10-7-1 record in 2019 included the Tri-County Royal title. With so many important pieces back, the Dragons look like contenders again.
LENAPE INDIANS
PLAYERS TO WATCH: Eight seniors from last year's team received their diplomas—including five all-conference players— so Lenape certainly has some spots to fill. One of the key returners is junior midfielder Cierra Penny , who had five goals and five assists as a sophomore to make the all-conference second team. She will look to emerge as the go-to offensive weapon. Juniors Kat Pappas and Kylie McNamara are other important pieces of the offense and seniors Abby Litwin and Katelyn Jones and junior Shannon DeFeo will contribute in the midfield and on defense. Sophomores Kiera Quinn and Sydnie Wright flashed potential as rookies.
OUTLOOK: The Indians went 9-8 last fall— their first winning season since 2016—and notched a playoff victory before dropping a close 1-0 loss to eventual sectional champion Eastern in the quarterfinals. They have a solid core in place and hope to make their presence felt in the Olympic American.
MOORESTOWN QUAKERS
PLAYERS TO WATCH: Moorestown graduated a deep senior class and will need new leaders to emerge. Senior Sarah Patton is a three-year starter who will lead a solid core of returning defenders. Seniors Anna Caprarola, Morgan Biewlawski, Dylan Silar, Taylor Kares and Alex Crow, along with juniors Sofia Della Rosa, Grace Button and Emma Dengler will give the Quakers plenty of depth in the back. The midfield position brings back seniors Libby Hock, Lindsay Valilla and Danielle DeNittis and juniors Caroline Tone and Katie Buck. Juniors Carolyn Pierson, Emily Broker and Caroline Button and sophomore Zoe Lam provide needed experience up front. Senior Leila Scaramella and junior Julia Kellerman will battle it out for the top spot in goal.
OUTLOOK: One year after reaching the state final, the Quakers dropped to 5-11-3 last season but were competitive in almost every game, with nine of the losses coming by one goal. They will look to turn some of those close losses into wins this year and rebuild around a new core.
MOORESTOWN FRIENDS FOXES
PLAYERS TO WATCH: Moorestown Friends graduated leading scorer Bella Runyan and two other all-league players but is happy to welcome back senior forward Madison Bouggess. A proven finisher, Bouggess had seven goals and three assists last year and should be the focal point of the offense. Junior midfielder Angelica Larluz and junior forward Veyoni Davis are other talented scorers and sophomore Macey Wilkins is a playmaker in the midfield who had seven assists as a rookie. The back line is led by juniors Bebel Trani, Roni Kennedy and Emma Nei, but a new starting goalie will have to emerge.
OUTLOOK: The Foxes' 12-8 record in 2019 featured a trip to the sectional semifinals. They are in rebuilding mode this year but hope to remain competitive.
PAUL VI EAGLES
PLAYERS TO WATCH: Paul VI is paced by a pair of senior midfielders who are coming off all-conference first-team seasons: Natalie Schooley and Abby Lutz. Schooley, an East Stroudsburg commit, had six goals and seven assists to earn all-conference recognition for the third year in a row. Lutz added five goals and led the Eagles with 13 assists. Junior forward Sofia Errichetti had eight goals and five assists to make the all-conference second team and sophomore forward Olivia Brocious netted a team-high 10 goals to go with five assists as a rookie. Senior midfielder Ciara Minkel (six goals, three assists) and senior forward Natalie Lunt (five goals) are other talented offensive playmakers. Seniors Maddy Tursi and Allison English and junior Hannah Exley are other key returners in the midfield and veterans on defense are senior Tori Fisher and juniors Makenna Foder and Elizabeth Beck. Junior Arden Sentak—an outside back who played a big role as a freshman—will also be returning to the team after a year off.
OUTLOOK: After a slow start last fall, the Eagles reeled off 10 straight wins, including a playoff victory, and finished with a 13-6 record in the final year of longtime coach Keith Walters, who stepped down after the season. New coach Karen Anderson, a former standout player at Paul VI and Rowan, inherits a talented team that expects to contend in the Olympic National.
SENECA GOLDEN EAGLES
PLAYERS TO WATCH: Seneca has a solid core led by senior goalie Lexi Dooley, a three-year starter who stopped 179 shots last season and made the all-conference first team. The defense in front of her is led by senior Tori Groves, an all-conference second-teamer, and senior Kendall Beckey. Junior forward Olivia Forchic had six goals and three assists on her way to all-conference first-team recognition, and sophomore midfielder Sophia Cooper led the Golden Eagles with seven goals and four assists to make the all-conference second team. Senior forward Alli Harvey is another talent- ed scorer and returners in the midfield are seniors Gwyn Burgess, Hannah Schwartz, Arianna Haresign and Madison Penna.
OUTLOOK: The Golden Eagles' 6-12-3 record last year included a close loss to Mainland in the first round of the playoffs. They have the potential to return to the postseason and contend for a winning record in 2020.
SHAWNEE RENEGADES
PLAYERS TO WATCH: Shawnee suffered big losses to graduation but is fortunate to welcome back three players committed to Division I college programs. One of those is senior midfielder Brooke Steel, who had seven goals and 11 assists as a junior to make the all-conference first team. She is headed to American University. Senior defender Olivia Vricella, an all-conference second-teamer, is committed to La Salle, and senior midfielder/ defender Tori Yost is also going to continue her career in Philadelphia, as she has signed with Drexel. Junior midfielder Nikki Dedes scored eight goals as a sophomore and will be a key player offensively, while senior Sophia Drea and sophomore Annelese Ribiero also return in the midfield. Senior Julia Stephan is a veteran defender and senior Anna D'Intino has experience in goal. Other contributors are seniors Abby Byrne, Kaylin Johnston, Aleesha Deshmukh and Mackenzie Kelleher and juniors Kate Adams, Kylie Kenig and Ava Rieger.
OUTLOOK: The Renegades had another successful campaign in 2019, as they went 15-6-1 and reached the Coaches Tournament and sectional semifinals. Look for them to shine once again this fall.
WASHINGTON TOWNSHIP MINUTEMAIDS
PLAYERS TO WATCH: Amanda Attanasi has been a dynamic player since the second she stepped on the field for Washington Township as a freshman, and it will be exciting to see how her career wraps up this f all before she moves on to James Madison. She had 15 goals and 14 assists last year— increasing her career totals to 63 and 31—and made the all-conference first team for the third time. Senior defender Manon Bada made the all-conference second team along with junior goalie Kelsey Newton, who made 119 saves in her first year as the starter. Senior Alyssa Monti should be another important piece of the defense; she started at outside back as a sophomore before spending her junior year with the Development Academy. Senior forward Megan Smith and senior midfielder Taylor Attanasi, Amanda's sister, will contribute offensively, along with junior midfielder Gianna Garozzo and sophomore midfielder Jess Castorino. Seniors Alexis Coppola and Alyson Petro are key returners in the midfield.
OUTLOOK: The Minutemaids went 12-8 last year and reached the sectional quarterfinals. With Attanasi leading the way this fall, they expect to be division title contenders.
Published (and copyrighted) in Suburban Family Magazine, Volume 11, Issue 5 (July 2020).
For more info on Suburban Family Magazine, click here.
For information about advertising in Suburban Family Magazine, click here.
To find out where to pick up your copy of Suburban Family Magazine, click here.