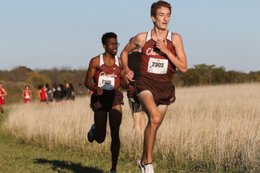 Boys Cross Country
2020 High School Sports Preview
BISHOP EUSTACE CRUSADERS
RUNNERS TO WATCH: Bishop Eustace will have to break in a new No. 1 runner after the graduation of Shane Vostenak, and junior Anthony Faust is a leading candidate. He has been a solid performer since his freshman year and placed 12th at sectionals as a sophomore. It will be interesting to see what he can accomplish as an upperclassman. Ryan Carney is another talented junior who finished two spots behind Faust at sectionals and is the Crusaders' highest returning finisher at states. Brendan Johnson and Daniel Colden are promising returners in the junior class and sophomore John Stewart made progress throughout his freshman season. Seniors Nathan Earney and Andrew Sawyer are other contributors.
OUTLOOK: The Crusaders' best finish as a team last year was third place at sectionals. With many of their top runners returning, they have a good chance of staying in the top five this fall.
CAMDEN CATHOLI C FIGHTING IRISH
RUNNERS TO WATCH: Senior Warren Derman has been a key runner for Camden Catholic the last two years and is primed for a big final season. He placed ninth at sectionals last fall with a time of 17:09.50 and also took 12th at the Camden County Championships. Junior Cristian Moore is another top returner who is coming off a breakout sophomore season. He clocked a 17:07.29 for eighth place at sectionals. Sophomore Braelen Crump finished in the top 20 at sectionals in a promising rookie season, while juniors Michael Alvarez and Robert Gardner are solid veterans. Other returners hoping to contribute are senior Aeden Rosolia and sophomores Anthony Pisasale, Chase Rosenberger, Nate Consuegra and Connor Alvarez.
OUTLOOK: The Irish had an impressive season in 2019, as they finished second at sectionals, eighth at states and third in the county. With a solid core of runners, more success can be expected this fall.
CHEROKEE CHIEFS
RUNNERS TO WATCH: Cherokee graduated a stellar senior class from last year's fantastic season, but this program always seems to find new standouts. Leading the way this season is senior Brett Shea, who clocked in under 17 minutes at sectionals, states and the Meet of Champions, including a time of 16:20.30 to place 16th in South Jersey Group IV. Shea also took fourth at the Burlington County Open and 10th at the Olympic Conference Championships. Nico Grilli (fourth in the conference, 20th at sectionals) and Daniel Boria (36th at sectionals) are other top seniors who will run at the front of the pack. Sophomores Conor Jacob, Tommy Bromley and Patrick Ditmars, juniors Joseph Natoli and Dominic Gazzara and senior Dylan Odud will challenge to be in the top seven as well. Freshman Nick Kuenkel will also challenge for a spot on varsity. He was the top middle school runner in South Jersey last year and placed ninth at the AAU National Championships in Tennessee.
OUTLOOK: The 2019 season was one for the ages, as the Chiefs claimed their first state title since 2007, placed fourth at the Meet of Champions and sixth at regions. They also won county, conference and sectional championships. While those standards will be tough to reach in 2020, Cherokee should remain an elite team.
CHERRY HILL EAST COUGARS
RUNNERS TO WATCH: Seniors Aidan Eyre and Gabe Rodriguez consistently finished within seconds of each other at last year's big meets and are ready to lead the pack for Cherry Hill East. Eyre clocked a 16:19 to place 12th at sectionals and went on to finish 14th at states and 53rd at the Meet of Champions. He also took sixth at the Olympic Conference Championships and posted a personal best of 16:17 at Ocean County Park. Rodriguez was right behind him in seventh at the conference meet, 15th at sectionals and 20th at states. His personal best of 16:20 came at Delsea and his top time at Holmdel is 16:40. Junior Ethan Anderer is another talented runner who placed ninth in the conference and 23rd at sectionals. Junior Dylan Hagan and senior Aidan Groff are other returners from the top seven and Justin Whitney is a key senior. Whitney ran a 9:41 in the 3200 during his sophomore track season but missed last year with an injury. Other veterans hoping to have an impact are senior Mason Bulicki, junior Jacob Cheng and sophomores Michael McCurdy and Peter Tepper.
OUTLOOK: The Cougars were contenders at all of the major championships in 2019, as they finished second at sectionals, fourth at states and eighth at the Meet of Champions. They also took second in the Olympic Conference and Camden County meets. Despite the graduation of No. 1 runner Oliver Adler, there is a ton of talent returning and Cherry Hill East will be one of the teams to beat this fall.
CHERRY HILL WEST LIONS
RUNNERS TO WATCH: Cherry Hill West graduated its top three competitors from last year and will need new standouts to emerge. Matt Sonn showed potential as a rookie and is the Lions' highest returning finisher from sectionals. He will look to run at the front of the pack as a sophomore. Senior Kevin Sonn and junior Christopher Baldarrago are other key returners who have the potential to push for the top spot. Junior Zachary Lewis and sophomore Nathan Stehly are also expected to contribute.
OUTLOOK: The Lions hope to make progress throughout the season and build a foundation for the future under new coach Shelly Hollingsworth.
CLEARVIEW PIONEERS
RUNNERS TO WATCH: Anas Bensaoud has put together a stellar career at Clearview and it will be exciting to see how it winds down this year. Last fall, he broke the 16-minute mark to claim the individual title at the Tri-County Conference Championships and took third at the Gloucester County Championships. He was also in peak form at the conclusion of the season, taking fifth at sectionals, 12th at states and 13th at the Meet of Champions. Seniors Jack Rhoades and Andrew Shute are other important returners who usually ran side by side each other at the major races. They were both just outside the top 20 at the conference and county meets. Caden MacHenry and Paul Donahue are other members of the deep senior class, while several varsity newcomers will look to crack the top seven.
OUTLOOK: The Pioneers made their presence felt a t the big races last year, as they took third in the county and conference and sixth at sectionals. They expect to stay in contention and it would not be surprising to see Bensaoud add another title or two to his collection.
EASTERN VIKINGS
RUNNERS TO WATCH: Eastern graduated its best two runners and will look for new leaders to emerge. Senior Coby Friedman could be ready to take over the top spot after running in the 18-minute range as a junior. Juniors Ethan Levy and Andrew Shinkle made strong gains during their sophomore campaign and hope the progress continues now that they are upperclassmen. Aidan Epstein, a senior, is another veteran who should make his way into the top five, while several varsity newcomers will look to make an impact as well.
OUTLOOK: The Vikings have an experienced nucleus and hope to build throughout the season toward a strong finish.
GLOUCESTER CATHOLIC RAMS
RUNNERS TO WATCH: Gloucester Catholic's top four runners picked up their diplomas in June, so this year's squad will have a much different look. Ethan Donahue is a senior leader who has a chance to take over as the No. 1 runner. Sophomore Jackson Huffy showed improvement throughout his rookie season and should only get better with a year of experience under his belt. James Mann is another promising sophomore who will play a big role.
OUTLOOK: The Rams certainly have some spots to fill, but if they can add some numbers to the program and continue to put in the work, they should start to see dividends.
HADDONFIELD BULLDAWGS
RUNNERS TO WATCH: Haddonfield graduated a stellar class, including three-time sectional champion Martin Riddell. The Bulldawgs will look to reload around a new crop of standouts, including brothers Seth and Caleb Clevenger. Seth, a junior, ran a 16:06.80 at sectionals to place sixth and went on to take 11th at sectionals and 48th at the Meet of Champions (MOC). He also finished sixth at the Colonial Conference All-Star Meet and is primed to take over as the team's No. 1 runner. Caleb, a senior, clocked a 16:22.70 at sectionals on his way to ninth. He finished 17th at states and also broke 17 minutes at the MOC. Junior Tobias Janssen took 10th in the conference and 14th at sectionals, and senior John Hurly is another talented veteran. Varsity newcomers hoping to leave a mark are senior Elijah Fernands, juniors Ethan Wellborn and Andrew Sullivan and sophomores George Andrus, Ian Romea and Donald Jellig.
OUTLOOK: Last year was another impressive one for the Bulldawgs, who captured their third consecutive state title, 16th straight sectional crown and took third at the MOC. They also remained undefeated in the regular season since 1997. Riddell and several other seniors will be missed, but Haddonfield will still set the bar high.
KINGSWAY DRAGONS
RUNNERS TO WATCH: Junior Kyle Rakitis has put together two strong seasons to begin his high school career and it will be exciting to see what he can do as an upperclassman. Last year, he clocked a 16:17.40 at sectionals to place eighth and also had top-10 showings at the Gloucester County and Tri-County Conference meets. Senior Aidan Smith is another key returner; his best finish was seventh in the conference with a time of 16:27.53. He took 16th in the county and 24th at sectionals. Junior Ryan Allen, who finished 13th at the county race, rounds out the top three. As usual, Kingsway has a deep crop of veterans ready to step in and contribute. That group includes seniors Luke Wilkins, Ethan Chambers and Ethan Gray, junior Thomas Driscoll and sophomore Christian Torres.
OUTLOOK: The Dragons extended their streak of Gloucester County titles to an even dozen last fall and also were conference champions once again. They took third at sectionals and 11th at states as well. Expectations for the team will be high again in 2020, and Rakitis could be in line for an individual championship.
LENAPE INDIANS
RUNNERS TO WATCH: Lenape graduated its No. 1 runner, but junior Jake Buniva looks to be ready for the role. He ran consistently in the 17-minute range as a sophomore, including a 17:04 at sectionals for 37th, and had a top finish of 20th at the Burlington County Open. AJ Fraley is another talented junior who was just five seconds behind Buniva at sectionals. Sophomore Colin Hermack showed potential as a rookie and junior John Rielly should run in the top five as well. Senior Brett Boyle and junior Nick Volpe are key veterans and other returners looking to contribute are sophomore Andrew Dove and junior Tyler Walters.
OUTLOOK: The Indians had another solid season in 2019, taking fourth in the county, sixth in the conference and eighth at sectionals. With a strong core returning, they hope to make noise at the major meets again.
MOORESTOWN QUAKERS
RUNNERS TO WATCH: It did not take PJ Kresloff long to have an impact at Moorestown, as he emerged as the Quakers' No. 1 runner during his freshman season. He consistently posted times in the 17-minute range and broke that number by clocking 16:55.50 at the Burlington County Scholastic League (BCSL) meet for 11th place. Kresloff, who also placed 33rd at sectionals, should be even better as a sophomore. Christian Mammarella-Pietrafitta is a senior leader who took 17th in the BCSL meet and 38th at sectionals. Junior Daniel Winkler is another experienced returner, while members of the promising sophomore class are Colin Shand, Luke Labroli and Will Inglis.
OUTLOOK: The Quakers placed seventh in the BCSL meet and eighth at sectionals last year with a young squad. Now that Kresloff and the other sophomores have a year of experience, it would not be surprising to see them move up a few spots at the championship meets.
MOORESTOWN FRIENDS FOXES
RUNNERS TO WATCH: Moorestown Friends graduated a strong senior class, including Mark Johnson, who placed in the top five at states each of the last two years. On the bright side, the Foxes had a talented freshman class debut last year and those sophomores will look to take over leadership of the team. Patrick Greer broke 19 minutes at sectionals as a rookie to place 33rd, while Collin Montenegro and Andrew Mercantini also made huge strides throughout their first year. Emmet Kimberly is a key junior who should also run at the front of the pack, and senior Andrew Gray is expected to round out the top five after missing last season with an injury. Turner Jobes is a solid junior and other sophomores hoping to take the next step are Michael Huettl, Evan Weinstock, Heera Dalal and Aidan Devine.
OUTLOOK: The Foxes went 5-6 during batch meets and finished seventh at states last year. They will clearly miss Johnson this season, but it will be exciting to see the youngsters start to emerge as standouts.
PAUL VI EAGLES
RUNNERS TO WATCH: Paul VI graduated sectional champion Colton Johnson and several other of its top runners but is happy to welcome back sophomore Joseph Wigginton. He consistently ran in the 19-minute range as a rookie and will look to get into the 18s this year while improving on his 35th-place finish at sectionals. Owen King and AJ Collarin are other sophomores who showed promise as freshmen, while Adam Boberick and Joe Rupertus are key returners in the junior class who hope to take things up a notch as upperclassmen. Seniors Evan Marino and John McClean and sophomore Aidan Walsh will also contribute.
OUTLOOK: The Eagles were around the middle of the pack at the Olympic Conference and section- a l meets last year and have the potential to move up a few spots this fall.
SENECA GOLDEN EAGLES
RUNNERS TO WATCH: Senior Dominic Amilcare emerged as Seneca's No. 1 runner last year as a junior and is poised for a big final season. He ran in the low 17-minute range—includ- ing a 17:20.80 for 21st place at sectionals—and will look to shave even more time this fall. Kenny Stout is a senior leader and junior Colby Welusz is another top returner. Senior Jimmy Demetrios, junior Elijah Dunn and sophomore Justin Schmied are veterans expected to have an impact.
OUTLOOK: The Golden Eagles were certainly consistent in 2019, as they placed 10th in the Burlington County, Olympic Conference and sectional meets. They hope to move down the list this year with Amilcare leading the charge.
SHAWNEE RENEGADES
RUNNERS TO WATCH: John Ruona is coming off a strong junior season in which he placed eighth at the Burlington County Open. He clocked a 16:54.09 at the Olympic Conference Championships to place 17th and hopes to end his high school career with a bang. Junior Alex Campagna is a key returner who consistently posted times in the 17-minute range as a sophomore. George Mihaileanu, Dylan Hansen and Robert Birdsall are seniors who will provide leadership as well as solid times. Shawnee also has high hopes for sophomore Ryan Czechowski, junior Alex Constantinou and senior Will Neher.
OUTLOOK: The Renegades had top-five showings in the conference and county meets last year and finished 12th at sectionals. They should be con- tenders again behind a strong veteran core.
WASHINGTON TOWNSHIP MINUTEMEN
RUNNERS TO WATCH: Washington Township is paced by seniors Cole Kolodziej and Julian Lawson, who can both lead the pack on any given day. Kolodziej ran a 16:46.65 to place seventh at the Gloucester County meet and also broke 17 minutes for 18th at the Olympic Conference Championships and 34th at sectionals. Lawson was two spots behind his teammate at the county meet and led the Minutemen at sectionals, placing 22nd with a time of 16:32.70. Senior Mason Brewster and junior Chris Colavita both finished in the top 20 at the county meet and top 40 at sectionals, and junior Charles Lant rounds out the top five. Other experienced runners are seniors Joon Song and Mike Dressner and juniors Nate Kidwell, John Franklin and Sean Hice. Freshman Aaron Kolosowsky, who had an outstanding middle school career, should make an impact as well.
OUTLOOK: The 2019 season was a successful one for the Minutemen, who placed in the top five at the county, conference and sectional meets before taking 18th at the state championships. They should be contenders again at the big races this fall.
Published (and copyrighted) in Suburban Family Magazine, Volume 11, Issue 5 (July 2020).
For more info on Suburban Family Magazine, click here.
For information about advertising in Suburban Family Magazine, click here.
To find out where to pick up your copy of Suburban Family Magazine, click here.