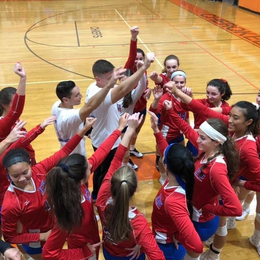 Girls Volleyball
2020 High School Sports Preview
CAMDEN CATHOLIC FIGHTING IRISH
PLAYERS TO WATCH: Junior outside hitter Bella Craig has made the all-conference first team each of her first two seasons at Camden Catholic and will lead the way this fall. She recorded 93 kills, 87 digs and 52 service points as a sophomore. Senior opposite Genevieve May is an all-conference first-teamer who had 35 kills and 35 service points. Senior middle blocker Devin Rybacki (32 kills) made the all-conference second team for the second year in a row, while sophomore outside hitter Sofia Granieri (26 kills, 34 digs) and senior defensive specialist Kathy Nguyen are other returners who made the all-conference second team. Sophomore setter Reya Taylor earned experience as a rookie and will look to assume the role on a full-time basis. Senior outside hitter Jen Pham and junior defensive specialist Emma Laramee are contributors as well.
OUTLOOK: The Fighting Irish went 10-9 last year, including a 7-1 mark in the Olympic Conference Freedom Division for a share of their third straight division title. They should be contenders again this fall under new head coach Alex Kish.
CHEROKEE CHIEFS
PLAYERS TO WATCH: Cherokee brings back a talented nucleus that includes senior opposite/ outside hitter Gabrielle Waldman. She was second on the team with 116 kills last year to go with 80 digs and 32 aces. Senior middle blockers Michaela Ryan (86 kills, 34 blocks) and Krista Blassman (64 kills, 28 blocks) are key returners who contribute offensively and defensively. Senior defensive specialist Chiara Andreacchio led the Chiefs with 142 digs and had 39 aces to make the all-conference second team, and senior Becca Carr (53 digs) is another experienced defensive specialist. Senior setter Katie Montenero (153 assists, 86 digs) is a top veteran, while senior Macie McKean is hoping to make an impact and sophomore Brooke O'Prandy is expected to play a bigger role after a promising rookie season.
OUTLOOK: The Chiefs went 17-10 last season—the fifth straight year they won at least that many matches—and fell to division rival Washington Township in the first round of the playoffs. They look like contenders in the Olympic American and hope to go on a longer playoff run.
CHERRY HILL EAST COUGARS
PLAYERS TO WATCH: Cherry Hill East is excited to welcome back senior setter Monah Pintel, who has started and directed the offense every season since her freshman year. She recorded 469 assists as a junior—increasing her career total to 1,283—and made the all-conference second team. An intelligent player with impeccable decision-making, Pintel should finish as one of South Jersey's all-time leaders in assists. Senior outside hitter Ashley Mercer joined Pintel on the all-conference second team. She was second on the Cougars with 117 kills, third in digs and fourth in aces and is expected to be an even bigger piece of the offense this season. Senior middle Noa Lasman returns as the second-most efficient hitter from last year, and other pieces of the team's balanced offense are senior opposite Peyton McGregor, junior outside hitter Victoria Radzinska and sophomore outside hitter Leah Pintel. A trio of experienced liberos—senior Genna Allen and juniors Grace Ehret and Hannah Pollock—have coach Scott Mooney expecting this to be the best defensive and passing team in the history of the program. Serving will be a strength as well, with four returners who recorded at least 30 aces.
OUTLOOK: The Cougars are coming off a memorable season in which they went 22-5 to set a school record for wins and reached the Group IV state quarterfinals. Although they have graduated Division I players in each of the last two years, there is still a ton of talent in the program and this team should continue to shine.
CLEARVIEW PIONEERS
PLAYERS TO WATCH: Senior Corinne Pawlowski emerged as a key player for Clearview last year and will look to lead the way this fall. A middle blocker/ outside hitter, she totaled 28 kills and 25 digs last year to go with 45 service points. Junior middle blocker Sarah Ferguson is another top returner who had 24 kills, 19 digs and 43 service points. She joins Pawlowski as an important player both offensively and defensively. Sophomore defensive specialist Karissa Herman earned time as a rookie and should be in line for a bigger role, and senior outside hitter Mackenzie Moyer also hopes to contribute. Several varsity newcomers will be counted on to fill out the lineup.
OUTLOOK: The Pioneers graduated their only all-conference player from a team that went 8-16, but they bring back several veteran leaders and expect to remain competitive.
EASTERN VIKINGS
PLAYERS TO WATCH: Three key seniors are back to spark Eastern, including all-conference second- team selection Amira Murray. She registered 33 kills and 14 blocks last year and is an important player on both sides of the net. Kaitlyn Henry brings height and athleticism to her outside hitter position and finished with 52 kills last year, while Sara Wichrowski is a returning starter at setter who had 105 assists. Chris Park is another senior contributor who is a strong server. Seniors Shelby Fisher, Elisa Shin, Isabella Giampetro and Jammy Wu are expected to play bigger roles, and other returners hoping to earn time are senior Ava Rosenstein, juniors Maya Krawicz and Mia Robbins and sophomore Joanna Shin.
OUTLOOK: A deep and talented senior class will look to help the Vikings improve on last year's 8-15 record.
GLOUCESTER CATHOLIC RAMS
PLAYERS TO WATCH: Senior libero Lauren Wethman has enjoyed a standout career at Gloucester Catholic and will look to go out on a high note this fall. She led the team in digs last year to earn all-conference first-team recognition for the second year in a row. Sophomore outside hitter Angelina Meduri showed a lot of potential as a rookie and will be one of the Rams' best offensive weapons. Senior Savanna Snyder is another solid hitter and juniors Natalia Barrera and Adrianna Pelosi are key returners at middle blocker. Junior Anna Kain returns as the starting setter and senior Calli Genovese is an experienced opposite. Other contributors are senior libero Kamryn McDonald, sophomore setter Delaney McEneaney and sophomore defensive specialist Alexa McCann.
OUTLOOK: The Rams went 5-14 and lost in the first round of the playoffs last year with a lot of young faces in the lineup. They should be much improved this season now that those players have a year of varsity experience.
KINGSWAY DRAGONS
PLAYERS TO WATCH: Senior middle blocker Sam Dilanni emerged as a standout player for Kingsway last year and made the all-conference second team. She posted 90 kills, 36 blocks, 50 digs and 26 aces. Senior outside hitters Alex Giordano (78 kills, 102 digs) and Amanda Hrivnak (76 kills) are other key returners at the net, and senior Lauren Phan (137 assists) will look to take over as the starting setter. Seniors Karina Oman and Maggie Neyer contribute as defensive specialists.
OUTLOOK: The Dragons' 10-11 record in 2019 featured a trip to the Gloucester County Tournament semifinals and a playoff appearance. Their seniors should help them contend for a winning record this fall.
LENAPE INDIANS
PLAYERS TO WATCH: Senior outside hitter Anna Blackburn filled the stat sheet for Lenape last year on her way to all-conference second-team honors. She totaled 87 kills, 122 digs, 206 assists and 60 aces and will again contribute in many ways for the Indians. Senior middle blocker Anyae Kinder is a key returner who had 50 kills and 19 blocks, while senior Navleen Kharoudh (34 kills, 28 digs) and junior Ava Rankin (43 kills, 17 blocks and 16 digs) are also major contributors at middle blocker. Senior Michaela Shellem (52 digs) and junior Maya Burgos (124 digs) are experienced defensive specialists and junior Samantha Anderson hopes to earn time at outside hitter.
OUTLOOK: Last year was supposed to be a rebuilding one for the Indians, but they managed to go 16-9 with a playoff win and a second-place finish at the Burlington County Open. This is shaping up as another successful season as new head coach Colleen Rucci takes the reins from Erica Bradley, who built a strong foundation during her tenure.
MOORESTOWN QUAKERS
PLAYERS TO WATCH: Junior Sam Scully, a 5-foot-9 outside hitter, has been a stellar player for Moorestown since her freshman year and it will be exciting to see what she can do as an upperclassman. She led the Quakers with 163 kills and 143 digs last year to go with 29 aces. Bree Wilson is another talented junior outside hitter; she recorded 84 kills and 69 digs as a sophomore. Senior opposite Sophie Hampton (55 kills, 20 blocks, 44 aces) shines both offensively and defensively and junior setter Anne Connelly (186 assists, 34 aces) is back as the orchestrator of the attack. Senior Maya Cohen is a veteran defensive specialist and senior Orli McGuire-Berk is an experienced setter. Other returners expected to contribute are seniors Alex Swanik and Samantha Wajda, juniors Macy Ryan, Jola DaSilva and Julia Moller and sophomore Gabby Baer.
OUTLOOK: With a strong core led by Scully, the Quakers will look to build on last year's 15-12 record and post a winning season for the eighth year in a row.
PAUL VI EAGLES
PLAYERS TO WATCH: Junior outside hitter Sadie Arasim is coming off a breakout sophomore season in which she led Paul VI with 101 kills on her way to all-conference first-team accolades. It will be exciting to see what she can do with a year of varsity experience under her belt. Two other all-conference players return: senior defensive specialist Ally Kolnik and senior outside hitter Emma Monico. Kolnik had 128 digs and 23 aces to make the first team; Monico recorded 78 kills and 22 digs to repeat as a second-team all-star. Senior outside hitter Jaaliyah Evans had 30 kills last year despite missing the early part of the season after her transfer from Collingswood. She is a 6-foot-1, Division I product garnering interest from Ivy League schools. Other top players include senior opposite hitter Lanie Smith (26 kills), sophomore middle blocker Zharia Harris-Waddy (61 kills, 17 blocks, 29 aces) and sophomore middle blocker Ogonna Ngene (17 kills, six blocks). Seniors Sophia Horn (114 assists) and Giulianna Bersani (101 assists, 41 digs) are both experienced setters.
OUTLOOK: The Eagles' 18-7 record last year featured a playoff win and a 7-1 mark in the Olympic Patriot for the division championship. The talent is in place to make another run at the title.
SENECA GOLDEN EAGLES
PLAYERS TO WATCH: Four all-conference players graduated, but Seneca is happy to welcome back senior opposite Madeleine Pirages. She showed an ability to put the ball away last year with 24 kills but also set up her teammates with 93 assists and made the all-conference second team. Senior middle blocker Rachel Isaksen (55 kills, 31 blocks) is a force at the net and senior outside hitter Kirsten Hill (40 kills, 42 service points) is a key returner as well. Senior Jill Mulvihill is an experienced libero and other contributors are junior Wyette SchubertBrown and seniors Shayna Lehmann and Hannah Mehigan.
OUTLOOK: The Golden Eagles posted a 10-10 record in 2019—finishing .500 for the second year in a row—and will again be a tough foe for opponents this fall.
SHAWNEE RENEGADES
PLAYERS TO WATCH: Shawnee has a strong nucleus led by three all-conference players, including first-teamer Lyndsey Jones. A senior and three-year starter at libero, Jones led the Renegades with 134 digs to go with 23 aces and was named MVP of the Burlington County Open as well as Burlington County Player of the Year. Junior outside hitter Mia Moscicki joined her on the first team after recording 151 kills, 29 digs and 30 aces, and senior Maddie Thornton is another powerful hitter who added 121 kills and 39 aces on her way to all-conference second-team honors. Senior Megan Heine (95 kills, 20 blocks) is a key returner at middle blocker and senior Mackenzie Michaels (178 assists) is the orchestrator of the offense from her setter position. Senior opposite Quinn Feudtner is a valuable veteran, and other returners expected to earn time are junior Lauren Petitt and seniors Rylea Bell, Catherine McGlynn and Olivia Pagliuso.
OUTLOOK: The Renegades compiled a 15-9 record in 2019—a six-win improvement from the year before—and were crowned Burlington County champions. With a significant piece of the roster returning, hopes are high for another winning season and a longer playoff run.
WASHINGTON TOWNSHIP MINUTEMAIDS
PLAYERS TO WATCH: Washington Township graduated both of its all-conference players but has several returners who gained valuable experience last year and are ready to take over leadership of the team. That includes senior middle blockers Alyssa Baron, Julia DeCosta and Marissa Pestritto, who all recorded at least 40 kills and reached double digits in blocks. The back row is also strong with junior defensive specialist Addie Sondberg (143 digs) and senior defensive specialist Vanessa Caserta (80 digs). The Minutemaids must replace outstanding setter Helena Ta and junior Marissa Lucca will look to earn the job. Senior Sarah Mendelson is an experienced opposite hitter and other returners looking to play bigger roles are senior defensive specialist Frankie Dostillio and junior opposite Olivia Dowling.
OUTLOOK: The Minutemaids got off to a slow start last fall with an inexperienced team, but once they found their footing they were tough to beat. They went 12-6 with a playoff victory down the stretch to finish with a 12-12 record, and will look to ride that momentum into 2020.
Published (and copyrighted) in Suburban Family Magazine, Volume 11, Issue 5 (July 2020).
For more info on Suburban Family Magazine, click here.
For information about advertising in Suburban Family Magazine, click here.
To find out where to pick up your copy of Suburban Family Magazine, click here.