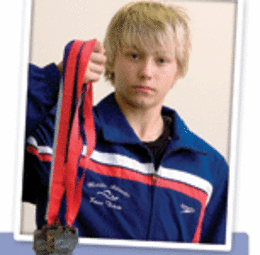 Star Athletes: April, 2010
Alexander Martin
UES
Could the next Michael Phelps be right here in South Jersey? Moorestown resident Alexander Martin (pictured) thinks he measures up. Recently the 12-year-old dynamo racked up six gold medals at the Middle Atlantic Junior Olympics (11 medals total), and just recently his 50-backstroke time of 26.32 ranked him in the all-time Top 25 for his age group. At the recent Eastern Zones meet, representing the Middle Atlantic team, he won two gold medals, three silver medals and a bronze medal. In Alex's 50 back-stroke final, he beat the top-seeded swimmer in the event and swam a time that as of April 5 ranks him No. 1 in the USA. Alex plans on continuing his training at Jersey Wahoos Swim Club in Mount Laurel in the hopes of one day competing at the Olympics.
Elise DiDonato
Bishop Eustace
Elise DiDonato's specialty is scoring, regardless of the sport. The Bishop Eustace senior has been a proven scorer in both lacrosse and field hockey. This past season she scored 27 goals as Bishop Eustace won the Central Jersey Group 2 field hockey title. DiDonato will take her scoring talents to Drexel, where she has earned a field hockey scholarship. She liked the combination of academics and athletics the nearby university offers and has her eye on one day being a physical therapist.
Dylan Johannink
Shawnee High School
Dylan Johannink isn't striking out. He's one of Shawnee High School's fastest rising stars on the baseball mound. The 17-year-old junior, known for throwing hitters off balance with his tremendous power, is expected to go the distance this year and next as one of Shawnee's most valued pitchers. He's also got game as a hitter; so far in five games this season he's hit two home runs over the trees at Shawnee. This ball is outta here! Home run Johannink!
Rachel Horner
Kingsway Regional High School
For 16-year-old Rachel Horner, a passion for horses is part of the family business. Her parents, John and Kristen, run South Harrison's Fertile Green Farms—an equestrian riding, training, boarding and show facility—and Rachel's clear love for the ring has her ranked No. 6 out of almost 300 riders in the country in the National Division equestrian finals. She's also an honors student at Kingsway Regional High School, where she serves as president of the 4-H Club.
Devahnte Mosley
Collingswood Middle School eighth grader Devahnte Mosley is among the best elementary-school basketball players in South Jersey, averaging 24.2 points for his 12-4 Collingswood Middle School team. Now he'll be taking his talents to Philadelphia's Neumann-Goretti, which has one of the top high school basketball programs in the country, recently winning the Pennsylvania AAA state title and finishing with a 30-1 record. "I wanted the best possible challenge," he explains.
Chelsea Holland
After a banner indoor track season that earned her first-team all-Group 4 honors, Washington Township junior Chelsea Holland has her eyes on the school record book. During the winter season she threw a personal best 36 feet, 1 inch in the shot put, not far off from the WTHS record of 38-6. "That is a goal I have set and I know I have to keep working hard," Holland says. Though shot put is her main strength, Holland also throws the discus. "I've stuck to a workout program and it has really helped." The results are in the numbers.
Skyler Burg
Proving you're never too young to a have a league of your own, Skyler Burg is breaking down barriers as the only girl on the 9-year-old teams for the Voorhees GVAA Boys Baseball League. The fourth-grader from Kresson Elementary has been playing with the boys for three years and regularly attends sports camps on boys' teams. Sure, she could play softball with other girls, but her coach has learned that it's best to let Skyler march to her own drummer. "She loves baseball and that's what she wants to play," he says. Her determination seems to be paying off: This year she made the AAA division, a rare feat for someone her age, and she will soon find out if she's made the GVAA travel team.
Coach Jim Crawford
Congratulations to Coach Jim Crawford and the Camden Catholic boys' basketball team, State Parochial A Champions. The team defeated St. Peter's Prep, 68-63, on March 14 to earn a berth in the Tournament of Champions. The team earned a first round bye as the No. 1 seed and in late March, the Fighting Irish continued their victorious reign by taking down the Cherokee Chiefs, 47-34. Published (and copyrighted) in
Suburban Family
, April 2010.
For more info on Suburban Family, click
here
.
For information about advertising in Suburban Family, click
here
.
To find out where to pick up your copy of Suburban Family, click
here
.