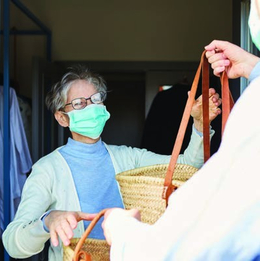 Protecting the Elderly
The services that are keeping loved ones safe during COVID-19.
Across the country, the older population has been disproportionately affected by the novel coronavirus. Medical professionals continue to tackle the virus by any means necessary and government officials have stepped up to flatten the curve by implementing restrictions, many of which changed the daily lives of those most fragile. Assisted living communities and health care providers have adapted to provide the highest level of protection for this population, and adult children are facing the reality of ensuring their parents' finances are in order. Suburban Family spoke to some of the folks around South Jersey who are providing essential services and a sense of normalcy to this treasured generation.
Medical Appointments
Health care visits largely moved to virtual platforms at the onset of the pandemic, however, some treatments were urgent, leading providers to create safe procedures for seeing patients.
In the case of Associates in Hearing HealthCare, Jonathan Ayers, practice owner, says the office remained open for emergency visits. "The emergency patients we saw were instructed to call from the parking lot, a staff member would pick up the hearing aid(s) and our provider would repair them, if possible," he says, adding that patients were grateful to have access to these services during the pandemic when so many others were shut down.
Now that the office is reopened for regular appointments, all patients must still call from the parking lot upon arrival to limit the number of people in the waiting room. "When they come in, our front office staff asks them a short list of questions and takes their temperature. All of our staff wear masks and gloves when interacting with patients and the waiting area and treatment rooms are sanitized after every patient," says Ayers. Curbside service is also available for patients picking up supplies, having minor repairs or cleanings.
In-Home Care
For seniors who have remained in their own homes as they age, in-home care is a valuable resource. Comfort Keepers of Cherry Hill, a locally owned and operated franchise, provides non-medical services to seniors in their homes.
"The majority of seniors desire to stay within their homes as they age," says owner Michael Grim. "Like most of us, they are most comfortable there. Many seniors have lived in their homes for decades. The sense of familiarity brings a great deal of comfort to them. This becomes even more evident for people experiencing dementia and the issues associated with the disease."
But COVID-19 certainly presented challenges to this type of care, Grim says. "Our primary concerns from the start have been to ensure the safety of our clients and our Comfort Keepers. Given the training that we already had in place for our Comfort Keepers (infection control, universal precautions, etc.), by adding a few additional precautions (e.g. masks, social distancing when not providing personal care, pre-visit automated check-ins) we have been able to safely continue to provide our essential services. Working as one team—our administrative staff, Comfort Keepers and our clients and their families—we have to date not had a single case of COVID-19 with our clients or Comfort Keepers."
Grim says virtual media has been used to conduct intake assessments with prospective clients and many new clients have come on board since being discharged from rehabilitation facilities or hospitals. He adds, "The pandemic has reinforced the value of in-home care for seniors."
Independent and Assisted Living Communities
For older people who have made the transition from their own homes to shared communities with their peers, life has been different but the essence of social interaction and independence continues even under the cloud of the pandemic.
The mandate on sheltering in place was a big adjustment, but fortunately, these com- munities have been able to deliver everything a resident might need.
"Before COVID-19, residents were very independent and went to a dining group for formal dinners and took out their own trash, etc.," says Susan Love, CEO of Lions Gate. "Once we had the stay-at-home order, we changed our strategies as far as bringing everything to the residents. In independent living, they are entitled to one dinner per day and can order breakfast and lunch, but we stopped communal dining and started delivering meals. Activities were stopped, but we circulated with a snack and beverage cart which also offered arts and crafts or puzzle kits and word search books. Health care activities were one on one. We also have an in-house TV channel and activities such as exercise classes were broadcast, in addition to educational programming, opera performances, movies and spiritual services. Residents were able to observe holy days and special occasions without leaving their apartments."
Diane Velez, executive director, Juniper Village at Williamstown, says they rolled out a huge catalog of virtual activities through Linked Senior and Senior Living Virtual platforms. "We offer over 1,500 different virtual activities for our residents," she says. "In addition, we offered hallway activities, which allowed residents to safely interact with each other and to get out a bit into the wider community. … Additionally we are doing a REfresh mindfulness program daily and a 'Get Happy' dance exercise program each day. So believe me, our residents are not just sitting alone in their rooms!"
Cambridge Rehabilitation and Healthcare Center's assisted living community has remained COVID-19 free, says Susan Ansberry, director of community relations. Thanks to this, daily programming and social interactions can continue inside the community, which makes residents and their families happy. "We will continue with many of the policies to ensure the health and safety of the residents," she says. "The use of PPE and our Infection Control Program will continue as well as controlled visitation with families with proper screening methods."
Due to their high-risk of infection, seniors in these communities had to sacrifice visits from family and friends. Lions Gate implemented this procedure even before it was ordered by the CDC and New Jersey Department of Health, says Love. "We just wanted to be proactive and mitigate or stop the spread. In the event of end of life, we would allow the family to visit," she says.
Technology has allowed communication to continue, however. "Without in-person visitation, many residents rely on FaceTime and we've also been scheduling window visits, which goes through our staff. FaceTime has been really popular, and if some residents aren't as computer literate, we help them with the iPad, set it up, and then give them privacy for the call."
Cambridge established a 24/7 guest services line for family members to call with any questions or concerns. "Guest services calls are answered within minutes for great communication and customer service," says Ansberry. "Continuing to interact and engage our entire community daily is our goal. This consistency allows us to keep normalcy through the day."
Juniper Village is preparing for outdoor visits given new state regulations allowing these in most communities. "We are setting up 'outdoor living rooms.' Families and friends can visit on a pre-arranged basis. They will be screened and masks and appropriate social distancing will still be required," says Velez.
Keeping up morale has been a team effort, and the essential workers in these communities are going above and beyond. "The clinical team of physical, speech and occupational therapists are working with people, getting them out for walks in the hallways and outdoors. Just getting out helps residents feel normal and helps with depression or anxiety," says Love. Therapists are even meeting with residents on their patios to continue activity and progress while maintaining social distance.
Many of the people we spoke with say move-ins are continuing with careful attention being paid to testing and self-isolation. Moving forward, this experience will influence future policies in the senior living industry.
"A key lesson is the importance of consistent staffing—which was a Juniper hallmark even before the pandemic. Consistent staffing enables a select group of associates to work with a small group of residents. This decreases the number of contacts and enables easier infection prevention and control," says Velez.
Love echoes the sentiment about staff. "I always knew we had great team members—staff, residents, families—and in this experience everyone has really come together. We are the definition of community. Moving forward, there are strategically things we'll look at if this happens in the future—not just us, but the whole industry—and work out how we're better able to handle residents who have to shelter in place for a long time."
Estate Planning
This might not be the first thing that comes to mind when thinking of safety for seniors, but if finances are out of order, it adds to the burden of care.
"Sadly, the older population are unexpected victims of the virus," says Dana Bookbinder, an elder law and estate planning attorney at Bookbinder Law. "When somebody passes away without legal planning in place, it creates an enormous burden for the children, and it's generally more expensive and time-consuming to file paperwork and get everything in order after somebody has passed if proper documents aren't in place." She encourages adult children with elderly parents to have them sign a living will and power of attorney. These documents appoint someone to handle health care, legal and business decisions in the event you cannot do so yourself.
"If an elderly parent becomes sick or incapacitated and doesn't have these in place, it's possible the child would have to apply to be the parent's guardian," Bookbinder says. "Guardianship actions generally cost several thousands of dollars and take several weeks to get through and become finalized in the court system. It's much more difficult for children to act on parents' behalf without advanced planning documents in place."
Joellen Meckley, Esq., an elder law attorney at Begley Law Group, says the pandemic caused a surge in estate planning. "People were saying they've been meaning to take care of these things because all of a sudden the risks became real," she says. "They were concerned that they didn't have health care directives or wills and finally got motivated."
Estate planning is completely customized, says Meckley. "Any responsible, qualified estate planning attorney will ask for some baseline information about what the client owns, what their family situation is. When we have a complete picture of their life, we're able to give comprehensive advice. It's never one size fits all."
Bookbinder says those who do not have an estate plan leave it up to the state to determine which relatives inherit and in what percentages. "The state takes over in the absence of a will," she says.
As with other business matters in this pandemic, legal issues have been proceeding remotely. "I think people have misconceptions about the shutdown," says Meckley. "New Jersey put laws in place to enable remote notarization, and we've done a lot of client meetings over Zoom and FaceTime. That has been helpful especially if the client has adult children who live in other states and want to stay involved."
Ultimately, estate planning is just another level of security for your loved ones. "People should definitely not postpone planning," Bookbinder says. "The virus has taught us that anyone, regardless of age, is vulnerable. … Everyone should also have documents in place to appoint people they trust to handle these decisions if they are temporarily unable to act on their own behalf."
Published (and copyrighted) in Suburban Family Magazine, Volume 11, Issue 4 (June 2020).
For more info on Suburban Family Magazine, click here.
For information about advertising in Suburban Family Magazine, click here.
To find out where to pick up your copy of Suburban Family Magazine, click here.