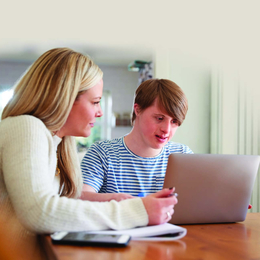 Meeting the Challenge
How the special needs community is coping with the pandemic.
Many people thrive on routine but none more so than the special needs population. The familiarity of the places and people they come across daily provides comfort and helps them flourish. The total disruption caused by the pandemic has been especially hard on children and young adults with special needs, as well as their caregivers.
Kelli Brack's son Josh, a 19-year-old with autism, attends YALE in Cherry Hill. The switch to remote learning in March meant he has had no contact with his classmates and missed out on the experience of a high school graduation ceremony. Brack says it has been a challenge for her son and herself as a single parent.
"Josh struggled a bit to learn the new program on the computer for remote work, including Google Meet and using Docs to save his answers and transmit them to teachers," she says. "I'm lucky he enjoys learning and can be more independent with his study, but if he has difficulty with his assignments, I have to be the one to help him."
Compounding the difficulty is that Brack is an essential worker. As a financial advisor at Edward Jones in Marlton, Brack is the only one in the office and when necessary, Josh joins her. "I need to be here for the processing and paperwork part of my job, and like a lot of parents I have learned, both things—school and work—have to give a little bit," she says.
ADJUSTING TO THE PANDEMIC
Professionals in the special needs community say Brack's story is a common one they've been witnessing in the wake of the COVID-19 pandemic.
Rebecca Khettry-Clay, founder and executive director of Autism Spectrum Mandate Services, is a nationally board-certified behavior analyst. She says this pandemic has a great impact on those with special needs. "Many individuals with special needs have a difficult time doing things in a different manner," she says. "Their daily routine has also changed drastically. Some individuals need one-on-one attention to adapt to these changes and if their parents are working from home, it is difficult for parents to provide them with the one-on-one attention that they need at this time."
Joyce Kaveney, speech language pathologist for Speak to Me Kids, says the services these children rely on were modified or in some cases stopped completely. "With therapy centers closed down, those who received in-home support had to stop because there are too many risks with people coming into the house, and if services were done through school, those were done over Zoom," Kaveney says. However, these children are at a disadvantage because the equipment needed for occupational therapy isn't something parents have access to, she adds.
Kaveney says the biggest struggle with remote services for the children she works with is attention span. Half-hour sessions are often interrupted by other activity in the house. "A lot of things we use in therapy are game-based with tangible rewards. That's hard to offer over Zoom," she says. "We are limited in the variety of what we can offer for holding attention."
If children or young adults have underlying health conditions, they are more vulnerable to getting coronavirus. "For this reason they have to rely on telemedicine but it's not always the best option for engaging with their therapist," says Karen Elliott, director of professional services at Occupational Training Center of Burlington County (OTC). "And for the general population who feels cooped up, we can go to the store for a change of pace, but the folks who are high-risk don't have that option."
Face masks also pose a challenge both for wearing them and for communicating with others. "Some adjust well to wearing them and others who look for visual clues in our expressions sometimes have a difficult time with receptive language (understanding what is being said) when individuals are wearing masks," says Khettry-Clay.
The overall lack of socialization and structure can cause some to regress, says Elliott. "Those who are in our vocational and day service programs are missing their daily interactions with peers and staff. Without that constant stimulation and learning environment, parents are trying to fill the gaps. We have recently started short curbside visits with clients to get personal interaction and it's been well received. There is potential for us to expand this to smaller groups for those who can come out in public, perhaps meeting in the park, to provide some structure and socialization."
OTC, which provides supported employment programs for young adults who have transitioned out of the school system, has many individuals who continued to work on the front lines as essential employees, including in janitorial services for the county and state or in the recycling program. Elliott says OTC coaches have helped these essential workers with the transition, guiding them on the job site with new procedures.
The experience has taught those in the special needs community some valuable lessons. Elliott says they have been more creative. "We always try to come up with new activities, but this is taking it to a new level. Some things we may still work with going forward, and we will continue to provide remote services whether curbside or virtually, to remain engaged with our community," she says.
Khettry-Clay says special needs individuals need more support during this time, and the rapid onset of the pandemic left no time to prepare. "We have decided to practice telehealth sessions with our clients so we can prepare for situations like this in the future," she says.
Parents shouldn't be overlooked, either, adds Kaveney. "I think there should be more resources for parents to be able to offer respite care," she says. "Parents are working and caring for their children with special needs, and this is exhausting not knowing the end point. They will need respite help if this is going to be long term."
FINANCIAL SECURITY
The pandemic had another impact on special needs families in that it caused many of them to take a closer look at their financial security. Tom Begley Jr., Esq. of Begley Law Group, says creating a will or special needs trust was suddenly something people took action on.
A special needs trust protects a child's money without impacting their eligibility for public programs, Begley says. He also says children with disabilities should have living wills and powers of attorney in the event they get sick and parents or caregivers need to make decisions for them.
Brack says setting up a trust is one of the most important things you can do after finding out your child has a disability. "As parents we focus on their education, therapy, medications, but their financial success goes on the backburner," she says.
Another program parents should explore is a NJ ABLE account, Brack recommends. This tax-free savings account allows deposits up to $100,000 to be used for qualifying disability expenses such as transportation, room and board and food without losing eligibility for SSI and Medicaid.
Brack says you don't need an advisor to set up an ABLE account, but if parents have already set up a 529 for their children, an ABLE account is a great opportunity for parents. "Many parents set up 529 for their kids, but if a child develops special needs, they might not go to college, so the 529 can roll into the ABLE account," she says.
"Way too many people wait on these financial aspects," Brack concludes. "Don't wait until your child is an adult because God forbid something happens."
Published (and copyrighted) in Suburban Family Magazine, Volume 11, Issue 4 (June 2020).
For more info on Suburban Family Magazine, click here.
For information about advertising in Suburban Family Magazine, click here.
To find out where to pick up your copy of Suburban Family Magazine, click here.