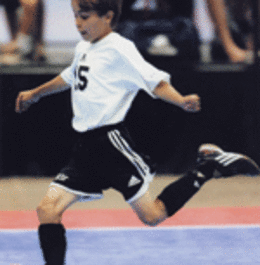 Star Athletes: May, 2010
Dawson McCartney
E.T. Hamilton Elementary School
Voorhees student Dawson McCartney (pictured) is among the best U11 youth soccer players in South Jersey. Out of 1,500 boys and girls from Pennsylvania, New Jersey, and Delaware, Dawson was recently selected to participate in the YSC Union Juniors Academy, which is the official youth development partner for the Philadelphia Union Major League Soccer Team. The Academy is a free program directed at the top players in the region during their "golden learning years" of 8-12. "Dawson is a quick study and is always eager to learn new skills," says Phil Randazzo, professional soccer trainer, who has been training Dawson since he was 7. "He has the potential to play at the highest level and is an extraordinarily gifted player." The 5th grader from E.T. Hamilton Elementary School maintains a straight "A" average, while playing travel baseball, basketball and lacrosse.
Caroline Casey
St. Charles Borromeo School
And the MVP is…Caroline Casey! The 12-year-old Cinnaminson student walked away with this title after finishing CYO basketball for St. Charles Borromeo School with a great record. Casey is also a serious soccer player and was recently chosen to be part of the South Jersey Soccer Academy's Fusion 2010 Summer Select Program. She also finds time to take part in Cinnaminson's traveling baseball team. Even more impressive? This active 6th grader manages to do all of this while remaining an Honor Roll student. She shoots, she scores!
Kyle and Darren Raudenbush
Haddonfield Memorial High School
For Kyle and Darren Raudenbush, golfing is practically embedded in their DNA. The brothers grew up at the ultra exclusive Pine Valley golf course where their father Charles is the head pro. "They talk on the phone with people we only see on TV," says David Scorsolini, their coach at HMHS. "Most kids would derive a great sense of entitlement from these advantages. Kyle and Darren are different. They are two of the most good-natured, down-to-earth young men you'll ever meet." It is this humble attitude that has propelled Kyle, 18, to being a regional select team member of the Golf Association of Philadelphia and to scoring a Top 10 finish in the Philadelphia Junior Match Play Tournament. Not to be outdone, Darren, 15, has also racked up Philadelphia Junior PGA tournament victories in addition to being a talented ice hockey player.
Zach Arsenault
Shawnee High School
Shawnee sophomore Zach Arsenault is among the best golfers in South Jersey. What's going to happen when he gets a little experience? Shawnee's No. 1 golfer, Arsenault didn't begin playing the sport until he was in 8th grade. His father Jim, a multiple club champion at the Links in Marlton, got him into the game. And somehow, Zach skipped the usual growing pains. "When I first started I was always in the mid to high 80's," he said. Zach, who is a triplet, won the final four events he entered on the South Jersey Junior Tour. A member of Little Mill Country Club in Marlton, Arsenault hasn't decided how many tournaments he will enter this summer on the South Jersey Tour. He said he also plans to play some tournaments in the Junior Golf Association of Philadelphia.
Ryan Dickerson
DeMasi Middle School
Watch out for rising tennis ace Ryan Dickerson. The Marlton native just returned from the 12 and under super nationals with a second place finish in both singles and doubles out of 256 kids throughout the country. Ray Josephs, his tennis coach at The Sports Club of South Jersey, says, "His dedication to the game is shown everyday on the tennis court where he attacks every drill, game and practice with enthusiasm and focus that allows him to excel in all levels of his game."
Nikola Kocovic
Lenape High School
On May 10, Nikola Kocovic became the all-time winningest tennis player at Lenape High School, with 109 wins for his career with just seven losses. Last year Lenape won its first-ever South Jersey Group 4 tennis title. That goal is what fuels Kocovic, who is ranked 28th in his class and will continue his education and tennis career at the University of Pennsylvania.
Max Gross
Cherry Hill West High School
As captain of the volleyball team, senior Max Gross has been relentless on the court. Last year, he helped the team win 17 games, including a stunning upset over Eastern High School, a team that has won the Olympic Conference. Gross is valedictorian of his class and has earned a merit scholarship to the University of Maryland.
Tyler Scotton and James Green
Willingboro High School
Tyler Scotton and James Green are among the top wrestlers in South Jersey, having each finished second in the state this past season. Scotton was 39-1 and was a state finalist at 130 pounds. Green was 35-2 and a state finalist at 140 pounds. Both have more than 100 career wins. And most of all, both push each other to limit.
Gabriel Cisneros
Lindenwold High School
Wrestler Gabriel Cisneros is far from being down for the count. The Lindenwold High School junior owns a 22-7 record for the 2009-10 season in addition to winning the George Maier Colonial Conference Award. Lindenwold's wrestling coach, Paul Maggi, attributes his success to a sterling work ethic. "Gabe is one of the hardest working students I have ever been around."
Andrew O'Neil
Our Lady of Hope Regional School
The 8th grader was the captain of the 120 Minutemen football team in Washington Township this past fall where he led the team to an amazing 11-0 record. As the running back for his team he scored 25 out of 30 touchdowns and in January he was rewarded by being named Minuteman of the Year.
Devon Carter
Washington Township High School
Faster than a speeding bullet is one way to describe Devon Carter. At the recent Gloucester County Meet, The Washington Township High School senior scored the second-fastest time in the state for the intermediate hurdles (55.84 seconds). He also went on to win the 110-meter high hurdles.
John Bartosiewicz
Washington Township High School
John Bartosiewicz, a Washington Township High School student, just signed a scholarship agreement with Pikeville College in Kansas where he will be a member of the school's bowling team this fall. Bartosiewicz has been instrumental in the victories that WTHS has had with their bowling team recently, most notably winning their first NJSIAA state title. Published (and copyrighted) in
Suburban Family
, Volume 1, Issue 3 (May, 2010).
For more info on Suburban Family, click
here
.
For information about advertising in Suburban Family, click
here
.
To find out where to pick up your copy of Suburban Family, click
here
.