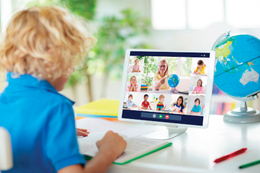 A Virtual New World
Could the rise in technology use for education, business and health care become part of our normal routines?
Nearly three months after the outbreak of the coronavirus pandemic, people are adjusting to the reality of a new normal. We have each done our part to flatten the curve and it hasn't been easy, but life has gone on thanks to the role of technology. Remote capabilities have helped students continue learning, physicians continue seeing patients and businesses continue their essential services.
While we are relying on these virtual platforms through the duration of the pandemic, it's possible they will be incorporated into our daily lives on a long-term basis. We spoke with some local organizations that are currently using technology to reach students, clients and patients to find out how successful it has been and if this will remain viable into the future.
Education
Students across the country were among the first group to feel the impact of the pandemic, and that meant schools had to take swift action to develop a plan to teach remotely.
Moorestown Friends School (MFS) faculty and administration surveyed students and families during spring break and made adjustments to its online learning, known as Virtual MFS, based on that feedback.
"Faculty have been adjusting lesson plans and teaching methods to make them best suited for our new remote context," says Head of School Julia de la Torre. "Faculty maintain connections with students and families by holding office hours and hosting small-group and individual meetings with students and/or parents/guardians. All the while, our community has upheld its focus on supporting positive relationships with students and sustaining the strong bonds that make MFS a unique and special community."
She says the school's remote learning team has emphasized community connections and social interaction. Teachers are trained to use a wide variety of online tools such as Google Hangouts and Classroom, Zoom, SeeSaw, Flipgrid, EdPuzzle, Loom screencasting and much more.
De la Torre says virtual learning has allowed for a new level of independence and subject exploration for students. "One benefit of virtual learning is that we can customize learning to fit the needs of individual students and coach them as they pursue their passions and interests," she says. "Being in this remote setting has prompted students to be more resilient, to take initiative and to tap creative ways of demonstrating their learning that they may not have explored before."
As the world becomes increasingly more digital, students are also gaining valuable knowledge that will carry them through life where more of their time is likely to be spent online or in virtual collaborative environments with people from around the globe, she says.
Teachers are harnessing this moment to incorporate new technologies and methods into their toolbelt to use when classes return to in-person learning. "Similarly, virtual learning has allowed us to connect with experts and guest speakers from around the world. Removing the barrier of geography broadens our 'classroom' to one that is more globally inclusive," says de la Torre.
Speech Therapy
Until the pandemic, there was no method of providing a vital component of pediatric growth such as speech therapy via telehealth. Joyce Kaveney, speech language pathologist for Speak to Me Kids, says the state of New Jersey had to give special allowance for professionals like her to see clients via video platforms.
She and the other full-time therapists spent time researching how this could work, finding resources to share screens and worksheets to email parents. "We have found it to be more challenging and requiring more planning than in-person appointments," she says, "but it's been amazing to see how well these kids have adapted."
Kaveney says about 80 percent of their caseload is now fully participating in telehealth, but the situation is not ideal for everyone. "Some kids can't sit in front of screens and for those with autism it's harder to keep their attention or keep them sitting still," she says. For those clients, Speak to Me Kids is continuing to reach out with resources for parents in the meantime.
Although she ultimately can't wait until the office can re-open, Kaveney says telehealth services might be something to consider implementing in the long run. "I think it's going to be necessary, because there are some kids who are medically fragile so even when things do open up, parents might not yet be comfortable bringing their kids out," she says.
The experience has cleared up her skepticism about telehealth for speech therapy as well. "Forever I was against this. I couldn't see how kids would benefit, but I have to say I am pleasantly surprised. A good number of clients continue to make progress," she says. "There is still a population who needs face-to-face, but this has opened my eyes that maybe this is an avenue we should explore more once the world rights itself."
Primary Care
Patients who need an appointment at Inspira Medical Group Primary Care in Mantua can see doctors via virtual telemedicine video as a first step, something that was never offered prior to the COVID19 pandemic.
"Telemedicine was an idea that we had been discussing and eventually planned to implement in small experimental quantities but likely would not have been attempted with any urgency if the COVID outbreak would not have occurred," says Dr. Craig Bober.
He reports that patients have been pleased with their experience. "An in-person exam can never be replaced but a video visit can usually suffice for most conditions. There may actually be an increase in quality in some situations as you can gain further insight into a patient's living situation, support system and faster access to care," he says.
However, like anything else, there are pros and cons. Bober reports the advantages of accessibility, convenience, availability and safety, adding, "Patients like the ability to have a face-to-face visit with their doctor without having to sacrifice time away from work, waiting in a waiting room or driving to and from the appointment. The lack of potential infection exposure is another advantage to telemedicine," he says.
Disadvantages include unreliable video quality (depending on the platform). "Not all patients have video capability and not all video platforms are created equal in terms of video and sound quality," Bober says. "Telephone visits alone can leave out important physical exam details that would be missed on video visits as well as inperson visits. Relying on a patient's description of a problem can be difficult and misleading for a doctor at times."
Although telemedicine won't replace office visits completely, Bober says it's a great additional method for health care access.
Orthodontics
Technology is keeping orthodontic patients progressing with treatment at Kadar Orthodontics. Using email, Zoom Healthcare and virtual visits, Dr. Tom Kadar can view photos taken by patients and keep their treatment on track, as well as review the bite, goals and treatment options for new clients.
"Online communication is second (or perhaps first) nature for most people nowadays," says Kadar. "The majority of our patients have a smartphone and take photos daily so adapting to virtual visits has been very easy for them. They love being able to chat and interact with our staff via our online portal. With each virtual visit, their treatment moves forward. Virtual visits are a fun and easy way for us to communicate because our patients are sitting in a safe and comfortable setting. Everyone is relaxed which makes for great dialogue and positive interactions."
Sometimes, in-office appointments are necessary, and Kadar has adapted a text-to-treatment protocol for patient check-in. "Upon arriving, patients check in via their smartphone and wait in their car until texted to come directly to the treatment area. After treatment, the flow through the office is restricted to ensure social distancing is maintained," Kadar says. Between patients, treatment areas are thoroughly disinfected and all staff wear PPE including gloves, gowns, face masks and face shields to ensure a safe environment is maintained.
Kadar says virtual visits are now part of the culture at his office. "For the long-term, virtual visits will continue to be a time-saving option for our patients. We love seeing everyone in person but we realize this virtual technology has benefits for minimizing the number of times patients physically visit versus virtually," he says. "In the end, it's all about creating awesome smiles—in-person or virtually—faster, easier and more safely."
Published (and copyrighted) in Suburban Family Magazine, Volume 11, Issue 3 (May 2020).
For more info on Suburban Family Magazine, click here.
For information about advertising in Suburban Family Magazine, click here.
To find out where to pick up your copy of Suburban Family Magazine, click here.