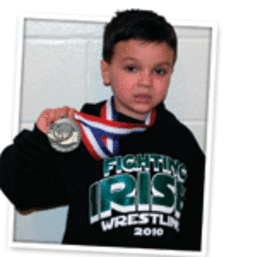 Star Athletes: July, 2010
Jason Holmes
St. Charles Borromeo Parish School
Jason Holmes (pictured) of Delran had a stellar wrestling season with the Fighting Irish Wrestling Program in Cherry Hill, finishing 13-0 in the Bantam 60-pound division and placing first in his division in the Grapevine League Tournament, a regional tournament held yearly at Moorestown High School. The 7-year-old, who also trains at Advantage Wrestling Academy in Pennsauken, completed his fourth year of wrestling. He will be going into the second grade.
Brian McMonagle
Moorestown Upper Elementary School
The pitcher for the Moorestown team in the South Jersey District 4 Cal Ripken 9-year-old championship threw a complete game and earned the game ball while leading his team to the title. "He's our workhorse," Moorestown coach Bob McCarthy said. "He went the distance." He struck out seven batters and allowed only six hits.
Anthony Scerati
Lenape High School
One of the top bowlers in South Jersey, Anthony Scerati was just named one of the top 100 high school bowlers in America by the Bowlers International Journal. Scerati is a junior on the Lenape High School Indians bowling team and bowled two 300 games this past season. Last season, Scerati bowled the first perfect game of his career. "My parents liked to bowl," Scerati said. "I was doing it when I was younger and I've been doing it ever since." Scerati was ready to bowl on the varsity level when he first arrived at Lenape.
Marielle Hall
Haddonfield High School
Eighteen-year-old track star Marielle Hall shattered school records at the 2010 NJ Group Champs and Meet of Champions this May. She won the 800 meters in 2:11.69 and the 1,600 meters in a meet record, 4:48.73. Earlier this year, she competed in the Metropolitan Coaches Invitational mile in New York City against Olympian and fellow Haddonfield alum Erin Donohue, and ran on a relay squad in the Gibson Relays in Kingston, Jamaica, in March. Marielle is attending the University of Texas on a track scholarship this fall.
Maureen McCotter
Bishop Eustace Preparatory School
Eighteen-year-old Maureen McCotter has garnered five individual state titles in five years, including the Bishop Eustace Class of 2010 Scholar Athlete and the 2010 SJISSA Swimmer of the Year. In March, the five-time New Jersey Champion from Cherry Hill won the 500 meter freestyle at the Meet of Champions for the third year in a row. A recent graduate of Bishop Eustace Preparatory School, Maureen is attending Princeton University in the fall and swimming for the Princeton Tigers.
Matt Lopez
Washington Township High School
Basketball player Matt Lopez's athletic accomplishments have gone international—the 18-year-old was chosen to play for the Puerto Rico U-18 National Team in the FIBA Americas Championship in San Antonio this summer. He averaged 16.5 points and 11.0 rebounds per game last season, and was a second team All-South Jersey selection. A recent graduate of Washington Township High School, Matt is headed to La Salle University on a basketball scholarship in the fall.
Eliana Roth
Cherry Hill West High School
Eliana Roth's skating takes her all over the world—in March, her synchronized skating team, the Skyliners, placed fifth in the Junior World Championships in Sweden, and she's competed in Milan, Prague and Croatia, as well. The 14-year-old freshman at Cherry Hill West is also featured in the book "Skating Forward," the real-life stories of 16 young skaters who have overcome adversity, telling the story of her struggle with Tourette's Syndrome.
Madeline Berman
Beck Middle School
The Cherry Hill 14-year-old came in 3rd in the 1-mile event at the South Jersey Middle School Championship, the recent track and field event at Pennsauken High School held once a year in which 26 middle schools from South Jersey compete.
Taylor Ng
Haddonfield High School
Taylor Ng, a rising sophomore at Haddonfield High School, is one of the best girl's tennis players in South Jersey. The 15-year-old, who has a 39-2 record, captured the South Jersey Interscholastic Tournament singles title as well as the South Jersey Tennis Coaches Association Player of the Year in 2009.
Maclin McKinstrie
Moorestown High School
This senior took the individual golf title at the Burlington County Scholastic League Tournament in June at the Hanover Country Club. He is the 4th Moorestown player to win the BCSL title this decade and he's one of three county players to win a major tournament this year.
Tyler Powell
Cherokee High School
A two-sport standout in football and baseball, Tyler was selected as an All-South Jersey defensive back in football. On the baseball field, he was an All-South Jersey outfielder. He hit a ball out of Citizens Bank Park as a junior in the Carpenter Cup.
Nick Tierno
Eastern Regional High School
He is a 15-year-old Voorhees freshman who made the varsity baseball team and was selected to the First Team All Conference for the South Jersey Olympic division as a catcher. He has played baseball since he was 5 for the Gibbsboro Voorhees Athletic Association. He also played for the American Legion Post 371 (Gibbsboro) and is currently on their Senior team; his first year with Legion, they won the Freshman State title which had previously never been done. Published (and copyrighted) in
Suburban Family
, Volume 1, Issue 5 (July, 2010).
For more info on Suburban Family, click
here
.
For information about advertising in Suburban Family, click
here
.
To find out where to pick up your copy of Suburban Family, click
here
.