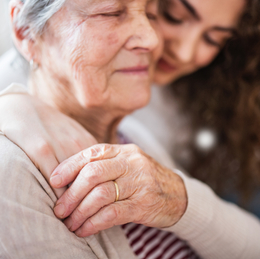 Signs Your Parent May Need Assisted Living
The Changes in Quality of Life to Watch Out For
The decision to put a loved one in the care of others does not come easily. However, adult children may be witnessing their parents' health decline physically, emotionally and mentally, making it an inevitable conclusion. Suburban Family spoke with local professionals about the signs and changes in quality of life to look out for and why assisted living can provide much needed peace of mind.
Worsening Health Conditions
The signs of a person experiencing changes in their health can vary, some being more obvious than others.
For instance, hearing loss is typically gradual and for that reason, a person might not even be aware they are experiencing it, says Jonathan Ayes, practice owner at Associates in Hearing HealthCare. This could begin as turning the TV volume up, phone calls being missed from another room or an aging parent finding excuses not to attend events. "Parents may smile and nod when in conversation even though they don't know what was said, just to avoid drawing any negative attention. … With hearing loss, typically some sounds remain audible so the person can rightfully say they 'hear' but they fail to recognize that they may hear something but not hear everything, or at least what they need to hear. They may state they hear but don't understand," says Ayes.
On its own, hearing loss may not warrant placement in assisted living, but it can contribute or amplify other conditions. "New research indicates the side effects of untreated hearing loss are quite broad," says Ayes. "Persons with untreated hearing loss have increased risk for social isolation, depression, cognitive decline and dementia. Hearing loss is correlated with heart disease, diabetes and balance issues, which in turn are correlated with higher risk for falling. Fallings in older adults can be life altering and is a very common cause for adult hospitalizations."
Stacy Costa, director of community relations at Brandywine Living at Moorestown Estates, echoes those more serious illnesses and risks facing the senior population. "The memory loss aspect is something adult children will notice. Their parent may wander off or not remember where they were going, forget to take medications or take them incorrectly. Along with cognitive decline there could be balance issues that contribute to falling accidents," she says.
Assisted living can provide the oversight needed as a senior's health declines. "One of the many benefits of assisted living is having a nurse on duty 24/7," says Susan Love, CEO of Lions Gate. "If your loved one needs assistance with medication management, they will be given their medications at the prescribed time by a nurse. Should they need assistance with bathing or dressing, they can receive support from a certified nurse's aide. In addition, unlike independent housing, assisted living provides services around the clock so in the case of a fall, or if Mom doesn't feel good in the middle of the night, someone is there to assist them."
Financial Issues
Changes in behavior can be a major sign of something going on with your parents. "Some families, especially those who don't live local, will come to visit and notice something as simple as the house being dirty," Costa continues, adding if your loved one always kept a clean house and now suddenly does not, that is a sign of a shift in their condition.
Jim Turpin, wealth and legacy planner at Chelsea Wealth Management, says mail can begin to pile up on tables and countertops, adding a sense of disorganization that was never noticed before. Often in that pile of mail are unpaid bills.
"Even in today's society where so many things are done online, that generation doesn't pay bills online, so the bills getting mailed to the house may be paid late or not at all," he says. Unfamiliarity with technology can also make seniors easy prey for email scams, but scams come in other forms.
"They may answer an email or phone call and send money off to someone, and that could include other family members. A lot of times, if they are experiencing their own financial issues or struggling with addiction, they may victimize the older generation who would never suspect ill intentions," Turpin says.
"Adult children should be having conversations about financials. You have to get everyone in the family on the same page and then when it is time for a transition in lifestyle for assisted living, the stress and animosity is reduced," he continues. "There is a point in time where it becomes too late, and that can be avoided by planning up front."
Isolation and Family Burden
Living alone can pose medical risks for aging parents, but also creates a lack of social and physical activity. Adult children are often tasked with creating the social calendar of their parents and their own young children, a burden that can become too much to juggle.
"Adult children will try to visit daily, and it's nice to think they can do it, but then life gets in the way," says Cori Laphan, corporate sales specialist at Brandywine Living at Moorestown Estates. "A lot of times, the TV is the only form of social programming for seniors who live alone."
Assisted living facilities are known for their activities calendars. "Offering activities, crafts, music, movies and games throughout the day—seniors can take advantage of everything offered," says Love. "Participating in activities not only stimulates the brain but prevents isolation and depression. Dining together also fosters conversation, sharing and friendships."
There is a lot of guilt that comes with this decision, which all of these professionals recognize. "Our job is to not only help the new resident who is joining our community, but making sure the family knows their parent will get the best care possible," says Laphan. "That guilt will subside because you will realize they are safe and taken care of."
Published (and copyrighted) in Suburban Family Magazine, Volume 11, Issue 1 (March 2020).
For more info on Suburban Family Magazine, click here.
For information about advertising in Suburban Family Magazine, click here.
To find out where to pick up your copy of Suburban Family Magazine, click here.