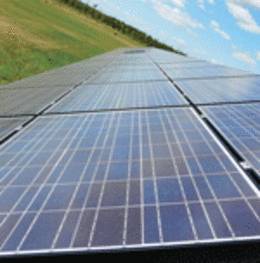 SolarWorks NJ, LLC
Solar electric systems that shine bright
With all the benefits of going solar, the key is to find the right company to help make it happen. "Far too often, homeowners are told what they want to hear just to get the sale," says Steve Masapollo, CEO of SolarWorks NJ. "The technology is still new to many clients. Educating consumers is really important so they have the information they need to form realistic expectations."
Getting started
When considering a solar electric system, the process begins with an on-site evaluation and considers several factors, including roof space and annual energy usage. Based on the results, a custom system is designed to fit the space and one's needs. "The calculation is quite scientific and other details evaluated include the roof's orientation and trees in the immediate area," says Masapollo. "Ideally, the most efficient systems face south. Those with a northern orientation often may not be cost effective."
Once the project plan is approved, financing is the next step. "At SolarWorks NJ, part of our full service approach includes offering assistance with 12-months payment-free loan towards the installation of the system," Masapollo says. "We also are engaged in all aspects of the state and township inspections, addressing any issues, and offer on-going service with a 6-year guarantee on workmanship and labor. Homeowners can generally expect to have the system in place within three to four months. Then, we help homeowners receive their Solar Renewable Energy Certificates (SRECS). This plus utility bill savings and other state and federal incentives can enable most homeowners to pay off their loan in less than 5 years."
Home owner Robert Schenk of Mullica Hill says of his solar installation, "The panels performed just as I expected. Not only do the panels look good on my roof, the inverters and wiring do as well. It's clear that SolarWorks takes pride in their work and it shows."
Knowing what to expect
SolarWorks NJ solar consultant, Art Stone cautions home owners not to be fooled by some solar companies' false claims. "Beware of whether or not the solar company is taking advantage of the incentives and SREC checks, which normally go to the consumer. Also, don't be mis-lead by companies that propose systems with incorrect or northern orientation. These systems are less efficient and may be ineligible for the State's rebate."
Says Masapollo, "A client's confidence is key and we build it through education. If the system is not going to be efficient or offer valuable cost savings, it may be the wrong decision. While we are committed to innovation, we are proponents of 'tried and true' methods. We do our homework and gain confidence with the newest technology before offering it to clients."
Benefitting everyone with innovation
One example of their innovation is SolarWorks NJ's proprietary Clean Energy System (CES) product, which is offered through a joint partnership effort. In simplest terms, CES cleans the electric as it enters and exits the system, providing a smoother transmission of power. "An analogy is one's heart and arteries," Masapollo says. "Blood flow is affected when there are blockages and the result is less efficiency. The same is true with electric systems."
While CES is primarily a commercial product, the results can be seen on the consumer level. Ideal for supermarkets, factories and municipal utility authorities to name a few, Masapollo adds that, "By improving the system's efficiencies with CES, there is an average 12.5% savings translated to consumer spending and taxes."
SolarWorks is also gearing up for three local commercial jobs that total approximately 5 megawatts. They are also working with a local blueberry distributor, as well as sewer treatment plant in Medford. Such larger projects affect area homeowners because they allow business to translate their cost savings into competitive pricing of their goods and services.
"SolarWorks NJ completed the solar project for our municipality," says Carl Neu of Middle Township. "They answered every question from start to finish and made sure we understood every aspect. They handled all the paperwork for us, including the rebate and permit applications. It was great."
Says Masapollo, "We started with a solid foundation that included financial credit and purchasing power. To this, we added a team of technology and customer service experts, all committed to being the best. Seven years and 125 residential installations later, that says it all."
Headquartered in Turnersville, SolarWorks NJ, LLC provides full-service renewable energy solutions to clients throughout South Jersey. The award winning company has been named to the Philadelphia 100 and ranked the #1 South Jersey 25 fastest growing private companies two years in a row. To learn more about the company or schedule an initial site evaluation, call (856) 232-6363 or visit SolarWorksNJ.com.
Published (and copyrighted) in Suburban Family, Volume 1, Issue 8 (October, 2010).
For more info on Suburban Family, click here.
For information about advertising in Suburban Family, click here.
To find out where to pick up your copy of Suburban Family, click here.