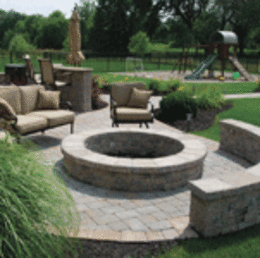 Outdoor Living Year 'Round
Custom built outdoor rooms bring the inside out
Crisp air, cooler days, and falling leaves signal the arrival of autumn, but that doesn't mean it's time to head indoors just yet. According to Sam Waddell, owner of SLS Landscaping, Inc., in Lumberton, NJ, the fastest growing portion of the landscape industry is designing and building outdoor living spaces that allow homeowners to enjoy indoor activities outside well beyond the summer months.
"Outdoor kitchens, fireplaces, and fire pits are definitely a growing trend for people who like to entertain. They are also especially popular with pool owners," says Waddell. An outdoor kitchen has many of the same features as an indoor one, including refrigerators, grills, sinks, and dining areas complete with table and chairs. Grills are often built right into the stonework and refrigerators are tucked into wall niches.
Outdoor living rooms or what Waddell and his staff of designers call "extended living areas," typically feature a fireplace or fire pit as the focal point. "Outdoor living spaces are customized for each client and take into account several factors including the size of the family, size of yard, and the age of the family members," says Waddell. Plant materials are carefully selected for privacy as well as color and year round interest while stonework provides an architectural element. "The combination of plants and natural stone makes our clients feel like they are surrounded by nature," says Waddell.
Fireplaces and Fire Pits
"Fireplaces are constructed using concrete block and faced with a natural or cultured stone veneer to match the style of the house," he says. "Many of our clients have older homes made of stone and want the fireplace to have the same rustic look." Depending on a homeowner's preferences, seating options can include anything from a semi-circular stone seating wall, to a grouping of strategically placed boulders, or comfortable upholstered outdoor furniture. If you're looking for something less formal, Waddell suggests a fire pit. Built into the ground, a fire pit is circular in shape and surrounded by stone paving. Boulders clustered around the fire pit typically provide an informal seating arrangement.
Natural and Cultured Stone
When it comes to hardscaping, Waddell prefers to use natural stone such as Pennsylvania bluestone, slate, boulders, and field stone that is sourced from regional quarries in Pennsylvania and New York. "Natural stone is a material we use a lot at SLS Landscaping," says Waddell.
Waddell is also a fan of cultured stone, either used alone or in combination with natural stone as an accent. "Cultured stone is a manufactured stone that comes in a variety of styles and textures," he says. "For homeowners looking for something unique, cultured stone offers more variety and character than most of the ordinary wall block that are so popular today."
Full Service Estate Maintenance Program
The key to effective estate maintenance lies in scheduled maintenance visits at regular intervals. "Services are scheduled from Spring through Fall at the start of the season" says Waddell. "We provide regular feedback to the client about site conditions and make suggestions to corrective action when warranted." Our estate maintenance service covers all aspects of exterior maintenance. Weekly lawn maintenance (edging, trimming, and blowing grass off hard surfaces), hard surface weed control and maintain planted areas (planting seasonal flowers for color, hand weeding, pruning). SLS's licensed and trained applicators perform analysis and treatments for turf along with landscape ornamental fertilization with pest control.
Master Plans
In addition to its seasoned landscape and installation crews, SLS Landscaping also has a licensed Landscape Architect on staff to assist homeowners with a master plan of their property. A master plan details the existing site conditions and proposed features and illustrates all proposed plantings and hardscape improvements including patios, walkways, and walls. Landscape enhancements such as water features, pergolas, and lighting which are integral elements of the design are also included. Once the plan is approved, SLS designers work closely with project managers to ensure a seamless installation.
"Since 1992, A Name You Know & Trust"
Started in 1992 as a residential lawn service company, SLS Landscaping has blossomed into one of South Jersey's premiere full-service landscape management and design/build firms. Fully staffed with licensed and degreed professionals as well as professionally trained landscape crews with extensive field experience, SLS Landscaping serves residential and commercial clients from Cape May to Princeton and everywhere in between.
"What makes us stand out from the crowd is the knowledge and experience our staff will bring to any project and open and continuous communication with our customers through the entire design/build process and beyond," says Waddell
SLS Landscaping, Inc. is located at 641 Eayrestown Road in Lumberton, NJ, (609) 518-5263. For more information visit their website www.slslandscape.com
Published (and copyrighted) in Suburban Family, Volume 1, Issue 8 (October, 2010).
For more info on Suburban Family, click here.
For information about advertising in Suburban Family, click here.
To find out where to pick up your copy of Suburban Family, click here.