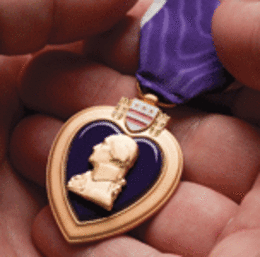 Purple Heart Service Foundation
Making a difference in the lives of all veterans and their families.
Making a difference in the lives of all veterans and their families.
Each year, Veterans Day is celebrated on November 11th in honor of the military veterans throughout the world. The national holiday was first proclaimed in 1919 by President Woodrow Wilson as Armistice Day and although its name has changed, the meaning and related ceremonies in support of the U.S. military veterans has not.
"In New Jersey, there are 750,000 veterans living among us. They are men and women, young and old, of all races and religions," Board member of the Military Order of the Purple Heart Service Foundation, and first vice president of its executive committee, Louis Spinelli says. "Through the generous efforts of citizens of this state and across the country, we are able to help support all veterans and their families in their time of need."
The Foundation has many ways people can make a difference. Contributions may be made by check or credit card as one-time or recurring donations and can be donated as a gift in honor or memory of a specific veteran. The Foundation also has unique programs in support of veterans and their families.
One of the most popular is its "Purple Heart Car Donation Program"—a fast and easy way to assist with a variety of local programs to benefit wounded and disabled military veterans. According to the Foundation, more than 500,000 vehicle donations have been made to date and the support continues to grow. The contribution is tax deductible and vehicles can be picked up at no cost within 24 hours. Visit PurpleHeartCars.org for more information.
The Purple Heart Clothing Donation Program is another way to support dedicated service men and women. People can donate clothing and other household items to be recycled or sold at various thrift store locations. The sale proceeds are used by the Foundation to support its programs. For details or to schedule a pick up at home, visit VeteranPickup.org.
Says Spinelli, "These programs really work and each year, we are able to raise millions of dollars to support those who have given so much for us and our country."
Highest order of service
The Purple Heart is one of the most historic of all military honors. Originally known as the Badge of Military Merit when created by General George Washington, this medal was the first award given to the common soldier during Revolutionary times. Today, it remains an esteemed medal awarded in the name of the president of the United States to members of the U.S. military who have been wounded or killed in action. According to the Military Order of the Purple Heart, a veterans services organization chartered by the U.S. Congress and comprised of Purple Heart recipients, there are an estimated 1.7 million such honorees as of July 2010.
"I was 17 years old when I went to North Korea," says Spinelli. "I was deployed on October 6, 1951 and wounded on October 28, 1951 at Heartbreak Ridge, receiving the Purple Heart one week shy of my 18th birthday. As a young man, and one who spent time at an orphanage as a child, the military became my family. I could not wait to enlist. Today, the military remains my family and supporting all veterans is an integral part of every day of my life."
All for one, one for all
Recipients of Purple Heart award are a family unto themselves and for these military veterans, the Military Order of the Purple Heart is committed to fostering an environment of goodwill and camaraderie. Its mission is one dedicated to promote patriotism, support necessary legislative initiatives and provide service to all veterans and their families. As part of this membership organization, the Foundation was chartered in the late 1950s as the Order's fundraising engine.
"As I sat at breakfast one day, wearing my Purple Heart baseball cap, I was approached by a fellow veteran who asked if I wanted to take part in a parade supporting the military. This was back in 1987," says Spinelli. "From that day forward, I have been an active member of the Military Order of the Purple Heart. My first volunteer effort was at the Lyons VA Hospital in New Jersey, where I created a coffee wagon that sold coffee and cake to the doctors, nurses, veterans and family members. This wagon remains in existence 20 years later."
Over the years, Spinelli has surpassed 3,000 volunteer hours and received many awards for his efforts. He was twice elected as the department commander for the State of New Jersey before moving on to be elected the regional commander for the east coast, national junior vice commander and senior vice commander. From the 2001-2002 term, Spinelli was elected to the highest level as national commander of the United States for the Military Order of the Purple Heart.
How the Foundation's funds are used
The funds raised through the Foundation help provide many local and regional programs for veterans and their families. It is not limited to Purple Heart recipients. One such program is the Purple Heart National Service Officers. Stationed at VA offices, hospitals and other veteran facilities, these individuals provide information, counseling, and claims service to veterans and dependants. The Foundation also offers education scholarships, providing tuition assistance for children of Purple Heart recipients, The Scotland School for disadvantaged children and orphans of veterans, and computer training for veterans and their spouses.
Additional programs include the Purple Heart National Appeals Office, providing representation for veterans denied benefits at the local VA regional office, and the Purple Heart Court of Veterans Appeals with a full time attorney representing the rights of veterans before the court. Through its national outreach efforts, they provide services to those in rural and urban areas as well as handicapped and destitute veterans who may not be able to reach a VA regional office. The Foundation supports special disaster relief funds, the USO, Veterans Wheelchair Games and many more.
"When I think of all the programs in place, the faces of those we help come to mind. Recently, a young marine whose father was very ill, did not have the funds to come home. Our group contributed $1,500 towards his travel expenses and he was able to see his father one last time," Spinelli says. "Then, there was Medal of Honor recipient Matthew Leonard, who was buried at an abandoned cemetery in his rural hometown. We were able to exhume his body and give him a first class service and burial at Fort Mitchell Cemetery in Alabama. For his courage and honor, he deserved nothing less. These are just two of so many such efforts and not all are so large in scale. Sometimes it is assistance with utility and other household bills when the veteran and his or her family are in need. That's why we are here and it could not be more rewarding."
For more information about the Military Order of the Purple Heart Service Foundation, its programs and ways to help support their efforts, visit MOPHSF.org.
Published (and copyrighted) in Suburban Family, Volume 1, Issue 8 (October, 2010).
For more info on Suburban Family, click here.
For information about advertising in Suburban Family, click here.
To find out where to pick up your copy of Suburban Family, click here.