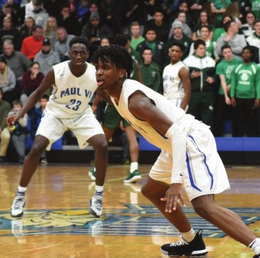 Championship Caliber: 2019 Winter Sports Preview
Suburban Family's annual winter sports preview highlights the teams and players capable of making a title run this season.
When it comes to the winter high school sports season in South Jersey, some things are easy to predict. For example, it's not going out on a limb to suggest that the usual suspects—such as the boys and girls swim teams from Cherry Hill East, the Camden Catholic wrestling program or the Cherokee girls basketball team—are going to have competitive squads and be in contention for championships.
Yet there are always developments we fail to see in our crystal ball. Take last year's Moorestown boys basketball team, which went on a magical four-month run that ended with the program's first state title in 60 years.
Whether they are surprises or not, it's a sure thing that our area will always produce star players and standout teams worthy of our attention. November kicks off the winter season as teams return to the gym, wrestling room or pool to put in the hours of hard work that will produce memories to last a lifetime.
Suburban Family celebrates the start of another season with a look at some of the players and teams to know in South Jersey.
BOYS BASKETBALL
Last March, rivals Camden Catholic and Paul VI met in a thrilling sectional final, with the Fighting Irish pulling out a 40-34 win to avenge two regular-season losses to the Eagles. It was the second straight South Jersey Non-Public A title for the Irish, who went on to lose to Bergen Catholic in the state championship game.
Both Camden Catholic and Paul VI graduated top players, but have promising building blocks returning. For the Irish, 6-foot-7 junior forward Zach Hicks is drawing serious interest from Division I colleges thanks to his combination of 3-point shooting, size, rebounding and basketball IQ. The Eagles have a dynamic junior backcourt—Wisler Sanon is a difference-maker at both ends of the floor and Jalen Boyd-Savage should emerge as the go-to scorer.
Haddonfield and Moorestown were also hit hard by graduation after winning state titles in Group II and Group III, respectively. Senior Ben Cerrato, a terrific 3-point shooter, is the leading returner for the Bulldawgs, who have won back-to-back state crowns. The Quakers will try to reload around senior forward Kevin Muhic, an all-conference second-teamer, and senior guard Evan Francisco, who had nine points in the state championship game.
Gavin Gibson is the lone returning starter for Cherokee, which captured its third sectional title last year. He averaged 12.8 points to make the all-South Jersey third team and will look to help the Chiefs claim their fourth straight championship in the Olympic Conference American Division.
The Olympic American is always loaded, and Cherokee will have plenty of challengers. Lenape has an emerging star in sophomore point guard Derek Simpson, while Eastern is paced by senior Noah Klinewski, an outstanding shooter who averaged 15.3 points last year. Junior guard Drew Amos leads a much-improved team at Washington Township, and senior Ryan Greene is a three-year starter at Cherry Hill East.
Seneca used the first road playoff win in program history to reach the sectional semifinals last year and is paced by three-year starters Malin Jasinski and Johnny Kennevan. Cherry Hill West also has high hopes with most of its roster returning. Elsewhere in the Olympic Conference, Shawnee is paced by senior point guard Cole Fleming and Bishop Eustace also has a veteran running the offense, senior David Cross.
In the Tri-County Conference, Clearview has an experienced squad led by senior Justin McNichols, a 6-7 forward who is expected to become the program's all-time leading scorer early in the season. Kingsway has won three straight division titles and will be led by a new coach, Aaron Crispin, while Gloucester Catholic has strong guard play with Ryan Roney and Ben Gerardi.
GIRLS BASKETBALL
Sister schools Lenape and Cherokee have developed one of the best rivalries in South Jersey in recent years, and both appear to be strong squads again this season. They split during the regular season last year, but Lenape took the rubber match in the South Jersey Group IV final and went on to reach the state championship game.
The Indians graduated all-South Jersey point guard Shannon Mulroy, but have key players like seniors Regan King and Kiana Gosnell back in the fold. Cherokee also graduated a standout—Ava Therien—but is happy to welcome back her sister, junior center Alexa Therien. She averaged 11.8 points as a sophomore and is joined by senior guard Kennedy Wilburn, a four-year varsity player.
Washington Township should also make noise in the Olympic Conference American Division along with Lenape and Cherokee. The Minutemaids are led by senior center Emily Johns, who has committed to Division I American University. Four-year varsity players Yanelli Villegas and Maggie Balderstone are back for Cherry Hill East, and Eastern has a talented core under new head coach Kristen Przybylski.
The Olympic National title was shared by three rivals last year—Bishop Eustace, Camden Catholic and Paul VI— and the race should be exciting again. Eustace brings back five all-conference players from a 20-8 team, including junior guard Katie Kempter and senior forward Lauren Punk. Camden Catholic has a similar pair in senior guard Abby Paolini and junior forward Annaliah Maldonado, while Paul VI boasts the return of senior guard Abaigeal Babore and sophomore forward Sara McShea.
Cherry Hill West is coming off its best season in years and should continue to improve behind junior forward Alison Ahern, who averaged 15.7 points as a sophomore. Also in the Olympic Conference, Shawnee has a talented crop of returners led by seniors Ciana Viccharelli and Gia Flamini, who are both three-year starters.
Moorestown Friends is primed for a big year in the Friends Schools League thanks to senior Bella Runyan and sophomore Veyoni Davis. Runyan, who is committed to Villanova, earned all-South Jersey first-team honors. Davis was superb in her rookie season, as she averaged a teamhigh 21.3 points.
Haddonfield also has one of the area's best players— junior guard Keegan Douglas—who averaged 16.8 points as a sophomore. The Bulldawgs should be contenders in the Colonial Conference.
In the Tri-County Conference, Gloucester Catholic graduated one of the program's all-time greats, Azana Baines, from a team that reached the sectional final. But a strong core remains led by junior forward Jada Williams and senior point guard Mycala Carney.
Also in the Tri-County, Clearview's Bella Steidle will look to follow up a stellar junior campaign in which she averaged 16.5 points. She'll have help from senior guard Olivia Marchei, an excellent shooter and passer.
Moorestown, a member of the Burlington County Scholastic League, has a solid senior class led by Kerry O'Sullivan.
WRESTLING
Kingsway wrestling Kingsway claimed the Group IV state title in thrilling fashion last year, as Cheney Kinner's win in the final bout sealed a 26-20 victory over Phillipsburg, the five-time defending champ. Kinner is one of several key returners for the Dragons, including fellow senior McKenzie Bell, who captured his third district title, his first region crown and placed at states for the second time, taking fourth at 120 pounds on his way to a 41-7 record.
Up Route 322 from Kingsway, rival Clearview has a new head coach in Steve Turi, a former wrestler for the Pioneers who has plenty of coaching experience around South Jersey. One of the wrestlers he inherits is sophomore Ty Whalen, a district champ and region runner-up at 106 team pounds as a freshman.
Joining Kingsway as a returning state championship team is Camden Catholic, which took the crown in NonPublic B. The Irish graduated two-time individual state champ Lucas Revano, but brings back state placewinners Brandon Mooney, a senior, and Martin Cosgrove, a sophomore.
One of the top returners in the area is Cherokee junior Cooper Pontelandolfo. He won his first district title, placed second at regions and sixth at states in the 132-pound class and is poised for another big year.
Pontelandolfo should help the Chiefs compete with defending champion Eastern in the Olympic Conference American Division. The Vikings are paced by senior Costas Pavlides, a state qualifier at 160 last year.
Also in the Olympic American, Washington Township is excited about sophomore Ethan Wilson's prospects. He was a district champ and qualified for states at 106 as a freshman. Cherry Hill East senior Jesse Keesal, Lenape senior Matthew Still and Shawnee junior Isaac Dean, all region qualifiers, are other wrestlers to watch in the division.
Cherry Hill West's John Howe is approaching 100 wins for his career after going 33-9 with a district title and competing at states as a junior. The Lions are hoping to push Camden Catholic in the Olympic National.
In the same division, Seneca junior Kory Seidle is coming off a 30-10 season in which he placed second at districts at 145. Paul VI should be much improved and is led by senior Nick Arena, who won 24 matches as a junior.
Moorestown brings back a district champion in senior Robert Damerjian. He also took second at regions at 195, won a match at states and finished with a 36-7 record. John Dalmass is another senior leader for the Quakers.
Eric Hamrick is the new head coach for Haddonfield, which is seeking to make its fourth straight sectional final. Seniors Declan Skelly and Ryan Bolletino were both district champs last year for the Bulldawgs.
BOYS SWIMMING
Cherry Hill East was back in familiar territory last year as it reclaimed the Public A state title with a 110-60 win over Bridgewater-Raritan. The teams have met in the final three years in a row, with the Cougars also prevailing in 2017.
The Cougars have been in the Public A final every year since 2014 and have captured 11 sectional titles in a row. They'll look to keep both streaks going behind senior Jackson Brookover, who took seventh in the state in the butterfly and eighth in the backstroke as a junior.
Shawnee returns an outstanding senior class led by Jack Artis, Andrew Taylor and Kyle Hare, who all competed at states in multiple events and broke school records. The Renegades reached the sectional semifinals as a team.
Gloucester Catholic senior Jacob Narvid, a University of Tennessee commit, is a standout distance swimmer who has qualified for the Olympic Trials in the mile. He took sixth in the state in the 500 free. The Rams also have Matt Murphy, who shines in the IM and breaststroke and is headed to the Naval Academy.
Jack Rowe is another one of the area's best distance freestylers, and the Lenape senior forms a strong one-two punch with junior Sean Vizzard. The Indians won a division title and reached the sectional semifinals a year ago.
Junior Mike Gozdan is the top returner for Bishop Eustace, which advanced to the Non-Public B state final. He took 14th at states in the breaststroke.
Haddonfield earned the Central Jersey Public C title for its fifth sectional crown in a row and should be formidable again. Cherokee also has a talented roster led by senior Enrique Obregon, who took 14th at states in the IM and also anchored two relays that placed in the top 20.
Despite graduating team MVP Alex Chiu, Washington Township is coming off a season in which it upset Southern in the playoffs and is looking forward to a new campaign. Captains Kyle Snyder, Nico Scavetta and Matthew Marmon lead the charge.
Clearview brings back an all-South Jersey swimmer in Dan Porter, who excels in the 50 and 100 free. Senior Santo Messina and sophomore Peter Xia are the top returners at Moorestown Friends.
Other swimmers to keep an eye on include Kingsway's Richard Jaramillo and Connor Bowen, Cherry Hill East's Alexander Volin and Moorestown's Evan Greer.
GIRLS SWIMMING
Haddonfield extended its streak of sectional championships and state final appearances to five last year, and the Bulldawgs would love nothing more than to return to the big stage this February.
Their talented core is led by Ava Berzanski, who took ninth at states in the IM and 13th in the breaststroke, along with fellow seniors Sophia Rollo and Carly Griffin, who also competed at states. Haddonfield also had a pair of sophomores who had a major impact as rookies— Lillian Derivaux placed fifth in the state in the butterfly and Sydney Mullin added a 10th in the 500 free and a 14th in the 200 free.
Two other perennial powers are primed to continue their dominance. Cherry Hill East was a sectional champion and reached the state final and boasts a pair of individual state champions: senior Grace Yoon in the breaststroke and junior Annie Behm in the backstroke. That was the fourth state title for Yoon, who will look to cap her memorable career with another strong season.
Moorestown repeated as the Public B sectional and state champion last year and brings back several elite swimmers. Junior Allie Waggoner took second in the state in the 500 free, and senior Emily Wisniewski finished seventh in the 200 free and 11th in the fly.
Last season was a historic one for Moorestown Friends, which broke every team record throughout the season and qualified for the state tournament for the first time in program history. Junior Allie Fenska became the Foxes' first All-American in the 50 free and placed second in the event at states, along with a third in the fly. Junior Christina Levins added a fifth in the breaststroke and a seventh in the IM.
Bishop Eustace, which made the Non-Public A state semifinals, will follow the lead of junior Erin Cavanagh, who took second at states in both the 200 free and fly.
Cherokee's Lydia Palmer and Kingsway's Lyndsey Warner are super sophomores to keep an eye on. Palmer's rookie season featured a second at states in the breaststroke and a fifth in the IM, and Warner sprinted to 10thplace finishes in both the 50 and 100 free.
Senior captains Molly Kern, McKenna Watson and Ally Tober return for Washington Township, which is coming off a 7-1 season. Clearview also has a strong senior presence with Kyra Borodin and Julia Soukup.
Lenape junior Zora Vujovic was a state qualifier in the 50 free and 100 back and helped the Indians to their first playoff appearance in a few years. The top returners for Seneca are senior Elizabeth Stevenson, junior Cassidy Strittmatter and sophomore Ally Evans, and the Golden Eagles are also happy to welcome back head coach Amy Mosser, who guided the program from 2008-2015 and returns after a four-year hiatus for maternity leaves.
Published (and copyrighted) in Suburban Family Magazine, Volume 10, Issue 9 (November 2019).
For more info on Suburban Family Magazine, click here.
For information about advertising in Suburban Family Magazine, click here.
To find out where to pick up your copy of Suburban Family Magazine, click here.