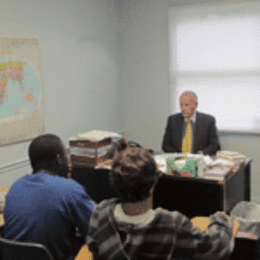 Know Different
Bright kids who don't fit in to traditional school settings thrive at The Greenberg Center for Education
Bright kids who don't fit in to traditional school settings thrive at The Greenberg Center for Education
Upheavals in their family life. A "not-quite special ed" profile. Above-average intelligence, but poor performance in school. These are the characteristics of students that The Greenberg Center for Education successfully engages, finding ways to bring out their best. "Our kids here are bright kids that are not book-type learners. They're kids who learn through discussion, films, or from someone else telling them about their first-hand experiences," says Ron Greenberg, founder and director of the Center. "Often times, they are emotionally needy kids who require a long time to develop trust in their teachers. But then they develop that trust, they flourish."
Individualized learning
Like the children the school serves, the Greenberg Center for Education defies neat description. "We are a niche private school, but it's hard to describe exactly what we do because we tailor our programs so specifically to what our students need," says Greenberg, a veteran educator who began his career as a public school administrator in Pennsauken. Since the Center is able to offer student-teacher ratios as low as one to one, and can draw upon a team of support professionals including therapists and physical fitness trainers, students here find solutions to their learning challenges unavailable to them in more traditional systems.
Assistant director Heather Greenberg says, "We maintain a ratio of one teacher for every four to eight students, creating a personal and caring environment where we can make daily changes to a student's program as needed. Most schools do not have the time or staff to provide the attention these children need for growth."
This approach, says Ron, is especially effective for kids diagnosed with ADD or dyslexia. "We give these students one on one instruction with appropriate breaks for their attention issues until they're confident and ready to join another class."
The Center functions on a twelve-month calendar with rolling enrollment and generally admits children in grades five through 12. For those who require an accelerated course of study, there is the Two Years-in-One program. For those who may be lacking in credits or are not quite ready for college, Ron created what he calls the "Thirteenth Year."
Making education relevant in the "real world"
The Center offers a core curriculum of math, science and literature, but also focuses on critical thinking, foreign languages, art, psychology, sociology, creative writing and especially current events. Says Ron, "If there is news about terrorism, for example, we talk about it. Because I have travelled widely and lived abroad, rather than just tell the students that one group or people are angry at another and want to hurt them, I give them first-hand accounts of how this actually plays out. By connecting real life stories to current events, it's not just words, but real places with real people that they now can relate to on a personal level."
Ron then builds on his students' enthusiasm for world events to teach them more comprehensively about geography, history, sociology than if the curriculum were simply done from a proscribed timeline. The Center also regularly schedules trips to Europe during school breaks. This gives students the opportunity to experience for themselves what they've learned about world cultures, if they choose. "This unique approach enhances a child's interest, knowledge and self esteem—all factors that can make a world of difference," Heather says.
College placement
The Greenberg Center for Education boasts a near 100 percent success rate when placing students in four-year colleges. In addition, says Heather, "The majority of our graduating seniors have received merit scholarships. The average scholarship for our college-bound seniors is $45,000." One of the reasons for the Center's students success garnering such bountiful tuition assistance is their notably high SAT scores. Says Ron, "For the last five years, our students' scores have been 289 points above the national average score, for the combined math, verbal, and writing assessments." Recent Greenberg graduates have gone on to the University of Pennsylvania, Drexel, Rutgers, Clark, Northeastern, and the University of Miami. "We not only help our students get accepted to the school of their choice, but find what school is right for them in the first place," says Heather.
Parents who have despaired over finding a place where their highly intelligent, but non-traditional learner can feel at home, says Ron Greenberg, are welcome to call for more information. "We offer more than a high school diploma. We offer a place that provides individualized learning and the intensive guidance needed for your child to succeed once they reach college, and beyond."
The Greenberg Center for Education is located at 55 East Route 70 in Marlton. It is Nationally Accredited. For more information, call (856) 983-8811 or visit GreenbergCenter.com.
Published (and copyrighted) in Suburban Family, Volume 1, Issue 8 (October, 2010).
For more info on Suburban Family, click here.
For information about advertising in Suburban Family, click here.
To find out where to pick up your copy of Suburban Family, click here.