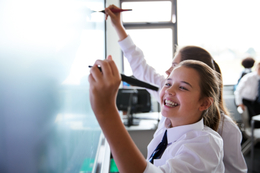 A Standout Education
Private schools in our area honor tradition while providing an education that prepares students for the future.
Perhaps the top influence on your children's future is their education. It contributes to their development as a person, not just in the classroom, but in extra-curricular activities, athletics, community service and much more. In South Jersey, parents and children who are interested in a private education are fortunate to have a myriad of schools to choose from, beginning in elementary through high school, each with their own traditions and values that allow families to find the best fit. This month, Suburban Family takes a look at the unique education opportunities provided by local private institutions, and judging from the characteristics highlighted here, the choice won't be easy.
The Power of an All-Girls Education
"Merion Mercy Academy has a long tradition of academic excellence, preparing girls to be strong leaders in the future. Girls who attend an all-girls school are shown to have greater self-confidence, higher career aspirations and are more likely to be civically engaged than their peers in co-ed schools. The environment allows them to be fully engaged and encourages them to take risks. We use strategies and best practices that are girl-friendly to maximize their potential for learning and develop a sense of confidence that prepares them to go into any room and command the respect of the people in it."
Laura Farrell, head of school
Merion Mercy Academy
Merion Mercy offers over 70 clubs, sports and activities for its 450 enrolled students, adding to the personalized experience for every girl.
How we Teach and Learn Begins with what we Believe
"Because we honor the dignity of every person, our community seeks the beauty in every face and in each heart and in the wisdom of all backgrounds and beliefs. Because we cherish both intellectual rigor and human kindness, our classrooms create conditions for greater challenge, where collaborative learning empowers us to go places together we might never reach alone, and where gentle self-acceptance becomes a foundation for resilience and self-confidence. Because we begin from a place of genuine respect for the student, our teachers earn real trust and facilitate rare transformation: Bright minds becoming brave thinkers. And because we prepare our students to become engaged, empathetic citizens, MFS graduates leave here as great kids—distinguished by outstanding test scores and bound for colleges that impress, and driven to live lives that speak."
Mike Schlotterbeck, director of marketing and communications
Moorestown Friends School
The school has alumni who live in 48 U.S. states and 23 countries, and perhaps the school's most famous alumna is Alice Paul, class of 1901, one of the key drivers to passage of the amendment providing women with the right to vote. During this school year, MFS will mark the 100th anniversary of the 19th Amendment with several special events to celebrate Paul's legacy.
Academics Plus Character Development
"St. Joseph's Prep is proud of its roots as the Delaware Valley's Jesuit high school. The school's mission is to develop the minds, hearts, souls and characters of young men in their pursuit of being men for and with others. That might be a mouthful but it does encompass all that we strive to do here each day, to have our strong academic curriculum be matched equally by the development of their character. By definition, a Prep student is independent—he has made a decision to leave his neighborhood school and commit to something greater. Those kinds of students arrive here and form a bond with one another, guided by women and men dedicated to their vocation of teaching. That mix ensures that we learn how to care for one another and treat one another in a way that reflects our mutual need for support."
Howie Brown, director of admission
St. Joseph's Preparatory School
Although the school's football team is nationally ranked and has won four state titles in the last six years, it is not the most popular activity in the school—that honor belongs to the Cape and Sword Drama Society, which has more than 20 percent of the student body participating.
Elective Opportunities Called Discovery Days
"Doane Academy is launching an innovative co-curricular program in the form of Discovery Days. The program has three primary objectives, each of which is connected to our strategic plan and our desire to build an even stronger, more dynamic and more inclusive culture at Doane. Objectives include strengthening our health and wellness curriculum to better equip students to build and maintain healthy, positive relationships; providing opportunities for students to explore their passions and experience transformative learning; and creating spaces for school-wide dialogue around issues of justice, equity, diversity and inclusion. These courses allow teachers to share their own personal passions and expertise outside of the daily curriculum."
John Stevens, director of admissions
Doane Academy
Graduating seniors average 5.8 college acceptances, providing multiple options for their choice for higher learning.
A Tradition of Leadership
"We have a history, or a tradition, of leading high school education with innovation, especially in technology and programming. For instance, we were the first school to adopt the use of tablets, providing a 1-to-1 technology ratio for our students. Most recently we're the first school in South Jersey to provide each student with a bulb account; bulb is a versatile app that lets students create an online portfolio, including essays, stats, photos and videos, to present to colleges. We were the first school in the area to partner with the University of Notre Dame in the Play Like A Champion Today program. One of the most notable aspects of this program is the Captain's class [where Paul VI team captains] learn how to motivate their teammates, resolve conflicts, how to lead by word and by example."
Katy Stewart, director of admissions
Paul VI High School
On Feb. 7, 2020, Paul VI students will host their third annual dance marathon, SOAR FOR A CURE, to benefit the B+ Foundation. This effort is student-initiated, student-organized and staffed, and has raised over $36,000 to help combat childhood cancer.
Commitment to Excellence in a Warm, Safe Community of Families
"MCA is committed to excellence in a warm, safe community of families. We strive to encourage and develop each student through individualized teaching while instilling a strong biblical Christian worldview. At Marlton Christian Academy, we want each student to grow, to mature and to find their best productivity in their community. We want each student to reach their greatest potential."
Miriam Wegner, director
Marlton Christian Academy
MCA overwhelmingly attributes its growth and success to word of mouth.
Empowering Girls to Cultivate Courage and Confidence
"Our Lady of Mercy Academy is dedicated to cultivating a culture of courage and confidence—one that empowers girls to connect with who they are and what they want to be. This enables them to walk into life without barriers holding them back from reaching their ultimate potential. We utilize our BraveForward & L2T programs—designed to provide our girls with a courage and confidence toolbox—in addition to weaving an intentional thread of empowerment through everything we do and say. It's with this mindset that our students will graduate prepared to both take on and lead a world of change."
Jennifer Valore, dean of academics
Our Lady of Mercy Academy
Thanks in part to an OceanFirst Foundation Model Classroom Grant, OLMA has established its new Center for Business and Collaborative Learning. The center is designed to use hands-on and simulated learning to provide skills for use in business careers in which women are underrepresented, yet successful and in high demand.
God-Centered and Celebrating Each Child's Own Unique Learning Style
"St. Joan of Arc School is unique because we are able to teach and learn within the framework of our Gospel values. We go beyond basic STEM. Our programs include STREAM: science, technology, religion, engineering, art and math. Our God-centered environment means that our Catholic, Christian values are evident in our classrooms and in everything we do. We begin and end each day with prayer and embrace our mission statement: 'The community of St. Joan of Arc School is dedicated to educating the whole child in a God-centered environment. Living in the light of Christ's teachings, we celebrate and value the dignity of each child. To our children we entrust Christ's Mission on Earth.'"
Mary Clare Brandt, director of admissions
St. Joan of Arc School
The school opened its doors in September of 1965. Of its 400-plus students, over 40 are children of SJA alumni.
Educating the Whole Person According to the Catholic Augustinian Tradition
"St. Augustine Preparatory School is celebrating our 60th anniversary of educating young men in academics, compassion and service. St. Augustine Prep equips the mind, body and spirit, fostering mentalities of excellence, while instilling values of leadership, empathy, integrity and resilience, stressing not only academics but also outside community service."
Manny Dijamco, director of advancement services
St. Augustine Preparatory School
Each student completes a minimum of 100 service hours during local or community service projects.
A Diverse Quaker Education of Conscience and Consequence
"Our education is an education of Quaker standards. We hold ourselves to the highest aspirations of our tradition and the highest standards in the field. We make space for growth and change, and allow every member of our community to flourish. Our education is an education of conscience. We reach beyond ourselves, take responsibility for the health of our community and environment, and consider the effect of our thoughts and actions on those around us. Our education is an education of consequence. We usher into the world students capable of building community, leading from the head and heart, and using their skills, their compassion and their intelligence to advance the common good. Our students are able to find power and wisdom in our differences and are provided the opportunity to learn through active, joyful, collaborative inquiry."
Jillian Stanton, director of admissions
Westfield Friends School
The school's 145 students hail from 26 different towns in New Jersey and Pennsylvania.
Close-Knit and Diverse Community
"St. John Paul II Regional School is proud to provide families the opportunity to have a secure, faith-based educational environment for their children. We create lifelong learners from pre-K to eighth grade. The diversity in our community enables our children to understand, appreciate and respect each other."
Brenda Cimorelli, advancement director
St. John Paul II Regional School
Members of the school's 2019 graduating class received more than $50,000 in scholarships and awards.
Published (and copyrighted) in Suburban Family Magazine, Volume 10, Issue 7 (September 2019).
For more info on Suburban Family Magazine, click here.
For information about advertising in Suburban Family Magazine, click here.
To find out where to pick up your copy of Suburban Family Magazine, click here.