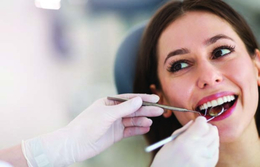 A Lifetime of Dental Care: Part 2
A Q&A with five-star dentists
THERE'S A GOOD DEAL OF CONFUSION around what dental treatments are right for your family and when to receive them. To help clear things up, Suburban Family is continuing our series spotlight on dental health with another round of frequently asked questions with these five-star dentists. From orthodontics and oral surgery to pediatric and cosmetic dentistry, their knowledge will steer you in the right direction.
What is the difference between a pediatric dentist and a family dentist?
Pediatric dentists are the pediatricians of dentistry. They choose to work with children and have two to three years specialty training following dental school, limiting their practice to treating children only. Pediatric dentists have knowledge of childhood dental development, can treat medically compromised children and can treat under nitrous oxide administration or general anesthesia in a hospital setting. [They] understand how to make kids feel comfortable, explaining procedures in a way that they can understand in a kid-friendly environment.
Dr. Marc Albano
Pediatric Dentistry of Mullica Hill
What is scaling and root planing and when would it be needed?
Scaling and root planing is a non-surgical procedure done to treat periodontal disease. When calculus accumulates under the gums, bone and tissues that support teeth become affected and periodontal disease develops. Scalings are done with local anesthetic. The procedure involves thoroughly cleaning the calculus deposits from your teeth and root surfaces. Smooth root surfaces keep bacteria and calculus from re-adhering underneath the gumline, allowing your gums to heal and stop the progression of periodontal disease.
Dr. Gerard Corsi
Corsi Dental Associates
Is Invisalign or clear aligner treatment an option for everyone?
Invisalign treatment is the process of wearing a series of clear, removable aligners that gradually straighten your teeth. No brackets and wires are required. Patients need to wear the aligners 22 hours a day. Invisalign can be an option for everyone provided they are disciplined enough to wear the aligners as instructed. Invisalign treatment provides more comfort, better aesthetics, fewer visits to the orthodontist, less chair time at the office and better hygiene.
Dr. Ron Saffar
My Orthodontist
What are veneers and why would I get them?
A veneer is a thin, porcelain-like covering that gets attached to the front side of a tooth, and they are used to either change the color, shape or size of the natural teeth for a more cosmetically pleasing appearance. Sometimes, people are born with thinner enamel that tends to wear and break, or look jagged at the edges over time, or have naturally darker appearing teeth, smaller teeth or spacing and desire larger teeth to close the gaps. Veneers are possible to fix these concerns.
Dr. Natalia Hud
Growing Smiles Pediatric and Family Dentistry
Should one wait to consider orthodontic treatment after the eruption of all permanent teeth?
No, the American Association of Orthodontics recommends your child be seen around age 7 to rule out any skeletal abnormalities (crossbite, underbite, severe overbite and overjet) that are easily treated at a younger age. For example, a crossbite can be corrected with expansion. We also treat for oral habits such as thumb and finger sucking. Many times we see younger patients that do not need to be treated right away and put them on a periodic recall schedule to check growth and development.
Dr. Erin Kazmierski
Kazmierski Orthodontics
When is treatment with a dental laser an appropriate option?
Laser treatment is one of the more recent advancements in dentistry. It can correct teeth that "look short" by reshaping the gum tissues, [and] broadening the smile line. Laser can also be used for removal of bacteria that reside deep in the gum tissue, to treat the gingival tissue after doing a crown procedure or treat the overgrowth of gum tissue as a result of certain medications. [After] laser treatment there is minimal post-operative pain, no bleeding and no need for sutures.
Dr. Nermeen Rifai
All Smiles Family Dental
What are the benefits of intravenous anesthesia sedation for the dental patient?
There are patients who are fearful of dental care, and sedation can be a beneficial option for them, allowing completion of care comfortably without anxiety. Intravenous (IV) anesthesia is particularly beneficial for those patients needing surgical procedures such as wisdom tooth removal, teeth extractions and dental implant surgery. IV is an aid to accomplish patient treatment, but a thorough medical history must be taken to assure that the patient is a candidate for this.
Dr. Robert Mermer, oral surgeon
Dental Arts of South Jersey
What are the risks involved with mail order braces?
It brings pros and cons. When Invisalign started everyone thought that would be the end of orthodontics, but it actually has increased the patient base, created more awareness and more demand for orthodontics. The downside is that you're still spending a lot of money for a "not doctor supervised" procedure. This can lead to complications with your teeth and gums that may be irreversible and preventable. Make sure you get a professional cleaning within six months of starting any tooth straightening procedures.
Dr. James TenBrook
TenBrook Orthodontics
Published (and copyrighted) in Suburban Family Magazine, Volume 10, Issue 7 (September 2019).
For more info on Suburban Family Magazine, click
here.
For information about advertising in Suburban Family Magazine, click here.
To find out where to pick up your copy of Suburban Family Magazine, click here.