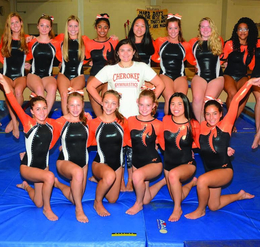 Gymnastics
High School Fall Sports Preview
CHEROKEE CHIEFS
GYMNASTS TO WATCH: Jillian Strauss and Kailyn Gore both had impressive rookie seasons at Cherokee and it will be exciting to see what they can accomplish with a year of experience under their belts. Strauss took ninth in the all-around at the Olympic Conference Championships and Gore was right behind her in 10th, landing each of them on the all-conference second team. Isabella Kadar is another returning sophomore who showed promise as a freshman. She took ninth in the uneven bars at the conference meet. Kailyn Clark and Bella Cinelli are key senior leaders and other returners include junior Skylar Sustek and sophomores Alyssa Goldsmith, Braelyn Hoffman, Sophia Branda, Francesca Ciavarella, Levi McLaughlin, Norrell Williams and Bridget Wilson.
OUTLOOK: The Chiefs were in rebuilding mode last season but are bound to make progress this fall with so many important pieces of the roster back in the mix.
LENAPE INDIANS
GYMNASTS TO WATCH: Donyale Strayhorn burst onto the scene as a freshman at Lenape, taking second in the all-around at sectionals to move on to states. She was the top South Jersey finisher at states in the all- around, placing 12th, and was also 12th in the floor exercise. Strayhorn tied for first in the uneven bars at the Olympic Conference Championships, took third in the balance beam and fourth in the floor exercise. Senior Katelei Clark is another terrific competitor who placed fifth in the all-around at the conference meet, and senior Xianna Aguilar took 12th in the all-around. Senior Teela Idais contributed in the vault and bars during dual meets, and other returners include seniors Caitlin Hutchison, Madison Schneider and Chiara Silvestro and junior Michelle Curtis.
OUTLOOK: The Indians posted a 5-2 record in 2018—earning three more wins than the year before—and placed fourth at the conference meet. They have the potential for another successful season and Strayhorn and Clark should be in contention at the major meets.
SENECA GOLDEN EAGLES
GYMNASTS TO WATCH: Seneca returns three gymnasts who shined as freshmen and are looking forward to big sophomore seasons: Delaney Insinga and sisters Kelsey and Rylee Langdon. Insinga took first in the floor exercise at the Olympic Conference Championships and went on to place second in the all-around. Rylee Langdon had a strong conference meet as well, placing fourth in the bars, third in the vault and third in the all-around. Kelsey Langdon also had a big day, taking seventh in the all-around. Junior Emily Cutts is another returner expected to make an impact.
OUTLOOK: The Golden Eagles bounced back in a big way from a winless season in 2017, going 8-3-1, claiming the team title at the conference meet and placing third at sectionals. With a talented young core in place, they have high hopes for this fall.
SHAWNEE RENEGADES
GYMNASTS TO WATCH: Felicia Poblete has already accomplished so much in her high school career and she is just entering her junior season at Shawnee. Last year she repeated as the Olympic Conference all-around champion, placing first in the vault, tying for first in the uneven bars and taking second in the beam and floor. She was the sectional champion in the vault and finished third in the all-around, and tied for seventh in the uneven bars at states. Another standout for the Renegades is senior Calli Reed, who took fourth in the all-around at the conference meet as a junior, giving her three top-five finishes in her career. Juniors Alex Ram and Anna Elder also had strong showings at the conference meet, joining Reed in the top eight in the vault. Nina Caceres is a senior leader along with Zoey Chenier and Robbie Ross, and sophomore Liv Safko flashed potential as a freshman.
OUTLOOK: The Renegades are poised to improve on their 1-6 record from last year and should also make noise at the conference meet after placing third. Poblete and Reed will certainly be worth watching as well as they compete for individual titles.
WASHINGTON TOWNSHIP MINUTEMAIDS
GYMNASTS TO WATCH: Washington Township graduated team leader and state qualifier Lauren Cuccinello, but is excited about its talented young nucleus, particularly nine sophomores who made an immediate impact as freshmen. Leading that group are Olivia Crabtree and Gabby Torres, who both turned in stellar performances at the Olympic Conference Championships. Crabtree took fourth in the vault, sixth in the beam and ninth in the floor exercise on her way to a sixth-place finish in the all-around. Torres earned a fourth in the beam and took seventh in both the uneven bars and floor exercise. Crabtree and Torres also starred in dual meets. Ava Ricevuto tied for 10th in the floor, and other sophomores who made their presence known at the conference meet are Angelina Rossi, Giavanna D'Antonio, Gabby Vetere, Miranda Troilo, Bella DeLuca and Abby Barca. Junior Gabby DeLuca tied for ninth in the conference in the vault and junior Nicole Latarola finished 13th in the beam; they will be key leaders now that they're upperclassmen. Senior Julia Robinson and junior Avarie Berndlmaier are also top returners.
OUTLOOK: The Minutemaids compiled a 9-0-1 mark in 2018, extending their streak of conference championships and undefeated seasons to three in a row. They also placed second in the conference meet and fourth at sectionals, and with so many promising gymnasts returning, they will set their goals high this fall.
Published (and copyrighted) in Suburban Family Magazine, Volume 10, Issue 5 (July 2019).
For more info on Suburban Family Magazine, click here.
For information about advertising in Suburban Family Magazine, click here.
To find out where to pick up your copy of Suburban Family Magazine, click here.