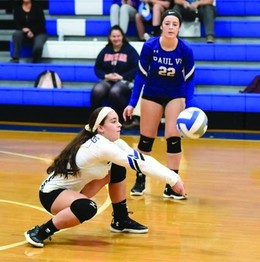 Girls Volleyball
High School Fall Sports Preview
CAMDEN CATHOLIC FIGHTING IRISH
PLAYERS TO WATCH: Five all-conference players, including three first-teamers, are back to lead Camden Catholic. Senior libero Katherine Nguyen registered 146 digs and 36 aces and senior setter Abby Paolini notched 220 assists and 46 aces. They were joined on the first team by Bella Craig, an outside hitter who had a strong freshman season with 53 kills, 50 digs and 62 aces. Two middle blockers made the all-conference second team: senior Lily Baynum (72 kills, 38 blocks) and junior Devin Rybacki (50 kills, 33 aces). Senior defensive specialist Giavonna Gaw and senior middle Lauren Owens are other returning veterans.
OUTLOOK: The Fighting Irish compiled their second straight 15-7 season and repeated as Olympic Conference Freedom Division champions in 2018. With most of their key players returning, their goals include another division title and making some noise in the playoffs under new head coach Steve Hunkins.
CHEROKEE CHIEFS
PLAYERS TO WATCH: Senior outside hitter Anna Mansel emerged as a strong all-around player last year and will look to lead Cherokee this season. She had 108 kills, 141 digs and 22 aces in her first full varsity season to make the all-conference second team. Junior opposite Gabrielle Waldman (58 kills) is another offensive weapon, and senior setter Sydney Lore will be charged with getting both of them the ball in the right spots after recording 207 assists as a junior. Junior middle blocker Michaela Ryan is another experienced returner who posted 36 kills, 32 blocks and 30 aces. Other veterans hoping to play bigger roles are seniors Emily Shannon and Brooke Walsh and juniors Becca Carr, Krista Blassman and Chiara Andreacchio.
OUTLOOK: The Chiefs were terrific down the stretch last year, as they went 11-2 with a playoff win in the final month to finish with a 17-9 record. They also held their own in a season-ending loss to eventual state champion North Hunterdon in the second round of the Group IV Tournament. With a strong nucleus returning, Cherokee should remain competitive.
CHERRY HILL EAST COUGARS
PLAYERS TO WATCH: Cherry Hill East graduated a stellar senior class but does welcome back two all-conference players and one other starter. Senior middle Aayinde Smith recorded 87 kills and 44 blocks and will be a force at the net once again. Senior libero Paige Westman is an excellent server—she led the Cougars with 64 aces—and had 217 digs. Both Smith and Westman made the all-conference second team. Junior setter Monah Pintel is another top returner who had 354 assists, 75 digs and 30 aces as a sophomore. She shines in all facets of the game. Other players hoping to contribute are juniors Genna Allen and Ashley Mercer and sophomore Grace Ehret.
OUTLOOK: The Cougars went 16-7 and advanced to the second round of the Group IV playoffs last year before dropping a close match to Ridge. They seem to reach double digits in wins every year, and that is a realistic goal despite the need to replace several important players.
CHERRY HILL WEST LIONS
PLAYERS TO WATCH: Junior middle Alison Ahern has been a key player each of her first two seasons at Cherry Hill West and should be even better as an upperclassman. She had 80 kills and 14 blocks to make the all-conference second team as a sophomore. Sophomore Jordyn Neff is another multi-talented returner who shined as a rookie, recording 31 kills, 99 digs and 33 aces. Senior Sofia Zuniga (30 kills) is another offensive threat and junior Sophia Arcinese (24 kills, 122 digs, 20 aces) returns as the starting libero. Katrina Nguyen and Jayshaliz Irizarry are other experienced defensive specialists. A new setter will have to emerge after the graduation of all-conference first-teamer Alexa Caputo.
OUTLOOK: The Lions made big strides last year, finishing with a 7-14 record for their most wins in three years. The progress should continue this fall under Brian Zaun, a respected coach in South Jersey who is taking the reins of the program.
CLEARVIEW PIONEERS
PLAYERS TO WATCH: Clearview graduated two all-conference players and a big chunk of its starting lineup, so new leaders will have to step up. Two good candidates for the job are seniors Emily Edwards (33 kills, 46 digs) and Mary Gambill (24 kills, 29 digs), who will be important players offensively and defensively. Junior Corinne Pawlowski (15 kills, 14 blocks) showed a lot of potential as a sophomore and should be in line for a key role. The Pioneers will need to break in new starters at setter and libero.
OUTLOOK: The Pioneers finished strong in 2018, winning five of their last six games to finish with an 8-14 record. They will look to carry over the momentum into this season under new coach Kate Pereira.
EASTERN VIKINGS
PLAYERS TO WATCH: Senior outside hitter Taylor Ruiz notched 57 kills as a junior and will lead the way for Eastern this year. Junior Kaitlyn Henry (24 kills, eight blocks) is another key player both offensively and defensively. Senior Cera Ong is an experienced defensive specialist and other returners who are being counted on are senior Brenna Masterson and junior Chris Park. Several varsity newcomers are expected to fill out the lineup as well.
OUTLOOK: After posting a 7-14 record in 2018, the Vikings hope to show improvement as a program and develop some of their younger players as they celebrate the 25th season of renowned coach Tom Armour.
GLOUCESTER CATHOLIC RAMS
PLAYERS TO WATCH: Junior libero Lauren Wethman leads a group of four all-conference players returning for Gloucester Catholic. She shattered her own school record with 628 digs and was among the state leaders in the category on her way to first-team accolades. Senior setter Heidi Wolf (165 assists, 26 aces), senior outside hitter Emily Duer (31 kills, 209 digs) and senior defensive specialist Lexi Baback (93 digs) all made the second team. Juniors Callie Genovese and Kamryn McDonald are also experienced defensive specialists and senior Lindsey Rios joins Wolf as a veteran setter. Other returners expected to see time are senior middle Julianna Pollander and sophomore outside hitters Anna Kain and Adrianna Pelosi.
OUTLOOK: The Rams went 10-15 and qualified for the playoffs in 2018. With a talented and experienced roster back in the fold, they have a chance to contend for a winning record under new coach Matt Levin, a former assistant at Cherry Hill East and Paul VI.
KINGSWAY DRAGONS
PLAYERS TO WATCH: Kingsway graduated both of its all-conference players and leaders in kills, but the good news is that senior setter Tori McCormick is back to direct the offense in her third season as the starter. McCormick had 164 assists and 21 aces last season. Two of the big hitters she will be set- ting up are senior opposite Rylie Martin (36 kills, 51 digs, 30 aces) and senior middle Chloe Tran (33 kills, 14 blocks). Kingsway is expecting strong seasons from each of them. Junior Lauren Phan is an experienced setter behind McCormick and junior Alex Giordano should contribute after earning some varsity time as a sophomore.
OUTLOOK: With a proven setter like McCormick running the offense, the Dragons have potential to improve upon last year's 8-14 record.
LENAPE INDIANS
PLAYERS TO WATCH: An outstanding senior class graduated from Lenape, but there are still several key players to build around. Senior outside hitter Sam Walters produced 96 kills, 87 digs and 37 aces on her way to all-conference second-team honors. Her experience and leadership will be crucial for the Indians. Junior outside hitter Anna Blackburn is another force at the net who finished with 82 kills, 45 digs and 25 aces as a sophomore. Senior opposite Bianca McDonald (47 kills, 49 digs, 40 aces) and senior libero Julia Geonetti (133 digs) are important veterans as well. Sophomore Maya Burgos saw time at defensive specialist and senior Victoria Wilson hopes to contribute at outside hitter. Both of Lenape's talented setters received their diplomas, so filling the position will be a priority.
OUTLOOK: The 2018 season was an unforgettable one for the Indians, who repeated as Olympic Conference Patriot Division champs and went 186 to set a school record for wins. They will be rebuilding somewhat this fall but still expect to be competitive.
MOORESTOWN QUAKERS
PLAYERS TO WATCH: Moorestown suffered big losses to graduation and transfer but is happy to welcome back all-conference second-teamers Samantha Scully and Kerry O'Sullivan. Scully, an outside hitter, moved to New Jersey from Texas last year and made an immediate impact, recording 193 kills, 210 digs and 54 aces. She should be the focal point for the Quakers in her second season. O'Sullivan, a middle, is a key both offensively and defensively, as she notched 61 kills and 40 blocks. Senior Megan Wu (110 digs) returns at libero and junior Sophie Hampton (25 kills, 46 digs, 62 aces) is eyeing a breakout season at middle. Sophomore Bree Wilson, an outside hitter, is another potential standout who saw time as a rookie. Seniors Tina Takla and Devon Conaty and junior Maya Cohen will also play important roles.
OUTLOOK: The Quakers jumped out to an impressive 10-0 start last year, and despite facing injuries late in the season still finished with a 24-6 record. This is shaping up as another strong season.
PAUL VI EAGLES
PLAYERS TO WATCH: Senior Kristen O'Donnell has been an all-conference first-team selection at defensive specialist the last two years and is looking to go out strong in her final sea- son. She had 198 digs and 33 aces as a junior. Paul VI also brings back two all-conference second-teamers: senior setter Alex Vincenti and junior outside hitter Emma Monico. Vincenti recorded 274 assists and 59 digs, while Monico registered 85 kills and 21 digs. Monico will have support on the front line from seniors Erika Ezeiruaku (49 kills), Jenna Exley (47 kills, 15 blocks) and Nneoma Ngene (23 blocks). Senior Kylie O'Donnell (87 digs, 33 aces) and junior Ally Kolnik (66 digs, 23 aces) are key pieces of the back line and sophomore Makayla Wright gained experience at defensive specialist as a freshman. Other possible contributors are juniors Lanie Smith, Giulianna Bersani, Sophia Horn and sophomore Sadie Arasim.
OUTLOOK: Last year was supposed to be a rebuilding one for the Eagles, but they compiled a 14-9-1 record with a playoff victory. With a lot of important players returning, this has the makings for another successful campaign.
SENECA GOLDEN EAGLES
PLAYERS TO WATCH: Savannah Shover enjoyed a breakout season in the front row for Seneca last year as a junior, and will look to go out strong in her final season. She notched 116 kills, 43 blocks and 30 aces to make the all-conference first team. Senior setter Steph Henske was the orchestrator of the offense with 223 assists to go with 39 aces, and she made the all-conference second team along with senior libero Kai Yaeger (145 digs, 25 aces). Other key seniors include Juliette Gordon (25 kills, 29 aces), Casey Husted (46 digs) and Leena Nesby (11 blocks).
OUTLOOK: With a solid core returning from last year's 12-12 team, the Golden Eagles have a great chance of pushing above the .500 mark and returning to the postseason as Katie Gossger takes over as head coach.
SHAWNEE RENEGADES
PLAYERS TO WATCH: Outside hitter Maddie Thornton put together an impressive all- around season in her first year on varsity, recording 100 kills, 76 digs and 64 aces on her way to all-conference first-team accolades. It will be exciting to see how she follows it up as a junior. Sophomore Mia Moscicki is another talented young outside hitter. She made the all-conference second team as a rookie after leading Shawnee with 112 kills to go with 29 aces. Junior middle Megan Heine (106 kills, 20 blocks, 27 aces) and senior opposite Adrianna Alessi (70 kills, 15 blocks) are other valuable pieces of the front row. Junior Lyndsey Jones (174 digs) returns at libero and junior Mackenzie Michaels (135 assists) will look to move into the starting position at setter after seeing time last year. Junior opposite Quinn Feudtner and defensive specialists Jackie Stone, a senior, and Olivia Pagliuso, a junior, are other returners to keep an eye on. In addition to Alessi and Stone, Shawnee has five other seniors—Jordan Benstead, Anastasia Evans, Sarah Jeffries, Gracie Meyer and Sophia Moriarty— who are ready to contribute on and off the court with their strong leadership and enthusiasm.
OUTLOOK: The Renegades went 9-14 last year but are optimistic they can challenge for a winning record this fall with a strong nucleus in place.
WASHINGTON TOWNSHIP MINUTEMAIDS
PLAYERS TO WATCH: Washington Town- ship said goodbye to a special senior class and will be breaking in four new starters. The good news is that senior setter Helena Ta is back to direct the offense. A tremendous passer, Ta finished with 551 assists last year to go with 35 kills, 40 digs and 30 aces as she made the all-conference first team. Senior outside hitter Jenna Ficcaglia will be the recipient of many of Ta's sets, as she recorded 91 kills, 42 digs and 26 aces as a junior. Other returners hoping to play bigger roles are seniors Allison Dilks and Jocelyn Proferes.
OUTLOOK: The 2018 campaign marked the end of an era at Washington Township, as Barb McBrearty—who started the program in 1996—retired as head coach. The Minutemaids sent her away with a memorable season, posting a 22-3 record and winning the Olympic Conference American Division and Gloucester County Tournament. New coach Jeff Hood will look to keep the program on the right track.
Published (and copyrighted) in Suburban Family Magazine, Volume 10, Issue 5 (July 2019).
For more info on Suburban Family Magazine, click here.
For information about advertising in Suburban Family Magazine, click here.
To find out where to pick up your copy of Suburban Family Magazine, click here.