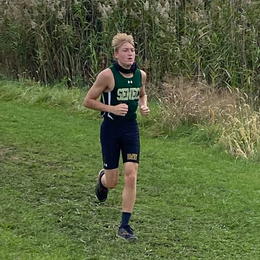 Boys Cross Country
High School Fall Sports Preview
BISHOP EUSTACE CRUSADERS
RUNNERS TO WATCH: Bishop Eustace graduated an outstanding senior class led by sectional and state champion Connor Melko, so new leaders will have to emerge. Senior Shane Vostenak is one of the key returners; he placed 23rd at sectionals with a time of 17:51.78. Sophomore Anthony Faust flashed potential as a rookie and should only get better in his second season. John Iannelli is a senior who can be counted on and other returners looking to contribute are sophomores Brendan Johnson and Daniel Colden. Sophomore Ryan Carney, who is moving over to cross country from the soccer team, showed a lot of promise this past spring, ending his outdoor season as one of the fastest freshman milers in South Jersey. His addition to the team this fall will surely add talent to the young squad.
OUTLOOK: The Crusaders' 2018 season was highlighted by a second-place finish at states and a third at sectionals. They might not be at the same level this year but will still be competitive.
CAMDEN CATHOLIC FIGHTING IRISH
RUNNERS TO WATCH: Camden Catholic said goodbye to a special class that included standouts Richie Castaneda and Matt Coffey, but the Irish are excited to welcome back senior Matt Denton. He consistently clocked times in the 17-minute range and finished ninth in Camden County, 12th at sectionals and 30th at states. Junior Warren Derman is another key returner who will run at the front of the pack. He took 20th at sectionals as a sophomore. Seniors Peter Stemetzki and Marchello Barile add valuable depth and sophomore Ronald Jackson hopes to show progress as well.
OUTLOOK: The Irish put together another stellar campaign in 2018, earning sectional and county titles and placing third at states, their best finish ever. There is no replacing last year's seniors, but Denton and Derman should keep Camden Catholic among the area's solid programs.
CHEROKEE CHIEFS
RUNNERS TO WATCH: A loaded roster is back for Cherokee, starting with senior Ethan Wechsler, who enjoyed a season for the ages last year. He claimed the Group IV state title—only the second South Jersey runner in 17 years to accomplish the feat—and was also the sectional and Olympic Conference champion along with the runner-up at the Burlington County Open. Wechsler went on to place fourth at the Meet of Champions (MOC), clocking a time of 15:56. After a strong outdoor track season in the spring, he is poised for a huge final year of high school. Senior Chase Miller finished second behind his teammate at sectionals and took fifth at states and 30th at the MOC. He also placed in the top five at the conference and county meets. Chris Spisak is yet another talented senior who placed third in the conference but missed most of the season with an injury. Seniors Tyler Jackson, Michael Gavio and Bobby Hackney and juniors Brett Shea, Nico Grilli and Dylan Odud are other key returners capable of making noise at the major races. Senior Matthew Campbell and junior Bryan Lafferty add depth.
OUTLOOK: The Chiefs were county and conference champions in 2018—extending their recent dominance in both meets—and finished second at sectionals, third at states and sixth at the MOC. They aim to be in contention at all of those races again, and several Cherokee runners will be in the mix for individual crowns as well.
CHERRY HILL EAST COUGARS
RUNNERS TO WATCH: Senior Oliver Adler leads a talented core for Cherry Hill East, which brings back five of its top seven runners from a year ago. Adler ran 16:09.01 at sectionals to place third and was the Cougars' top finisher at states and the Meet of Champions. He also took eighth in the Olympic Conference and has high hopes for his final season. Gabe Rodriguez and Justin Whitney are part of a strong junior class that is coming off an impressive outdoor track season and has lofty goals for cross country. They were consistently in the top five last fall and will look to take things up a notch as upperclassmen. Aidan Eyre and Aidan Groff are other juniors who shined as sophomores, while seniors looking to have an impact are Paul Bruce, Maxwell Haught, Khalik Kwok, Chris Elliot and Kartick Pejavera.
OUTLOOK: After posting top-five finishes in the sectional, county and conference meets and finishing eighth at states last year, the Cougars enter 2019 with high expectations.
CHERRY HILL WEST LIONS
RUNNERS TO WATCH: Cherry Hill West returns most of its top competitors from 2018, including sophomore Joshua Harrison, who was frequently their fastest runner throughout the season. He clocked an 18:52 at sectionals. Senior John Howe is another important returner who can usually be found at the front of the pack. Junior Kevin Sonn and seniors Harry Schwartz and Karl Eberhardt round out the top five, and other returners expected to contribute are seniors Eric Dolan and Joseph Donnelly.
OUTLOOK: With new coach Tyler Brake leading the way, the Lions have a good chance of moving up in the team standings at the major races thanks to their mix of experience and young talent.
CLEARVIEW PIONEERS
RUNNERS TO WATCH: Five of the top seven are back in the mix for Clearview, including No. 1 runner Anas Bensaoud. The junior posted times in the 16-minute range all season long and placed fifth in both the Gloucester County and Tri-County Conference races. He also took seventh at sectionals, 22nd at states and 37th at the Meet of Champions, raising expectations for a big junior season. Senior Thomas Flear took 15th in the county and conference meets and placed 22nd at sectionals. He makes for a strong No. 2 runner behind Bensaoud. Juniors Andrew Shute and Jack Rhoades flashed potential as sophomores and Caden MacHenry is another junior who should have an impact.
OUTLOOK: With Bensaoud and a strong supporting cast, the Pioneers are primed to improve on their fourth-place finishes at the county and conference races and their eighth at sectionals last year.
EASTERN VIKINGS
RUNNERS TO WATCH: Eastern graduated its No. 1 runner but brings back four of its top six from 2018. Senior Aaron Arnstein will look to move into the top spot after running second as a junior. He finished 18th at the Camden County Championships and clocked a 17:53 at the Olympic Conference meet. Justin Orloff and Ben Cohen are other returning seniors who will be expected to post competitive times. Junior Coby Friedman showed promise as a sophomore and will also contribute, while several varsity newcomers will round out the lineup.
OUTLOOK: The Vikings have a solid nucleus and have a chance to move up a few spots at the county, conference and sectional meets.
GLOUCESTER CATHOLIC RAMS
RUNNERS TO WATCH: Ryan DiGiacomo is looking forward to a big senior season after leading the pack for Gloucester Catholic the last two years. He placed 32nd at both sectionals and states as a junior and will attempt to crack the top 20 this fall. Senior Adam Stetser is another key veteran who hopes to push DiGiacomo during training and meets. Anthony Polo and Michael Schmid are other seniors in the top five and Victor Zhao is a sophomore who will look to build on the experience he gained as a rookie. Several newcomers will also be in the mix, including junior Ethan Donahue and freshmen Jackson Huffy and Carter Wyatt, who is expected to be one of the top runners on the team.
OUTLOOK: With a nice crop of seniors and a pair of talented rookies, the Rams figure to be much improved.
HADDONFIELD BULLDAWGS
RUNNERS TO WATCH: Haddonfield has produced its share of tremendous runners over the years, and Martin Riddell is certainly part of that illustrious group. He repeated as the South Jersey Group II champion last year as a junior—posting a time of 15:54—and went on to place sixth at states and 14th at the Meet of Champions (MOC). He is poised for a huge senior season. Other premier runners are seniors Stephen Kasko (seventh at sectionals) and Andrew Gostovich (14th at states), who joined Riddell in the top 10 at the Colonial Conference meet. Senior Grayson Fasolo took ninth in the conference and 23rd at states, and junior Caleb Clevenger is another returner capable of making noise at the major meets. Sophomore Seth Clevenger and junior John Hurly are both coming off excellent track seasons and should be in the top seven.
OUTLOOK: The Bulldawgs claimed their 15th consecutive sectional title and second straight state crown in 2018 before challenging perennial power Christian Brothers Academy at the MOC and taking second. Despite losing several standouts to graduation, they should remain an elite program with Riddell leading the way.
KINGSWAY DRAGONS
RUNNERS TO WATCH: Kingsway suffered some big losses to graduation but is excited to still have Stone Caraccio on the roster. A senior, he placed 10th at sectionals and 11th at states as a junior, and also clocked a 15:54 at the Tri-County Conference meet to finish third. Senior Ayden Magee consistently posted times in the 16-minute range and took fourth in the conference meet, seventh at the Gloucester County Championships and 15th at sectionals. Sophomore Kyle Rakitis turned heads as a freshman and could be the next Dragon standout. He ran a 16:40 at the county meet to take sixth and also finished 14th at the conference race and 23rd at sectionals. Chris Nelson, Gavin LaRocca, Finn Campbell, Evan Miles, Kaleb Borkowski, Sam Allen and Connor Handley are seniors who have waited their turn to contribute. Thomas Driscoll and Ryan Allen are other sophomores who could make an impact on the varsity level.
OUTLOOK: The Dragons continued to rule in Gloucester County and also repeated as conference, sectional and state champions in 2018, ultimately finishing third at the Meet of Champions. Several important spots must be filled, but don't expect one of the best programs in the area to slow down too much.
LENAPE INDIANS
RUNNERS TO WATCH: Lenape graduated five of its top seven runners, but the good news is that senior Matt Richardson seems primed for a strong final season. He consistently posted times in the low 17-minute range, and if he can get to 16 he will be a solid No. 1 for the Indians. Richardson's best finish as a junior was an eighth at the Burlington County Open, and he also took 25th in the Olympic Conference and 36th at sectionals. AJ Fraley, a sophomore, was part of the top seven as a freshman and should only get better in his second season.
OUTLOOK: The Indians always seem to be in the mix at the major meets, and that was the case last year as they took second in the county, fourth in the conference and fourth at sectionals. It will be difficult to contend again with a new lineup, but they are eager to face the challenge.
MOORESTOWN QUAKERS
RUNNERS TO WATCH: Moorestown must break in a new No. 1 runner and seniors Victor DeMartini and Louis Purul are leading candidates for the role. They both finished in the top 20 during the Burlington County Scholastic League divisional meet and will look to post times in the low 17-minute range. Senior Henry Wilt is another veteran who will be counted on for leadership and solid times. Seniors Nico Miele and Ethan Denis and sophomore Daniel Winkler also hope to have an impact. Moorestown also welcomes in its largest group of incoming freshmen in many years, including a very solid runner in PJ Kresloff.
OUTLOOK: The Quakers might not be ready to contend for any team titles but several runners will leave their mark at the big races.
MOORESTOWN FRIENDS FOXES
RUNNERS TO WATCH: Mark Johnson is primed for a big senior season after taking fourth at states as a junior with a time of 17:32. He also took seventh at the Friends Schools League Championships and 10th at sectionals, ultimately ending his season at the Meet of Champions. Most of the other top runners also return, including senior Aidan Chick, who is looking to run in the low 17s, and senior Parker Kimberly, who is hoping to break 19 minutes. Junior Andrew Gray will be striving to break 20 minutes early in the season and sophomore Emmet Kimberly rounds out the top five. Junior Bobby Lodge is training well in his first year, and freshman Collin Montenegro brings several years of experience. He will likely be scoring and may even push the seniors a bit. Six other freshmen are also newcomers to watch.
OUTLOOK: With so many experienced runners back in the fold and Johnson leading the pack, a successful season appears likely for the Foxes.
PAUL VI EAGLES
RUNNERS TO WATCH: Many of the top runners for Paul VI graduated, but senior Colton Johnson should be ready to slide into the No. 1 spot. He clocked a 16:42 at sectionals to place sixth—his second straight top-10 performance at the meet—and also finished 10th at the Camden County Championships. Senior Nate Strobl will be at the front of the pack to push Johnson and Kyle McKeon is another senior expected to have an impact. Other returners include seniors Xavier Casillas and Matt Bock and junior John McClean.
OUTLOOK: The 2018 season was a successful one for the Eagles, who placed second at the county and sectional races and sixth at states. Their veteran lineup should help them stay competitive this fall.
SENECA GOLDEN EAGLES
RUNNERS TO WATCH: Six of Seneca's top seven runners return, led by senior Vince Malave. The Golden Eagles' No. 1 since his sophomore campaign, Malave finished in the top 20 at the Burlington County Open and 31st at sectionals as a junior. He is working on bringing his times down to the low 17s and high 16s as he gears up for his final season. Nathan Roseboro is another key senior who finished third on the team in most of last year's races. Seniors Harry Moore, Dylan Moore and Lucas Wigley will also contribute along with sophomores Elijah Dunn, Chris Lardner and Colby Welusz.
OUTLOOK: With almost the entire roster back, the Golden Eagles are bound to improve on their performances at the county, conference and sectional meets.
SHAWNEE RENEGADES
RUNNERS TO WATCH: Junior John Ruona took a big step forward as a sophomore and was usually Shawnee's second-best finisher, posting times in the 17-minute range. He placed in the top 20 at the Burlington County Open and could be ready to lead the pack as an upperclassman. Seniors William Pellegrino, William Kaminer and Greg Papp are all close in time right after Ruona and will also be key for the Renegades. Senior Adam Denver, junior Dylan Hansen and sophomore Alex Campagna will look to continue making progress as the season goes on.
OUTLOOK: Shawnee was consistent at the major races in 2018, finishing third in the county, seventh in the conference and seventh at sectionals. The Renegades are optimistic they can stay in the top 10 despite graduating several standouts.
WASHINGTON TOWNSHIP MINUTEMEN
RUNNERS TO WATCH: The top three runners for Washington Township all graduated, but a talented junior class is making sure the Minutemen aren't feeling too down about it. Cole Kolodziej is part of that group; he ran in the mid-17s as a sophomore and placed 17th at the Gloucester County Championships. He could be ready to assume the label of No. 1 runner on the team. Juniors Joon Song and Julian Lawson also finished in the top 20 at the county meet, and Mason Brewster is another junior who was part of the top seven last year. Seniors Vince Lamonica and Jayden Greene are other key runners, while sophomores Charles Lant and Nate Kidwell both broke five minutes in the mile during outdoor track and should challenge for varsity spots.
OUTLOOK: The Minutemen had a strong 2018 season, taking second in the county, fifth in the Olympic Conference and sixth at sectionals. If the juniors can continue to lower their times, more team success should be on the way.
Published (and copyrighted) in Suburban Family Magazine, Volume 10, Issue 5 (July 2019).
For more info on Suburban Family Magazine, click here.
For information about advertising in Suburban Family Magazine, click here.
To find out where to pick up your copy of Suburban Family Magazine, click here.